Thanks for Giving - Carlos Rodriguez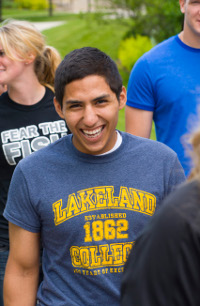 Growing up in North Chicago, Carlos Rodriguez decided at a relatively young age that he was going to find a way to attend college.
"I saw people in the streets, and I said to myself, I'm not living like that," recalls Carlos, now a sophomore at Lakeland. "I realized people don't get far without a degree, so I decided I was going to show everyone that I will succeed. A lot of people doubted me, and I'm still out to prove them wrong."
After graduating from North Chicago Community High School, Carlos was awakened from a nap one June afternoon by a phone call. When he answered, he was told he had been chosen for a Hurvis Foundation Scholarship to attend Lakeland College. The $10,000 scholarship, combined with federal and state grants, means Carlos attends Lakeland College basically free of charge.
"I am motivated to show the people who chose me that they picked the right person for this scholarship," says Carlos, 20, who's majoring in business management and is thriving academically.
Asked what his career goal is, Carlos doesn't hesitate: "I want to be a CEO of a Fortune 500 business," he says.
"I'd like to say 'thank-you' to the Hurvis Foundation," Carlos says. "This means a lot. Without their help, many people wouldn't be able to attend college. I ask them to keep doing this great thing, because there are a lot of good people in bad neighborhoods. You just have to find them."