Ways to give to Lakeland
You loved your Lakeland College experience. You grew here in so many ways. And when you left, your degree helped you launch a successful career. Now you'd like to help us stay strong so countless future students can benefit from becoming Muskies – just like you did.
There are many innovative ways to give back to Lakeland College. Let us help you determine what's best for you.
Cash, Stocks & Securities
The most common ways to give to Lakeland College are gifts of cash, securities and stocks. To arrange a stock transfer please contact the Advancement Administrative Coordinator, Linda Bosman, at (920) 565-1424 or .
...
Planned Giving
In addition to benefiting the Lakeland College endowment, a planned gift may allow you to avoid substantial capital gains taxes, income taxes, and estate taxes, while providing an income stream for you and your loved ones.
There are many planned giving vehicles to consider. The most widely used are: bequests, charitable gift annuities, charitable remainder trusts, and life estate agreements. No matter which giving vehicle is right for you, you can have the satisfaction of knowing that your gift will support quality educa...
Matching gifts
Many employers offer the opportunity to match all or a portion of a donor's gift to the college. In essence, a matching gift program can double or even triple the impact of a gift. Please check our listing of matching gift companies to see if your employer participates. Don't miss out on this opportunity to enhance your support of the college!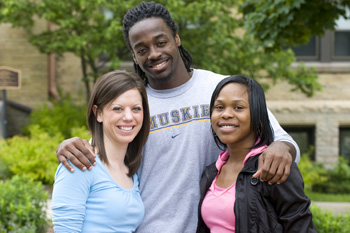 ...