Ways to give to Lakeland
You loved your Lakeland College experience. You grew here in so many ways. And when you left, your degree helped you launch a successful career. Now you'd like to help us stay strong so countless future students can benefit from becoming Muskies – just like you did.
There are many innovative ways to give back to Lakeland College. Let us help you determine what's best for you.
Cash, Stocks & Securities
The most common ways to give to Lakeland College are gifts of cash, securities and stocks. To arrange a stock transfer please contact the Advancement Administrative Coordinator, Linda Bosman, at (920) 565-1424 or .
...
Planned Giving
When people think about supporting Lakeland College, they often only consider gifts of cash or stock. But did you know that many other types of assets, including personal property, can be donated to Lakeland College?
Planned gifts, most often called "non-cash gifts," "net-worth gifts" or "deferred gifts," are generally given through a donor's asset base rather than with cash or discretionary income. Through planned gifts, people make provisions for the college during their lifetimes, but the college does not receive benefits until a future date.
Charitable planned gifts arranged with Lakeland College are not commission-based. The efforts of the planned giving staff and the materials shared or gift proposals presented to the donors are provided without cost or obligation to the donor. The planned giving staff is pleased to explain how gifts work and to set up a visit with your personal financial counsel to discuss the giving opportunities presented below. ...
Matching gifts
Many employers offer the opportunity to match all or a portion of a donor's gift to the college. In essence, a matching gift program can double or even triple the impact of a gift. Please check our listing of matching gift companies to see if your employer participates. Don't miss out on this opportunity to enhance your support of the college!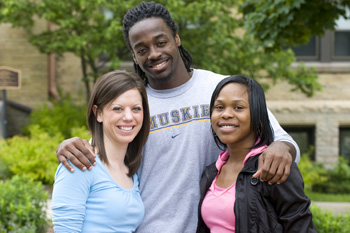 ...