Christopher Moore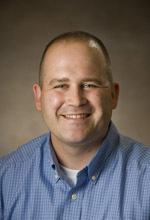 Associate Professor of Sociology
Main Campus
WAK 209
vCard
Miscellaneous Information
Webpage: view SPN profile
Dr. Christopher D. Moore, Associate Professor of Sociology, joined Lakeland's faculty in 2006. Having returned to Wisconsin from his previous academic work, military service, and studies around the U.S. and abroad, Moore and his wife are happy to be back is his home state — land of the Packers and cheese.
Dr. Moore's research and teaching focus is at the juncture between sociology and psychology — specifically, "social psychology." His research approach is to bring theories of group processes and emotion to bear on how face-to-face and computer-mediated interaction creates, maintains, and changes social structures. Some of his recent work focuses on how individual self and identity structures influence voluntary associations/loyalty, friendship networks, and self-destructive behaviors (e.g., suicide). In other areas of research, Moore continues to develop new measurement tools and techniques such as the use of vocal fundamental frequency (VFF) accommodation as an indicator of one's internalized status beliefs and others' collective validation of status claims. Here is an example of a free software-based approach: PRAAT VFF Training Manual.
Finally, Dr. Moore is a former U.S. Marine Corps Criminal Investigator and enjoys spending his "free time" outdoors - canoeing, backpacking, hunting, and fishing year-round. He serves in leadership roles for several local sporting and community organizations and lives in Sheboygan with his wife and children.
Off-Campus Research Affiliations:Laboratory for the Study of Social Interaction (LASSI)