Ishmael Beah - 2015 Community Book Read
Ishmael Beah, author of "A Long Way Gone: Memoirs of a Boy Soldier," spoke at Lakeland College on March 31, 2015 for the second annual Lakeland College Community Book Read.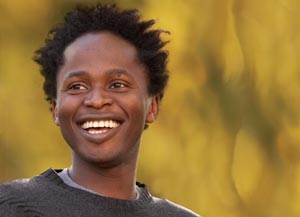 Ishmael BeahBeah spoke about his life as a child soldier in Sierra Leone and read excerpts from both his memoir, "A Long Way Gone: Memoirs of a Boy Soldier," and his recently published novel, "Radiance of Tomorrow."
Beah was born in Sierra Leone and at age 13 was pulled into the country's brutal civil war as a child soldier. After his parents and two brothers were killed, he fought for more than two years before he was removed from the army by UNICEF and placed in a rehabilitation home.
"A Long Way Gone" was a No. 1 National Bestseller and was named one of the Top 10 Nonfiction Books of 2007 by Time Magazine. The memoir tells the story of Beah's experiences during the war and his struggle to regain his humanity and re-enter the world of civilians, who viewed him with fear and suspicion.
Photos
Community Book Read
The Lakeland College Community Book Read is an opportunity for the greater community to come together with Lakeland students, faculty and staff and discuss good books and powerful stories.
Each year, after a book is selected by a cross-section of faculty and staff, we invite the entire community to read and discuss the book with us.
In the spring, we welcome the author of the book to Lakeland's campus for workshops with our students, as well as a book discussion with the community.
The Community Book Read has been generously supported by the Kohler Foundation, Inc.
Our next event is:
2016: Karen Russell
On April 12, 2016, Karen Russell, author of "Swamplandia!," will join us at Lakeland College. "Swamplandia!" was featured on The New York Times' 10 Best Books of 2011 and was a finalist for the Pulitzer Prize for Fiction.
Previous events
2015: Ishmael Beah, "A Long Way Gone: Memoirs of a Boy Soldier"
"A Long Way Gone" was a No. 1 National Bestseller and was named one of the Top 10 Nonfiction Books of 2007 by Time Magazine. Read more.
2014: Chad Harbach, "The Art of Fielding"
"The Art of Fielding," Harbach's debut novel, was named one of the New York Times' 10 Best Books of 2011 and was shortlisted for the Guardian First Book Award in 2012. Read more.
Chad Harbach - 2014 Community Book Read
Details

Published:

April 18, 2014
Lakeland College hosted its inaugural Community Book Read on April 15, 2014 with Wisconsin native Chad Harbach, author of the best-selling novel "The Art of Fielding." Harbach met with students for a Q&A earlier in the day. The evening event featured Harbach reading excerpts from the novel and answering questions about the work and his life as an author and magazine editor. "The Art of Fielding," Harbach's debut novel, was named one of the New York Times' Ten Best Books of 2011.
Photo Galleries
Lakeland welcomes First Aid Kit
with special guest Samantha Crain
In the past six years, much has changed for the Swedish duo First Aid Kit. Sisters Klara and Johanna Söderberg had been earning a stellar reputation recording and performing as a teenaged duo in Sweden when their 2008 cover of Fleet Foxes' "Tiger Mountain Peasant Song" started turning heads around the world, racking up millions of views on YouTube and earning them big-name fans in far off lands. In 2010, they released their debut LP, 'The Big Black & The Blue,' which prompted critical raves and dates with everyone from Patti Smith and Jack White to Lykke Li and Bright Eyes.
Schedule
Here is the schedule for the night of the show:
4:30 p.m. — Will call opens in the lobby of the Bradley Theatre (see the map below). If you asked that your tickets be held at Will Call, you can pick them up beginning at 4:30 p.m.
5 p.m. — Fans can start lining up inside the theatre lobby
6:45 p.m. — Theatre doors open
7:30 p.m. — Show begins
Samantha Crain is touring in support of First Aid Kit and she will open the show.
Location/Parking
Click here to view a map of Lakeland's campus. The Bradley Theatre is #22 on the map. There is plenty of free parking in lots H, G and F.
Food/Drink
Alcoholic and non-alcoholic beverages will be available for sale beginning at 5 p.m. in the theatre lobby and they can be taken in the theatre and . There are no food sales in the theatre and no food will be allowed in the theatre. Fans are welcome to purchase/eat dinner in the Lakeland cafeteria, which is located at the south end of the Campus Center (building #13 on the campus map). Dinner is $8.50 per person and is an all-you-can-eat buffet. Dinner hours are from 4:30-6:30 p.m.
Smoking Policy
Per Wisconsin state law, smoking is not allowed inside the Bradley Theatre.
Merchandise
Merchandise sold by the band will be available in the Bradley Theatre lobby. It is possible that it might be cash sales only, so please plan accordingly. Lakeland does have an ATM machine located in the lower level of the Campus Center.
Questions?
If you have questions, contact David Gallianetti at or 920-565-1219.
Current Production
Cabaret
The Broadway Musical
Performances of Cabaret will be March 26-29, 2015.
Charlie Krebs loves to challenge his cast, his crew and definitely his audience.
Krebs, Lakeland College's associate professor of theatre and speech, puts great thought each year into which two productions the school will tackle. But this year, he may have outdone himself when it comes to plays of rich substance.
Lakeland's spring production of "Cabaret" opens on March 26 for the first of four consecutive performances. Show times are 7:30 p.m. March 26-28 and 2 p.m. for the Sunday matinee, March 29.
Cabaret, a musical set in 1930s Nazi-era Germany, contrasts joyous times in a nightclub with dangerous real-life struggles just outside it. The play is packed with singing and dancing, but acknowledges serious political undertones as well.
This production comes on the heels of Lakeland's fall presentation of Arthur Miller's "The Crucible," which was about the Salem Witch Trials of the late 1600s.
Read More
"I think if we can use theatre as an educational instrument, an instrument of enlightenment in addition to entertainment, then we can teach as well," Krebs said of his two selections this academic year.
"As a professor, teaching is very important to me. There are political things that happen in our lives all the time and we have to deal with them. I think it's good for the students to see this. This play is a great instrument for education. It's good to do things that are a little edgy and push the envelope a bit."
Lakeland junior Katherine Zielsdorf, who plays a Kit Kat Club dancer and has been in five plays at Lakeland, thinks the subject matter helps make this one special.
"I think (the political angle) gives it a certain element of being real art, because it incorporates real-life problems and real-life situations and historical events into a fictional setting," she said. "I like that it's got that historical element to it."
There's plenty of song and dance, too. Lakeland's accompanying concert band will rehearse more than a dozen musical numbers with the cast for eight straight nights, a rarity. And the consensus of Lakeland's student-actors is that in terms of musicals, this will be one of the college's best productions in many years. The singing in particular, they said, will be top-notch.
"I think it's going to be wonderful, because everybody in the cast can sing really well," said Lakeland senior Brittany Beckman of Kiel, who plays Fraulein Kost, one of the dancers in the Kit Kat Club nightclub. "This year is going to be just fantastic … it really is a top-notch cast. I think (the audience) is going to think we're a professional company … they're going to think we're the best of the best."
Making her theatrical debut — at any level — is Lakeland senior Meribeth Mazzi, who plays the lead role of Sally Bowles. Mazzi, who loved watching "Annie" on TV as a child in her native Peru, challenged herself to audition as a way to step outside her comfort zone.
"Holy Cow can she sing," Krebs said. "When she came back on the second night for call-backs and started singing, this fairly petite young lady blew the hair back on everyone in the audition room."
Mazzi said she's had a blast working alongside the nearly 20 cast members during the weeks of rehearsal for this play.
"This is one of those flashy productions that brings a lot of entertainment and catchy music," she said. "The story does have a dramatic side to it. It's a combination of, 'Wow, life is a Cabaret, old chum,' and (the darkness of) Nazi Germany. It's definitely a sweet and sour kind of production."
One of the things Krebs likes most about this production is the dramatic contrast between the nightclub scenes and the alley scenes — directed by student Tia Pribbernow. Between the singing and dancing scenes in the club are scenes that depict the dark side of what like was really like then.
"Cabaret is one of my favorite musicals, and I think it strikes a chord with a lot of people," said Krebs. "It's a fairly powerful story, and it has incredible music, but it has a lot of contrast. Inside the Cabaret, we have all kinds of wonderful nightclub activity, and big song-and-dance numbers. Outside, there is the rise of Nazi Germany. There's a lot of juxtaposition with all the happiness inside and the dread going on outside."
"It's a powerful play, and I think it gives the students here at Lakeland the opportunity to really shine with some beautiful singing and great acting."
Added Jake Juli Caceres, Lakeland's assistant professor of Spanish, who plays the nightclub emcee: "Everybody has been working really, really hard. There are going to be powerful voices for sure. I think it's going to be amazing. It's going to feel like a legit cabaret performance."
Cast Maxine – Tia Pribbernow; Emcee – Jake Juli Caceres; Kit Kat Girls – Ashlie Urban, Brittany Beckman, Elizabeth Hahn, Elizabeth Plotka, Katherine Zielsdorf, Kristen Brusky; Kit Kat Boys – Aaron Almedina, Tanner Moenning; Sally Bowles – Meribeth Mazzi; Cabaret patrons/Nazi soldiers – Aaron Almedina, AJ Veloz, Brett Gibbons, Deion Sonsalla, John Horst, Jody Harrison, Lucas Collard, Tanner Moenning, Clifford Bradshaw, Brandon Farmer, Ernst Ludwig, Zach Petrowsky; Fraulein Schneider – Heather Ross; Fraulein Kost – Brittany Beckman; Herr Schultz – David Neese; Two ladies – Katherine Zielsdorf; Kristen Brusky; Gorilla – Tia Pribbernow
Director – Charlie Krebs; Vocal director – Lisa Golde; Choreographer – Jessica Mueller; Orchestra conductor – Christopher Werner; Costume designer – Della Jahnke; Assistant director – Tia Pribbernow; Stage manager – Mayce Bacon; Lighting director – Brady Bunjovac; Master carpenter – Luke Runge; Dance captain – Holly Helmer