Jodie Liedke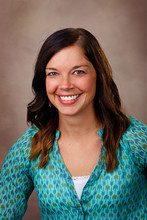 Assistant Professor of Composition
Main Campus
WAK 208
vCard
Miscellaneous Information
Jodie Liedke graduated from Lakeland in 2007 with a bachelor's in writing, and returned to her alma mater in 2013 after serving as general education coordinator and a writing and humanities instructor at Globe University in Onalaska.
At Globe, she managed a dozen general education instructors, reviewing and approving syllabi and lesson plans. She was named Globe's La Crosse Faculty Member of the Year in 2010, created and advised Globe-La Crosse Writers Write and was a faculty blogger.
Liedke received a master of fine arts degree from Wichita State University, where she also served as a graduate teaching assistant and was twice nominated for the WSU Academy of Effective Teaching Award.