Lemke wins Underkofler Excellence in Undergraduate Teaching Award
Lakeland College's Richard Lemke, an assistant professor of criminal justice, is the 2015 winner of the annual Underkofler Excellence in Undergraduate Teaching Award.
Lemke, in his third year as a member of Lakeland's faculty, is the college's 24th winner of the Underkofler, which recognizes outstanding performance in undergraduate teaching.
The Underkofler Award was presented on April 1 at Lakeland's annual Honors Banquet, which recognizes outstanding academic accomplishments of students and faculty.
Lemke was recognized as a steady and respected professor in one of the largest majors at Lakeland.
"His preparation ensures that every class is excellent, well organized and engaging," said Elizabeth Stroot, a Lakeland professor of psychology and chair of the Underkofler Selection Committee. "Students comment regularly that he encourages their participation and values the diversity of their perspectives. His patient and gentle questioning style allows students to dig deeper, to think more carefully and to arrive at conclusions and ideas that may not have been their first responses."
He was also lauded for mentoring his students, tracking their academic progress and understanding their career goals, while also regularly assessing the college's criminal justice program to make sure the curriculum is rigorous and current.
Senior criminal justice major Joshua Leisemann has Lemke as a teacher, academic advisor and project advisor.
"He is tireless, helpful and caring with every single student; his dedication to improving a student's education is evident in his teaching and his assignments," Leisemann said. "He is always there to offer advice and solutions, to help a student with a paper/project and to show students their full potential."
Prior to coming to Lakeland, Lemke was an assistant professor at the University of West Georgia, where he was undergraduate program co-coordinator. He also worked as an adjunct professor at Marian University, the University of Cincinnati and Castleton State College. He has worked in the industry, serving as a case worker for the Rutland County Court Diversion in Vermont and for the Center for Addiction and Behavioral Health Research.
The winner of several grants and awards, Lemke has authored and presented numerous articles and papers. His areas of specialization include criminological theory testing, explanations of violence, community and institutional corrections (adult and juvenile), research methods and statistics and program assessment.
He earned his Ph.D. in criminology and criminal justice from the University of Cincinnati, his master's degree in forensic psychology from Castleton State College and his bachelor's in psychology from the University of Milwaukee-Wisconsin.
The Underkofler Award is presented through the Alliant Energy Foundation and the Wisconsin Foundation for Independent Colleges, Inc. The Underkofler Endowment Fund was created in honor of past Wisconsin Power & Light president and chairman James R. Underkofler to recognize his 48 years of service to the utility industry.
View photos from the event
Senior Aimee Thrune receives Koehler Award, others honored at banquet
Lakeland College senior Aimee Thrune, a triple major from Prairie du Sac, Wis., was named the winner of the 50th annual Clarence H. Koehler Award, the college's top award for undergraduate students. The award was announced at the annual Honors Banquet on April 1.
Thrune, who will graduate in May with majors in education, mathematics and Spanish, amassed an impressive resume of leadership and involvement during her time at Lakeland.
The Koehler Award is presented each year to a Lakeland senior who best exemplifies "The Lakeland Spirit" by his or her participation in and support of the college's programs and activities. To be eligible, graduates must complete all four undergraduate years at Lakeland and maintain a high level of academic achievement.
Thrune was named to the college's Dean's List every semester, is a previous winner of the Outstanding Student in both Mathematics and Spanish and is a member of the Spanish National Honors Society.
She served the college as a resident assistant, an admissions ambassador, a tutor and a teaching assistant in Spanish. She played basketball four years, serving as team captain for two. She served as an officer for several difference academic and athletic organizations, and worked countless volunteer hours for several organizations. She studied abroad in Columbia and China.
"These opportunities helped me find friends, listen better, find myself and strive for success," Thrune said. "I sought understanding and found it by being involved in a little bit of everything at Lakeland because I was exposed to different perspectives every day."
The award is named for the Rev. Clarence Koehler, who graduated from the college in 1937 and from the seminary in 1939. He later became a member of the college's board of trustees, and was chairman of the board in 1957 when he passed away at age 48.
The Rev. Koehler was an outstanding student and participated in numerous activities on campus, including music, athletics, student publications and managing the campus bookstore. He maximized his college experience, and this award honors that spirit.
Other winners at Wednesday night's banquet included:
Business Administration
Outstanding Student in Accounting: Kelly Rogers
Outstanding Student in International Business: Sho Fujino
Outstanding Student in Marketing: Karyssa Gallenberger
Outstanding Underclassman in Business Administration: Krista Kretschmann
Outstanding Upperclassman in Business Administration: Joseph Kaestner-Provencher
Creative Arts
Outstanding Art Major: Katie LaPlaunt
Outstanding Student in Communication: Stacy Scheibl
Outstanding Theatre Student of the Year: Elizabeth Plotka
Outstanding Student in Writing: Katherine Amundsen
Education
Outstanding Student in Education: Erica Sommerfield
Humanities
Outstanding Student in Religion: Callie Olson
Outstanding Student in English: Lindsay Brown
Outstanding Student in Spanish: Emily Huberty
Natural Science
Outstanding Senior in Biochemistry: Jenna Ward
Outstanding Freshman in Chemistry: Suzette Rosas
Outstanding Senior in Chemistry: Kevin Urbaniak
Outstanding Student in Computer Science: Pablo Palacios
Outstanding Student in Mathematics: Michele Marquardt
Outstanding Student in Sport Studies: Derek VandenPlas
Social Science
Outstanding Student in Criminal Justice: Megan Gomez
Outstanding Student in History: Vanessa Vander Weele
Outstanding Student in Nonprofit Management: Maria Cervantes
Outstanding Student in Political Science: Rebecca Gardipee
Outstanding Student in Psychology: Kimberly Daane
Outstanding Student in Sociology: Chieko Kusanagi
Lakeland College Japan
Outstanding Student at Lakeland College Japan: Sayaka Sue
Ellen J. Kregel Athletic Award: Alec Redlich
Senior Honors
Karissa Anderson, Paige Gerber, Lindsay Kleckner, Veronika Lau, Joshua Leisemann, Stephanie Rock, Amber Smith, Brittany Kopp
Who's Who Award
Katherine Amundsen, Karissa Anderson, Lindsay Brown, Emmaculate Dika, Rebeca Elliott, Paul Elzinga, Megan Gomez, Jennifer Kjin, Katie LaPlaunt, Veronika Lau, Jacob Maechtle, Callie Olson, Sara Pfile, Vanessa Popp, Zachary Rogers, Brandon Rooker, Trevor Tanck, Kimberly Thimmig, Aimee Thrune, Leah Ulatowski, Jenna Ward, Braden Woods, Daniel Zea Zapata, Katherine Zielsdorf
View photos from the event
Senior Art Exhibit Opens Feb. 27
Lakeland College will spotlight the work of three students when the final Lakeland Senior Art Student Portfolio Exhibition for this academic year opens on Friday, Feb. 27.
Breanna WeberAlhanna LaRose, Tarah Johnson and Breanna Weber will discuss their work during an opening reception beginning at 4:30 p.m. in the Bradley Gallery, located in the Bradley Fine Arts Building on Lakeland's campus.
The exhibit, which will feature works created by these students during their time at Lakeland, will run through March 30. The Bradley Gallery is open from 8 a.m.-4 p.m., Monday through Friday, when the college is in session. Attendance at the reception and admittance to the Bradley Gallery are both free and open to the public.
The senior art show is a requirement for all Lakeland art majors. Students gain the experience of having their own exhibit, and are responsible for planning the show, putting the public relations together, hanging their work and any other details.
Alhanna LaRoseLaRose, of Sheboygan, is majoring in art with a graphic art emphasis. She has served a pair of internships, one at Lakeland illustrating books as part of the college's Malawi project, and another at Riveredge Nature Center designing logos, posters and other work. She has produced two comics for the Lakeland College Mirror student newspaper, and she's involved in Shutter Club and Making Spirits Bright on campus.
"I have a strange obsession with comics which anyone that has heard me talk probably already knows," LaRose said. "'Graphic novel-ish' style is present in most of my work because of how I try to explore myself as a person through my characters. As the medium evolves, that's what it has become. It's a very intimate art form, therefore making it the most interesting for me."
Weber, of Sheboygan, is majoring in liberal arts with a graphic art emphasis. She graduated from Lakeshore Technical College in 2012 with an associate's degree in graphic and website design. She is the owner of Breanna Rae Photography & Design and Car Girl With a Camera. She has been a writer, photographer and social media manager for the Mirror, and served photo, marketing and web internships with Dynamic, Inc., and Hyper Tails Agility Club.
Tarah Johnson"Much of my work reflects my two biggest passions; animals and automobiles," Weber said. "A goal I set for myself when I was a teenager was to somehow make my mark in the world. Not anything big that the whole world knew, but enough that I would be remembered positively somehow. At 23 years old, I can say I have already successfully done that through my artwork and photography."
Johnson, of Sheboygan, is also majoring in art with a graphic arts emphasis. She has a wide range of experience, including internships with The Johnson Inspiration Photography, Breanna Rae Photography & Design and Lakeland's Student Success & Engagement Office. She also works as a freelance photographer, photographing weddings, families, children and couples. She won an honorable mention award for photography in the 2014 Lakeland Student Art Exhibition.
Beah to lead Lakeland Community Book Read
Ishmael Beah, author of "A Long Way Gone: Memoirs of a Boy Soldier," will speak at Lakeland College on March 31 for the second annual Lakeland College Community Book Read.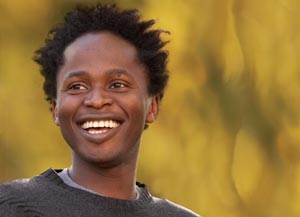 Ishmael BeahThe event, which begins at 7:30 p.m. in Lakeland's Bradley Theatre, is free and open to the public. Beah will speak about his life as a child soldier in Sierra Leone and read some excerpts from both his memoir and his recently published novel, "Radiance of Tomorrow."
Following the keynote, Beah will answer questions from the audience. All guests are encouraged to read "A Long Way Gone: Memoirs of a Boy Soldier" prior to the event.
Beah was born in Sierra Leone and at age 13 was pulled into the country's brutal civil war as a child soldier. After his parents and two brothers were killed, he fought for more than two years before he was removed from the army by UNICEF and placed in a rehabilitation home.
"A Long Way Gone" was a No. 1 National Bestseller and was named one of the Top 10 Nonfiction Books of 2007 by Time Magazine. The memoir tells the story of Beah's experiences during the war and his struggle to regain his humanity and re-enter the world of civilians, who viewed him with fear and suspicion.
For more information about the panel discussion or the Community Book Read, contact Gina Covelli, Lakeland College community relations manager, at or 920-565-1028 ext. 2232.
Check out photos and video from last year's inaugural Community Book Read with author Chad Harbach.
Former Lakeland director, graduate passes away
The Rev. Louis Grossen, a 1951 graduate who later served the college in several important support roles, passed away on Jan. 16 at Sharon S. Richardson Community Hospice. He was 85.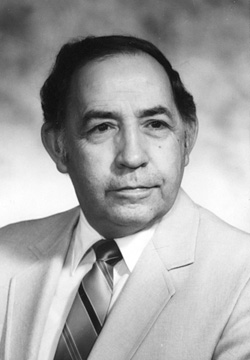 The Rev. Louis GrossenA Mount Horeb, Wis., native, Grossen attended the University of Wisconsin-Madison, but transferred to Mission House College, where he graduated in 1951. He then graduated from the Mission House Theological Seminary (now the United Theological Seminary of the Twin Cities) in 1954 with a Master of Divinity degree. On Aug. 22, 1953, he married the former Margery Gaul, a 1954 Mission House graduate.
An ordained United Church of Christ minister, Grossen served a number of pastorates throughout the Midwest before, in 1976, being named director of alumni relations at Lakeland. Later he became the college's director of planned giving and church relations, before retiring in 1995. He was instrumental in the college publishing its first alumni directory, led alumni giving to record highs and logged tens of thousands of miles driving to speaking engagements around the Midwest to share the Lakeland story.
He received the Outstanding Alumni Award and Lakeland's award for distinguished service. In retirement, he served on the college's Sesquicentennial Committee.
As a student, Grossen was a member of Lakeland's first unbeaten football team, served as senior class president and was business manager of the Spectrum.
According to his wishes, his remains were cremated and a service will be held at Salem UCC, 217 Salem Drive, Plymouth, on Jan. 24, at 11 a.m. A short visitation will be held prior to the service at 10:30 a.m. In lieu of flowers, memorial gifts may be sent for the Grossen Scholarship Fund at Lakeland.
A complete obituary can be seen here.