International night a celebration of different cultures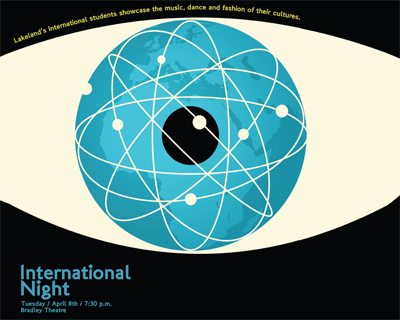 Lakeland College will celebrate the 30-plus countries that call the college's main campus home during its annual International Night, Tuesday, April 8.
The event, which is free and open to the public, will be held in the Bradley Theatre beginning at 7:30 p.m. The event is hosted by the Lakeland College Global Student Association.
Alice AntwiAsimeng, president of the Global Student Association, said the evening includes songs, dances, demonstrations, presentations, displays of traditional clothing from various countries and more. Students from China, Japan, South Korea, a Latin American group featuring students from Peru, Puerto Rico, and Columbia, an African student group featuring students from Ghana, Nigeria, Kenya, Cameroon and the Ivory Coast will be featured.
There will also be an international fashion show where different countries will showcase their traditional attire.
Noon Day, an organization that sells jewelry from all over the world, will also be part of the celebration. After the event, there will be a short video about Noon Day and their global initiative. A small stand outside the theatre will have sales of jewelry from Pakistan, Africa, India and other countries. Find out more about Noon Day at http://www.noondaycollection.com/.
Lakeland concert choir spring tour kicks off April 10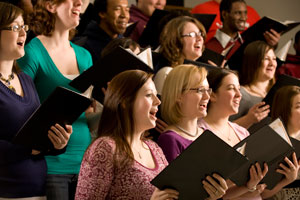 Students in Lakeland College's music department will take the road as the concert choir participates in its annual spring tour.
The week culminates with a homecoming concert on Sunday, April 13, at 3 p.m. in the Bradley Theatre on Lakeland's main campus. That performance is free and open to the public.
This year's repertoire includes a wide variety of music from many historical periods, genres and styles. Pieces include "Domine, Ad Adjuvandum Me Festina" by G.B. Martini, "Five Hebrew Love Songs" by Whitacre, "Lass Dich Nur Nichts Nicht Dauren" by Johannes Brahms, "Salmo 150" by Ernani Aguiar and "Cantique de Jean Racine" by Gabriel Faure. The program also includes a gospel song, hymns, folk songs, movie music and a pop song.
The Lakeland Singers will join the choir on the program. This small, auditioned group will sing "To Love You," written by Andra Moran and Josh Elson and arranged by Lakeland College student Jacob Nault.
The annual tour takes Lakeland students to various churches around the Midwest. This year's tour includes the following performances:
April 10 – Glenview United Methodist Church, 727 Harlem Ave., Glenview, Ill., 7 p.m.
April 11 – St. Paul's United Church of Christ, 1260 Leonard Point Road, Oshkosh, Wis., 7 p.m.
April 12 – St. Peter's UCC, 166 W. Dekora St., Saukville, Wis., 7 p.m.
Lakeland students learn about careers at ACUITY
ACUITY has hired more graduates from Lakeland College over the past five years than from any other college or university in the state, said ACUITY Human Resources Specialist Tracy Wusterbarth during a visit to Lakeland on Tuesday afternoon.
Wusterbarth said that when it comes to finding employees for the highly successful, fast-growing and nationally renowned property and casualty insurance company, Lakeland graduates are trusted and coveted.
"They are really producing for us, and that's fantastic, because Lakeland College is literally in our backyard," said Wusterbarth, whose department processed about 4,000 applications for employment last year.
"The people we have on board from Lakeland are doing very well, so yes, we really like Lakeland graduates. We don't want to spend our time visiting campuses that are not producing, so we did a study and found out that Lakeland was our top school in terms of employees over the past five years."
Tuesday's event, free for Lakeland College students, was sponsored and organized by Lakeland's Career Development Office. Wusterbarth was joined by Lakeland grads and current ACUITY standouts Adam Beltran, Brittany Ryan and Nicole Shavlik. The trio of Lakeland grads talked about how satisfying it is to work at ACUITY and how current students can best launch a career there.
Beltran, a 2012 computer science graduate, works as a commercial line system programmer. Ryan, a 2012 business management/marketing graduate, is an inside claims specialist. And Shavlik, also a 2012 business management graduate, is a commercial lines underwriter.
ACUITY, which is based in Sheboygan, Wis., has established a reputation with numerous awards as one of the best places to work in the state. Wusterbarth said ACUITY's retention rate is much higher than the national average.
In the upcoming months, there are expected to be at least 19 openings for information technology (programming) as well as 14 commercial processor positions and 18 underwriter positions.
Wusterbarth said graduating students' major does not make or break them as applicants at ACUITY.
"We have business analysts with English degrees," she said. "It's more about whether or not the applicant is a cultural fit. And the ability to communicate effectively is more important than what your degree is in."
Wusterbarth stressed that the culture at ACUITY, which is about to exceed 1,000 employees nationwide (including more than 750 at the Sheboygan headquarters building), is "family oriented."
"You feel valued at ACUITY," Wusterbarth said. "It's a very happy environment."
Former Harley-Davidson VP to lead Kohler Distinguished Business Lecture
Harley-Davidson's retired vice president of business development will discuss the Milwaukee-based company's historic rise and enduring success during Lakeland College's 13th annual Charlotte and Walter Kohler Distinguished Business Lecture on April 10.
Clyde Fessler, a Sheboygan native who played an integral part in Harley-Davidson's dramatic turnaround over the past 24 years, will speak beginning at 7 p.m. in the Bradley Theatre. The presentation is free and open to the public. Harley enthusiasts are encouraged to wear biker apparel.
Fessler joined Harley-Davidson in 1977, and as director of marketing services he led the establishment of Harley Owners Group (HOG), which now has more than 500,000 members and is the largest enthusiasts club in the world.
As general sales manager in the early 1980s, he established new policies and programs, many of which are still in effect today. As director of licensing, Fessler created a new business that has received national recognition enhancing the brand to the general public as well as adding substantial financial value to Harley-Davidson.
As vice president of general merchandise, he repositioned the rider accessory department and led dramatic growth in the MotorClothes team from $20 million in annual sales to more than $100 million in five years.
Fessler is a graduate of the University of Notre Dame. He served on the board of trustees for the American Motorcycle Association and the Motorcycle Safety Foundation. He also served as an active liaison between the Muscular Dystrophy Association and Harley-Davidson, a relationship that has generated more than $31 million in donations since 1981.
He retired from Harley-Davidson in early 2002 and is now active as a consultant and motivational speaker.
Fessler's appearance at Lakeland is made possible by a gift from The Charlotte and Walter Kohler Charitable Trust. Lakeland annually brings a nationally known business or economic figure to its main campus to speak with Lakeland students and the general public.
Past lecturers have included former Speaker of the U.S. House of Representatives and Republican presidential candidate Newt Gingrich, Forbes Media President and CEO Steve Forbes, Emmy Award-winning consumer reporter, investigative journalist and author John Stossel and a Federal Reserve Bank president.
The Charlotte and Walter Kohler Charitable Trust is named for former Wisconsin Gov. Walter Kohler Jr. and his wife, Charlotte. The Trust was established by Charlotte Kohler to preserve the society and culture that made their good fortune and success possible.
Lakeland students give back for spring break
Eighteen Lakeland College students and two staff members recently spent their spring break week in North Carolina, working with Habitat for Humanity on five different construction sites over four days.
"The students really appreciate the ability to do hands-on work that impacts the lives of others in a very positive way," said Lakeland Vice President of Student Development and Athletics Nate Dehne, who serves as advisor for Lakeland's chapter of Habitat for Humanity.
Dehne said at one of the sites, Lakeland's students worked alongside the future owner of the home.
"The woman who will be moving in was painting with us, and she said to one of our students, 'Every time I walk in the door, I will think to myself, Anna Faust from Wisconsin painted that door!'" Dehne said. "I think that's heartwarming, and provides clarity for why we do this.
"I'm really proud of our students. They could have done a lot of different things over Spring Break, but they chose to give those things up to work hard and help others. That's really neat."
The Lakeland contingent traveled to Wisconsin in a mini-bus and a mini-van, then stayed in Chapel Hill, N.C., and worked on construction of deconstruction sites in and around Durham, N.C.
Lakeland's affiliation with Habitat for Humanity has spanned decades. In the prior three years, Dehne said, Lakeland has worked with Habitat for Humanity in Lexington, Ky.; New Orleans and Springfield, Mo.
"I sent an email out thanking the students who participated this year, and one student wrote me back and expressed how happy she was that she went," said Dehne.
"She said the people she met, the experiences she had; none of that would have happened had she not had the courage to make this commitment. That's a cool thing. I think our students really get a sense of the impact they're having."