Former Lakeland director, graduate passes away
The Rev. Louis Grossen, a 1951 graduate who later served the college in several important support roles, passed away on Jan. 16 at Sharon S. Richardson Community Hospice. He was 85.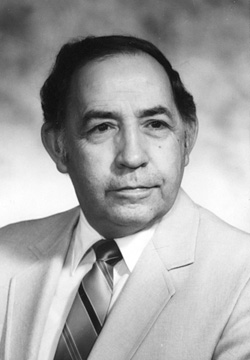 The Rev. Louis GrossenA Mount Horeb, Wis., native, Grossen attended the University of Wisconsin-Madison, but transferred to Mission House College, where he graduated in 1951. He then graduated from the Mission House Theological Seminary (now the United Theological Seminary of the Twin Cities) in 1954 with a Master of Divinity degree. On Aug. 22, 1953, he married the former Margery Gaul, a 1954 Mission House graduate.
An ordained United Church of Christ minister, Grossen served a number of pastorates throughout the Midwest before, in 1976, being named director of alumni relations at Lakeland. Later he became the college's director of planned giving and church relations, before retiring in 1995. He was instrumental in the college publishing its first alumni directory, led alumni giving to record highs and logged tens of thousands of miles driving to speaking engagements around the Midwest to share the Lakeland story.
He received the Outstanding Alumni Award and Lakeland's award for distinguished service. In retirement, he served on the college's Sesquicentennial Committee.
As a student, Grossen was a member of Lakeland's first unbeaten football team, served as senior class president and was business manager of the Spectrum.
According to his wishes, his remains were cremated and a service will be held at Salem UCC, 217 Salem Drive, Plymouth, on Jan. 24, at 11 a.m. A short visitation will be held prior to the service at 10:30 a.m. In lieu of flowers, memorial gifts may be sent for the Grossen Scholarship Fund at Lakeland.
A complete obituary can be seen here.
Senior Art Show Jan. 23
Lakeland College will spotlight the work of three students when the second of three Lakeland Senior Art Student Portfolio Exhibitions opens on Friday, Jan. 23.
Kyle Kultgen, Nate Prosser and Andrew Klauer will discuss their work during an opening reception beginning at 4:30 p.m. in the Bradley Gallery, located in the Bradley Fine Arts Building on Lakeland's campus.
The exhibit, which will feature works created by these students during their time at Lakeland, will run through Feb. 23. The Bradley Gallery is open from 8 a.m.-4 p.m., Monday through Friday, when the college is in session. Attendance at the reception and admittance to the Bradley Gallery are both free and open to the public.
The senior art show is a requirement for all Lakeland art majors. Students gain the experience of having their own exhibit, and are responsible for planning the show, putting the public relations together, hanging their work and any other details.
Kultgen, of Random Lake, Wis., is majoring in art with a graphic design emphasis. In the summer of 2014 he served a graphic design internship with Kapco, Inc., in Grafton, which allowed him to work on a variety of projects.
"In my designs it reflects what I am thinking in my mind and feeling in my body," Kultgen said. "My artwork identifies the kind of person I am today. When I put color in my pieces, I use light colors if my mood defines happiness or greatness and I use dark colors if my mood defines anger."
Klauer, of Berlin, Wis., is majoring in art with a graphic design and studio emphasis. In the summer of 2014 he served an internship with Apparel Art that allowed him to do logo design and embroidery work on hats and clothing.
"I would describe my art as mind catching," Klauer said. "My art is meant to remind people of their dreams, happy moments, and the nature they have seen, the feeling they have throughout their lives. Things I see throughout the day influence my art, or dreams I have, even stories people have told me. I make art like this because it helps me relax and helps me remember important things and people in my life. Capturing a perfect day, an adventure you took or a feeling you get from the ones you love when you're with them."
Prosser, of Johnsburg, Ill., is majoring in art with a graphic design emphasis. This past fall, he served an internship on campus designing posters for campus events, and in the spring 2014 semester he served an internship helping prep Bradley Gallery exhibits. He has been working in the Lakeland Art Store since January 2013.
In addition to Lakeland art exhibits, Prosser's work was in the "Alive in the Arts" exhibit at the Plymouth Arts Center in July 2013. His design was also chosen in the McHenry County Health Department's Anti-Smoking post design competition.
"More times than not, the artwork I create is brightly colored, and either abstract or surreal," Prosser said. "I am much happier working on pieces that are cartoon oriented or things like caricatures, because that is my style of art. Since cartoons and animation shaped my style, it is only natural for me to be attracted to designing similar things."
Theology scholar to deliver Founders' Day Lecture
The Rev. Dr. Serene Jones, president of Union Theological Seminary in New York, will present Lakeland College's annual Founders' Day Lecture on Tuesday, Jan. 20. Her free presentation will begin at 11 a.m. in the Bradley Theatre.
Jones' presentation is entitled "Economic Freedom," and she will explore the myriad ways in which theology provides fresh insight into our present economic system.
Founders' Day is an annual Lakeland event that recognizes the church's contributions to Lakeland and provides a time to reflect on Lakeland's strong tradition with the United Church of Christ.
Jones, the 16th president of Union Theological Seminary, is a prolific and popular scholar in the fields of theology, religion and gender studies. She earned her master of divinity from Yale Divinity School as well as her Ph.D. in theology from Yale University. She holds a bachelor's from the University of Oklahoma and is an ordained minister in both the Christian Church (Disciples of Christ) and the United Church of Christ.
A post-lecture luncheon with Jones is set for 12:30-2 p.m. in the Laun Center. Reservations are required and the cost is $10. To register online, visit Lakeland.edu/MissionHouseCenter or contact Colleen Darling at or 920-565-1021, ext. 2123.
Business professor to receive state honor
Scott Niederjohn, Lakeland College Charlotte and Walter Kohler Associate Professor of Business Administration, is part of a team that will be honored on Jan. 28 at the State Capitol in Madison with a 2014 Wisconsin Financial Literacy Award.
In addition, the late James Flora, a founding member of the Lakeland College Center for Economic Education Board of Directors and a longtime teacher at New Holstein High School, is a winner in the Legacy category.
The 2014 Wisconsin Financial Literacy Awards were selected by the Governor's Council on Financial Literacy.
Niederjohn serves on the board of directors of BEAM, a Milwaukee charter school that specializes in teaching its students and their parents how to become financially successful. BEAM's 10-day summer "The Sky's the Limit Academy" program won in the Organization category.
The Sky's The Limit Academy is a 10-day summer program designed for high achieving middle school students. The academy's goal is to substantially improve the quality and quantity of economic and personal finance education for underserved Milwaukee middle school students.
Niederjohn, who was named a 2011 winner of this award, created Lakeland's Center for Economic Education in 2006. The Center, which won this award in the organization category in 2012, has created programming and training for hundreds of K-12 teachers to introduce students to economic and financial concepts.
A member of Lakeland's faculty since 2004, Niederjohn has become one of the Midwest's foremost advocates for the need for financial literacy and economic education.
A total of 17 winners were named. Wisconsin Gov. Scott Walker said the winners are making a difference by increasing the personal financial knowledge and skills of Wisconsinites of all ages.
"By improving their financial capabilities, our citizens can improve their quality of life and, in the process, help strengthen the Wisconsin economy," Walker said
Free income tax prep available through VITA program
Every year during tax time, Lakeland College accounting students power the local Volunteer Income Tax Assistance (VITA) program, which provides free tax return service for lower-income citizens.
The Sheboygan VITA program, sponsored by Guaranty Bank and Schenck SC, takes place on Tuesdays from 5-9 p.m. and on Saturdays from 9:30 a.m.-2 p.m. starting Feb. 3 at the Sheboygan Salvation Army. For participating Lakeland students, this community work is required as part of their accounting major.
"Not only does involvement in this program give our accounting students hands-on experience with real clients, it also reinforces the need to serve the greater community," said Brett Killion, in his fourth year as Lakeland's assistant professor of accounting. "It's rewarding for our student to see the joy in people's faces and hear them say, 'Thank you so much!'
"There are people out there who are struggling. We provide that free service and hopefully put dollars in their pockets, which positively impacts the local economy."
Last year, Lakeland students — with help from Lakeshore Technical College students — handled 371 state returns and 332 federal returns. The average federal return yielded $1,283 and the average Sheboygan VITA state refund was $581.
In its first 10 years, Lakeland's program has collected close to $10 million in tax refunds for lower-income earners in the area.
Lower-income citizens bring in their paperwork and conduct a short interview with the accounting student assigned to the return. The students use computers set up in the Salvation Army. Most returns take between 60-90 minutes. The returns are then reviewed by the more experienced students and tax practitioners.
People interested in taking advantage of this free service must have a household income under $53,000 a year. Applicants must bring a photo ID; social security cards for themselves, their spouse and dependents; W-2 forms; 1099 forms; rent certificate or 2014 property tax bill; and a copy of their 2013 tax return.
Returns cannot be done for those taxpayers having income from outside Wisconsin sources, those having complex tax returns and those who are non-U.S. residents.
Registered tax return preparers and enrolled agents can earn up to 14 hours of continuing education credits by volunteering as a quality reviewer at a VITA site. Those interested should contact Killion at .
Reservations are required for the tax service and will be accepted beginning Jan. 12. To make a reservation, call 565-1000, ext. 2290.