Plymouth students win forensic accounting competition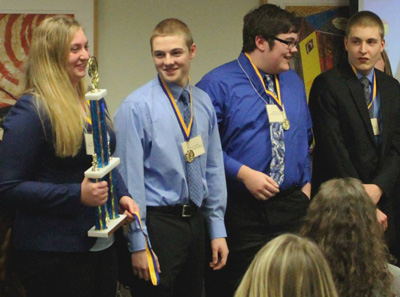 More than 75 students from 16 Wisconsin high schools converged on Lakeland College Monday for the second annual Forensic Accounting Competition.
This year's event focused on the infamous Koss embezzlement scandal in Milwaukee, and the eventual arrest and incarceration of Sujata Sachdeva.
Taking home first place was the Plymouth High School quartet of Michael Bolland, Drew Schweiger, Tessa Woelfel and Jaryd Larson. Monroe was second for the second straight year, Oregon was third and Greendale took fourth.
Also participating were teams from Chilton, D.C. Everest, Edgerton, Franklin, Kohler, Lake Mills, Manitowoc Lincoln, Menomonee Falls, Middleton, Milton, Oconto and Port Washington.
Highlighting the full day of presentations was a talk by FBI agents Jennifer Walkowski and Brian Due, who discussed the case and showed the students slides of merchandise former vice president of finance Sachdeva purchased with some of the $34 million she embezzled from Koss.
When the FBI agents showed slides of jewelry worth five figures, the students gasped in amazement.
The panel of judges included high-level employees from top local companies, including Acuity, Community Bank & Trust, Johnsonville and Kohler Co. Another of the judges represented the Internal Revenue Service.
Walkowski said she enjoyed seeing the students' presentations about what went wrong, why and how this disaster could have been avoided.
"I am very impressed, I have to say," she offered.
"Today was just great," said Bob Martin, instructor of accounting. "Being a good accountant means being able to communicate information. Tell me the story. That's exactly what these students did very well today."
Four Lakeland College faculty members promoted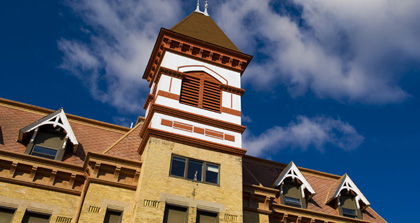 Lakeland College has promoted four members of its faculty.
Brian Frink
Associate Professors Brian Frink (chemistry and physics), Karl Kuhn (religion) and Elizabeth Stroot (psychology) have been promoted to full professor. All three joined Lakeland's faculty in 1999. Assistant Professor of General Studies Signe Jorgenson has been tenured and promoted to associate professor.
Frink, the 2013 winner of the Underkofler Excellence in Undergraduate Teaching Award, has led partnerships with employers in the local manufacturing community to create real-world internship opportunities for students that open doors to future careers.
He has significant service to the college working on numerous committees and task forces. Highlights include chairing the on-campus curriculum committee and the assessment committee and serving on task forces that worked on the college's core curriculum. He has directed several student research experiences, and published and presented his own work several times.
Prior to coming to Lakeland, Frink worked as a teaching assistant and research assistant at the University of Minnesota-Twin Cities and The Ohio State University. He has a bachelor's degree in chemistry from the University of Minnesota-Twin Cities and a doctorate in physical organic chemistry from Ohio State.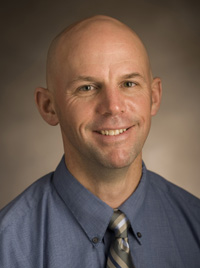 Karl Kuhn
Kuhn has taught a variety of undergraduate and graduate courses. He is the college's senior religion faculty member, and has served as the director of the college's Mission House Center for the past two years.
He is a prolific author, having written "Having Words with God: The Bible as Conversation" (Minneapolis: Fortress, 2008), "The Heart of Biblical Narrative: Rediscovering Biblical Appeal to the Emotions" (Minneapolis: Fortress, 2009) and "Luke: The Elite Evangelist" (Paul's Social Network Series; Collegeville, Liturgical, 2010). He has also written numerous scholarly papers and works published in several religion publications, and he served as associate New Testament editor for the "Catholic Biblical Quarterly," one of the leading journals in the field of biblical studies.
Kuhn has a bachelor's degree in English literature and composition from UW-Milwaukee, a Master of Divinity degree from Eden Theological Seminary in St. Louis, Mo., and a doctorate degree in theology and biblical studies from Marquette University.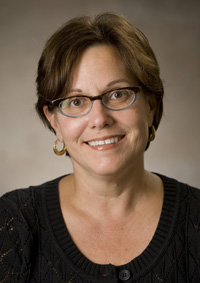 Elizabeth Stroot
Stroot, the 2010 winner of the Underkofler Award, has been a driving force behind the significant growth of the college's psychology program. She has led efforts to update the psychology curriculum and the college's master of arts in counseling program.
She has been involved in developing Lakeland's psychology lab, which has allowed her to engage undergraduates in psychology research which they have presented at professional conferences throughout the Midwest.
She has served as the division chair for the Social Sciences Division since 2010, and she was instrumental the creation of Lakeland's institutional review board, a college committee that reviews and approves research proposals.
Stroot joined Lakeland's staff after spending seven years at the University of Delaware. She has a bachelor's degree in psychology from Florida Atlantic University and a master's and a doctorate in clinical psychology from the University of Delaware.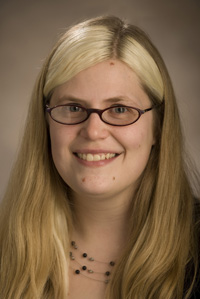 Signe Jorgensen
Jorgenson joined Lakeland's staff in 2008. She has served on several committees, including service as chair of the Fine Arts & Convocation Committee. She was part of a group that helped significantly redesign the interdisciplinary curriculum for first-year students, and she currently supervises writing tutors within the Hayssen Academic Resource Center.
She is an associate editor of "Stoneboat," a literary journal that she helped create in 2010. Prior to coming to Lakeland, she taught at the University of Alaska Anchorage.
Jorgenson has an MFA in nonfiction creative writing from the University of Alaska Anchorage and a bachelor's degree in creative writing and religious studies from the University of Wisconsin-Eau Claire.
Lakeland strengthens commitment to study abroad program
Lakeland College Joins Institute of International Education Coalition to Double Number of Students Who Study Abroad by End of Decade
Lakeland College has committed to doubling the number of its undergraduate students who study abroad over the next five years. The college made the pledge when it joined the Institute of International Education (IIE)'s Generation Study Abroad initiative to double the number of American students who study abroad by the end of the decade.
Leading up to IIE's centennial celebration in 2019, Generation Study Abroad will engage educators at all levels and stakeholders in the public and private sectors to drive meaningful, innovative action to increase the number of U.S. students who have the opportunity to gain international experience through academic study abroad programs, as well as internships, service learning and non-credit educational experiences.
Lakeland is among the lead partners who have committed to specific, measureable actions that will help reach this ambitious goal; the result will be thousands more American students graduating with the international experience necessary for success in a globalized world.
Building on its nearly 100-year commitment to study abroad, IIE has committed $2 million of its own funds to this initiative over the next five years. Lakeland will create a scholarship fund for study abroad, seek out new relationships with international institutions and develop an internship program at the college's Tokyo campus.
"Lakeland recognizes that, regardless of your career path, a study abroad, intern abroad or other international exchange experience will better prepare you for the global economy," said Jen Siebert, director of international programs. "The college is committed to providing our students with ways to diversify their resumes and make them stand out to future employers by encouraging study abroad."
Tiffany Miller, a senior from Mason, Wis., majoring in German, studied at Lakeland College Japan in spring 2011 and at the University of Kassel in Germany in spring 2012.
"Studying abroad has helped me gain more independence and confidence in myself and my goals," Miller said. "It has really changed my perspective on life in general, as well. I would encourage any undergraduate student to strongly consider a study abroad experience."
Over the past few years, more than 80 Lakeland students have gone abroad to more than seven countries. Lakeland offers both semester-long study abroad opportunities as well as short-term, faculty-led courses conducted during the college's three-week May Term.
In addition to its two-year campus in Tokyo, Lakeland has sister schools in China, Korea, Germany, Luxembourg and Colombia that provide study abroad prospects. Recent connections with study abroad organizations such as CEA and AIFS will provide Lakeland students with a more varied pool of locations around the globe for study abroad.
Lakeland is one of more than 150 higher education institutions from 41 U.S. states that have signed the Generation Study Abroad Commitment, including large state and private universities, liberal arts colleges, community colleges and historically black colleges and universities and other minority serving institutions.
The U.S. Department of State's Bureau of Educational and Cultural Affairs and several foreign governments, as well as key higher education associations and study abroad provider organizations, have also pledged to support the goals of the initiative. Recognizing the importance of an internationally focused workforce, IIE is also actively seeking the participation of corporations and the business community.
"Globalization has changed the way the world works, and employers are increasingly looking for workers who have international skills and expertise," says Dr. Allan Goodman, President of IIE. "Studying abroad must be viewed as an essential component of a college degree and critical to preparing future leaders."
IIE is launching Generation Study Abroad because it believes the number and proportion of today's students who graduate with an educational experience abroad is far too low. Currently, fewer than 10 percent of all U.S. college students study abroad at some point in their academic career.
According to the Open Doors Report on International and Educational Exchange released by IIE last November, 295,000 students studied abroad in 2011/12 in credit-bearing and non-credit programs. Generation Study Abroad aims to grow participation in study abroad so that the annual total reported will reach 600,000 by the end of the decade.
With 2.6 million students graduating with associates or baccalaureate degrees each year, IIE believes it is clear that major segments of America's young people are not getting the international experience they will need to advance their careers and participate in the global economy, or to work together across borders to address global issues.
For more information on IIE's Generation Study Abroad initiative, and a complete list of commitment partners, go to: iie.org/generationstudyabroad.
Forensic Accounting Competition to take on Koss headphones scandal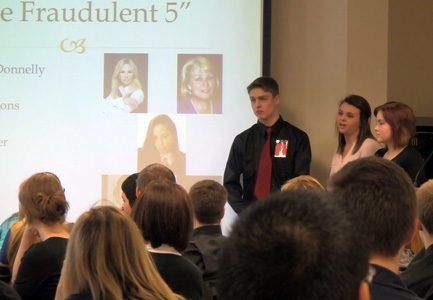 It was a white collar crime so spectacular, it made headlines for months, captivated accountants around the nation and begged the question: How in the world could this happen?
How could a company's vice president of finance embezzle $34 million over a five-year period? Those questions continue to surround the infamous Milwaukee-based Koss headphones scandal, which included a high-profile arrest, a plea bargain and multiple lawsuits in 2010.
On Monday at Lakeland College, high school students from 17 schools, along with two FBI agents who worked the Koss case, will visit campus for the second annual Lakeland College Forensic Accounting Competition. Teams of students from each school were given information on the Koss case in advance, and on Monday they will present to a panel of judges their findings about what went wrong and how this crime could have been prevented.
Schools participating are Chilton, D.C. Everest, Edgerton, Franklin, Greendale, Kohler, Lake Mills, Manitowoc Lincoln, McFarland, Menomonee Falls, Middleton, Milton, Monroe, Oconto, Oregon, Plymouth and Port Washington.
"This is a great way for high school accounting teachers to show their students that there's a really exciting part of the accounting world out there, and that accounting isn't just about debits and credits," said Bob Martin, Lakeland's adjunct instructor of accounting and event organizer. "The Koss case is such a great case, such an interesting case."
The Lakeland event, which has grown from 12 participating schools last year to 17 this year, will run from 8:30 a.m. to 3:30 p.m., with presentations and breakout sessions throughout the day. The top four teams will be announced in the afternoon, with an awards ceremony capping off the day.
Highlighting the event will be a presentation by FBI agents Jennifer Walkowski and Julie Andreoni, who will discuss the investigation that led to the arrest and eventual incarceration of Sujata Sachdeva, the former Koss vice president of finance who was fired and initially charged by federal agents of embezzling $4.5 million. As the mountain of evidence against her grew, she was indicted by a federal grand jury of defrauding $31 million.
Eventually, in July 2010, Sachdeva reached an agreement and pleaded guilty to embezzling $34 million. She was sentenced to 11 years at Dublin Federal Prison in California, according to the Milwaukee Journal Sentinel.
Sachdeva's embezzlement had a wide-reaching effect on Koss and rippled through the accounting, law-enforcement and regulatory agency communities. In addition to the FBI, the U.S. Marshals Service was involved and the U.S. Securities and Exchange Commission (SEC) also charged Sachdeva with fraud and misconduct.
As details of the crime began to emerge in 2009, Koss fired and later sued its auditor, Grant Thornton LLP. Later, Koss also filed suit against American Express, Sachdeva's card of choice when she went on extravagant shopping sprees. Koss, meanwhile, was sued by shareholders.
Mercury Marine's Duke lectures Lakeland marketing class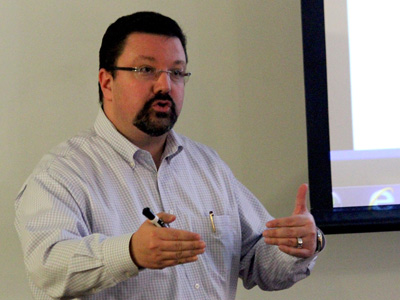 Marketing decisions are based on metrics more than ever before, said Mercury Marine Vice President of Marketing Ben Duke, during a guest lecture at a Lakeland College senior-level marketing management class on Wednesday afternoon.
"Marketing has traditionally come from a gut feeling approach," said Duke, who earned both his bachelor's and MBA from Lakeland's evening, weekend and online program. "But now, it's almost entirely data driven."
Mercury Marine, a world leader in the production and sale of marine engines, boats and parts for recreational, commercial and government marine applications, is based in Fond du Lac.
Duke was joined by Mercury Director of Public Relations Lee Gordon, who spoke to the Lakeland College students about the pros and cons of social media.
Social media plays a significant role in Mercury's marketing strategy, Duke said, pointing out that Facebook, for example, fits the company's demographic exceptionally well.
Through in-house and contracted platform analytics, Mercury Marine can make intelligent decisions on how to best market and publicize the $2.2 billion company and its products.
Additionally, Mercury can evaluate how its 30 million annual visitors are browsing the company's website. "What are they looking for?" Duke asked rhetorically.
"Marketing, from where it was five years ago, is very different now," Duke said. "We're being measured constantly, and that can be uncomfortable. Now, you have to have good data to support your decisions."
While social media and other web-based marketing is big at Mercury, the company also participates in the traditional marketing arena, with a strong presence at boat shows and "Experience Events" – in which people are taken out on boats with Mercury engines.
Gordon's primary message to the students was to make careful decisions when it comes to their use of social media. He stressed that poor judgment in regards to Facebook, Twitter, Vine, Instagram and other forms of "new media" can be devastating to a job applicant.
"Your resume is the best of you," Gordon said. "But now, with social media, we get to see who you really are."