Mercury Marine's Duke lectures Lakeland marketing class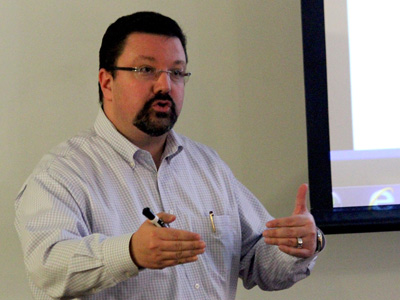 Marketing decisions are based on metrics more than ever before, said Mercury Marine Vice President of Marketing Ben Duke, during a guest lecture at a Lakeland College senior-level marketing management class on Wednesday afternoon.
"Marketing has traditionally come from a gut feeling approach," said Duke, who earned both his bachelor's and MBA from Lakeland's evening, weekend and online program. "But now, it's almost entirely data driven."
Mercury Marine, a world leader in the production and sale of marine engines, boats and parts for recreational, commercial and government marine applications, is based in Fond du Lac.
Duke was joined by Mercury Director of Public Relations Lee Gordon, who spoke to the Lakeland College students about the pros and cons of social media.
Social media plays a significant role in Mercury's marketing strategy, Duke said, pointing out that Facebook, for example, fits the company's demographic exceptionally well.
Through in-house and contracted platform analytics, Mercury Marine can make intelligent decisions on how to best market and publicize the $2.2 billion company and its products.
Additionally, Mercury can evaluate how its 30 million annual visitors are browsing the company's website. "What are they looking for?" Duke asked rhetorically.
"Marketing, from where it was five years ago, is very different now," Duke said. "We're being measured constantly, and that can be uncomfortable. Now, you have to have good data to support your decisions."
While social media and other web-based marketing is big at Mercury, the company also participates in the traditional marketing arena, with a strong presence at boat shows and "Experience Events" – in which people are taken out on boats with Mercury engines.
Gordon's primary message to the students was to make careful decisions when it comes to their use of social media. He stressed that poor judgment in regards to Facebook, Twitter, Vine, Instagram and other forms of "new media" can be devastating to a job applicant.
"Your resume is the best of you," Gordon said. "But now, with social media, we get to see who you really are."
Grads return for Business Colloquium
Five successful Lakeland College graduates returned to campus in late February for the school's day-long "Business Colloquium" event.
Caitlin Brotz, Admira Ibisevic, Luke Pfeifer, Jill Wagner and Karl Ulrich spoke to Lakeland's business students and visiting high school prospects, sharing sage advice and passionately promoting their alma mater. The Lakeland grads then appeared individually in classes for special presentations.
Brotz, a 2005 graduate with a degree in business administration, is the founder and owner of Sheboygan's Olivu 426 – a manufacturer and distributor of natural cosmetics and beauty products.
Ibisevic, a 2009 grad with a double major (business administration and marketing), has ascended quickly at energy management company Orion Energy Systems. She is currently the director of internal operations at the Manitowoc-based company.
Pfeifer, a 2003 resort management grad, works in Seattle for Agilysys, which produces logistical software for hotels and resorts around the world.
Wagner, who earned her bachelor's degree in 1992 and her MBA from Lakeland in 2005, was recently promoted to president of Appleton-based Integrity Insurance.
And Ulrich, who graduated with a degree in German and history before advancing to law school at Notre Dame, is a partner and shareholder at the law firm of Sebaly Shillito + Dyer in Dayton, Ohio.
The five guests began their day speaking to small groups of potential Lakeland College students who were visiting for the day. Then, the graduates sat at a table in front of all Lakeland College business students and answered questions presented by longtime Lakeland Professor of Business Administration J. Garland Schilcutt.
The visitors wrapped up their day by guest lecturing in five different classrooms.
Lakeland to host "The Art of Fielding" author Chad Harbach
Lakeland College will host an evening with Wisconsin native Chad Harbach, author of the best-selling novel "The Art of Fielding," April 15 as part of the inaugural Lakeland College Community Book Read.
The event, which is free and open to the public, begins at 7:30 p.m. in Lakeland's Bradley Theatre.
Harbach will read excerpts from the novel and answer questions about the work and his life as an author and magazine editor. Guests are encouraged to read "The Art of Fielding" prior to the event.
"The Art of Fielding," Harbach's debut novel, was named one of the New York Times' Ten Best Books of 2011.
Born is Racine, Harbach is a graduate of Harvard and the University of Virginia, and he is a cofounder and editor of n+1, a magazine journal of literature, politics and culture based in New York. The magazine has enjoyed a high reputation among both readers and authors because of its mixture of essays, critical theory and different forms of fictional text.
Harbach wrote and honed "The Art of Fielding" for almost a decade, following in the footsteps of his role model, David Foster Wallace, not only stylistically and in his composition, but also by working with the same editor.
At the beginning of 2010, the rights were bought at auction for $650,000, an unusually high sum for a debut. The book immediately received an enthusiastic reception in the arts sections of the American press. New York Times iconic critic Michiko Kakutani said of Harbach, he "has the rare abilities to write with earnest, deeply felt emotion without ever veering into sentimentality, and to create quirky, vulnerable and fully imagined characters who instantly take up residence in our own hearts and minds."
The subtle mixture of baseball and college novel, which reaches far beyond the boundaries of campus and baseball diamond, was also well-received by other writers like John Irving, Bret Easton Ellis and Jonathan Franzen.
In addition, Harbach's n+1 colleague Keith Gessen published an eBook documenting the story of how the novel came about. The rights for a planned mini-series on American TV channel HBO have been sold.
Talking about the connection between baseball and literature, Harbach said: "Yes, there's a narrative arc to a game that's really satisfying. … Baseball is lonely — it's a team sport, of course, but it puts each player on the team in difficult, isolated situations. It's also a slow, contemplative game, with a lot of gaps and spaces for reflection, which suits most writers."
Author, journalist to deliver Lakeland's 152nd Commencement address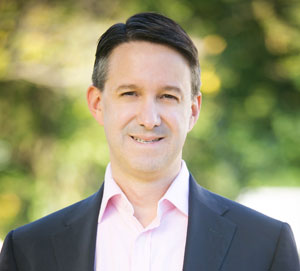 Jeffrey Selingo, an author, columnist, and speaker who has spent his journalism career covering colleges and universities worldwide, will serve as Lakeland College's 2014 commencement speaker.
Selingo is the author of "College (Un)Bound: The Future of Higher Education and What It Means for Students," which explores the college of tomorrow – how families will pay, what campuses will look like, how students will learn and what skills will lead to success in the job market.
Selingo is a contributing editor to The Chronicle of Higher Education and professor of practice at Arizona State University. His work focuses on the innovative practices of colleges and universities and what they might mean for students in the future.
He is the former top editor of The Chronicle, where he worked for 16 years in a variety of reporting and editing roles. His writing has also appeared in The New York Times, The Washington Post, The Wall Street Journal and The Huffington Post, and he is a contributor to the LinkedIn Influencer program, where you can follow his blog posts on higher education.
Selingo's work has been honored with awards from the Education Writers Association, Society of Professional Journalists and the Associated Press. He has been the keynote speaker before dozens of associations and universities and appears regularly on regional and national radio and television programs, including NPR, ABC and CBS.
He received a bachelor's degree in journalism from Ithaca College and a master's degree in government from the Johns Hopkins University.
Learn more about Selingo and his work online at http://www.jeffselingo.com/.
Lakeland student turns life into theatre
Lakeland College senior Michelle Fromm expects long-simmering emotions to bubble to the surface this weekend.
"I know I'm going to cry at least once, if not more," she says.
Fromm's tears will represent a jumbled collection of feelings, ranging wildly from joy and pride to deep sadness. Because no matter how many people attend and enjoy her original play, she will think about the one person who won't be there.
"I know my dad would be proud of me," she says softly. "Even with as little of the show that I had finished, he was already talking it up to anyone who would listen."
Fromm's production of "The Writing Desk," a play about the universal human pursuit of love through the ages, will debut Friday night at 7:30 at Lakeland's Bradley Theatre. Additional performances are offered Saturday at 7:30 p.m. and Sunday at 2 p.m.
Admission to this wholly student-produced and performed play is free for Lakeland College students, faculty and staff. The cost is $3 for all other students and children, and $5 for adults. All proceeds go to the Theatricians, Lakeland's student drama club.
"I think this is a great reflection of what Lakeland College is capable of," Fromm says. "This play was born here and raised here, and now it's going to graduate here. It's really exciting to me. I really like Lakeland College, and so much of Lakeland College is embedded in this project."
Fromm was about a year into writing what would eventually become a 65-page script when she received a phone call on Sept. 28, 2013. Her father and biggest fan, Ron, had passed away suddenly at the age of 52. One of Ron's passions in life was writing mystery plays, and his excitement about Michelle's project inspired her.
"It was really hard on me," Michelle says of her father's death. "I had been going to him for advice, and he was so good about troubleshooting and suggesting different things, or having me take out twists that just didn't work.
"I didn't touch the play for weeks. I just couldn't. But when I finally did go back to it, I had a new energy in me, a new need to push this through to the finish line. I am dedicating this to my father. Actually, I'm dedicating it to both of my fathers: God, and my earthly father who's now in heaven."
"The Writing Desk" is a story about how people from three different eras perceive and pursue that universal need, love. In Fromm's piece, the spirit of the writing desk recounts its view of that quest for love in three eras: 1866, 1922 and 2014. The first year was post-Civil War while the second year represented the Prohibition era and the third year covers the present.
"The story is about what people are going through in order to achieve some sort of love," says Fromm, who will direct the performances. "I tried to get away from society's ideas of love. I think society puts too much stress on romantic love, and not enough on love between friends, sisters, family members."
Fromm, who disliked history until taking a class with Lakeland College professor Rick Dodgson, did hundreds of hours of historical research. She also spent many more hours clacking away at drafts on an old-school manual typewriter before honing the story via more modern word processing. Last summer, she recalls, the play was "like a fulltime job some days; eight hours with a lunch break."
She says it's important to her that the piece is as historically accurate as possible. For example, one character attempts suicide, and Fromm wanted to be sure the method of death this character chose fit the time period.
"Michelle really made this her baby," says Charlie Krebs, Lakeland's associated professor of theatre and speech. "The fact that she wrote it and is now directing it is pretty outstanding."
Some of the topics covered in the roughly 90-minute play are serious. In addition to the suicide attempt, Fromm delves into murder, abortion and arranged marriage.
What started as a senior writing project has blossomed into a production that will include 15 current student cast members and a handful of other students who will contribute in roles ranging from set design to assistant direction to working the spotlight.
"I believe that art forms should not stand alone, so this show carefully incorporates acting and lighting (performance art), set design and costume design (visual art), and of course my writing," she says. "The show is being put on entirely by students, plus two recent Lakeland alumni. We even have a Lakeland art student who is doing the set for internship credit."
Krebs, who gave Fromm advice but took care to let her run the show, has been impressed with his standout student's effort and execution.
"I'm extremely proud of her," Krebs says. "She's very, very talented, and works so well with other people. I just can't say enough good things about Michelle."
Getting "The Writing Desk" off the ground wasn't easy. There were setbacks, like when three cast members quit for various reasons early this semester. Their replacements had to memorize their lines in a week.
"They didn't complain," Fromm says. "I'm so proud of the cast. They have worked so hard. I'm not so great with leadership skills, especially since I'm an introvert. But the students have been so great to work with, and the sense of community they've built around this show is amazing. Everyone has such a passion. I think it will be a great show because of their dedication and hard work."
The Writing Desk
Assistant Director — Karissa Anderson
Spotlight — Zach Purser
Period costumes — Della Janke (alumna)
The Spirit's costume — Michelle Fromm
Featured poem — Sean Gilligan
Set construction — Stagecraft students, Bradley staff
Set design, finish — Lori Smith
Script critique, copy editing — Leah Ulatowski
Support — Lakeland Theatricians
Critiques, support & advice — Charlie Krebs
Cast — Sara Pfile, Brittany Beckmann, Leah Ulatowski, Katherine Zielsdorf, Elizabeth Plotka, Stephanie Rebek, Skyler Walkowski, Becca Eliott, Chris Callan, Miranda Miller, Andy Kay, Matt Troyer, Greg Heinen (alumnus), Rae Siehs, Irvin Colon