International Food Festival hits Lakeland
Lakeland College's Global Student Association will presented its annual International Food Festival on Saturday, Nov. 23, in the college's cafeteria, in the Younger Family Campus Center.
Students from 13 countries prepared dishes from their homeland, giving their fellow students and community members a chance to sample some native dishes.
Horace Mann tops Middle School Math Meet
A team of students from Horace Mann Middle School topped a field of 278 students from 11 schools to win the 23rd annual Michael J. Devaney Lakeland College Middle School Math Meet, held Monday night at Lakeland.
Members of the winning team included eighth-graders Preston Pond, Zachari Schroeder and Hannah Redlich; seventh graders Julia Henke, Juliet Chang, Seamus Kennedy and Erin Konter; and sixth-grader Ian Zempel. The team finished with a total of 217 of 380 possible points.
Students compete in teams of eight, first working individually on four sets of four problems, then as a team on the last six exercises.
In second place was Howards Grove team No. 1 with 205 points, and in third place was Urban No. 1 with 204 points. The next three places went to Cedar Grove-Belgium No. 1, Farnsworth No. 3 and Lake Country Academy No. 1.
The individual winner was Horace Mann eighth-grader Preston Pond with a score of 39 out of 40. In second place, with a score of 36, was seventh-grader Jack Baldwin from Howards Grove. Third went to eighth-grader Sam Butzen from Urban.
Rounding out the top seven scorers were eighth-graders Blake DeSwarte from Cedar Grove Belgium, Katie English from Seton Catholic, Reese Sarnowski from Urban and Ethan Traas from Urban.
Honorable mention honors were to Carl Pickhardt and Ella Reinemann from Urban; Sierra Thein from Oostburg; Tre' Johnson, Chase Williams and Dustin Eilers from Howards Grove; Stephen Lavey from Cedar Grove-Belgium; and Augie Rice from Lake Country Academy.
The top sixth-grade score came from Garrett Scapellato from Farnsworth.
Other schools participating in the meet were Oostburg Christian, Sheboygan Christian and Sheboygan Leadership Academy.
Career Development hosts lunch-and-learn session
Lakeland's Career Development Office hosted another dynamic event on Tuesday, when more than 40 students joined representatives from 19 top local companies for a three-course lunch-and-learn session.
The hour-plus get-together focused on the do's and don'ts of job interviews that take place over a meal.
Sharply dressed Lakeland College senior Ben Manske, of Neenah, said this was a highly successful endeavor.
"All students should jump at the chance to participate in these great events that Career Development is offering," Manske said. "They are right here, on campus, and are super helpful. I've already collected a handful of business cards and been invited to coffee by some of the business representatives. I'm definitely going to take them up on their offer."
Jess Lambrecht, director of career development, and Kay Voss, assistant director of career development, spoke with the students on Tuesday about everything from what kinds of food items to avoid ordering to how to act during the interview.
Between courses, the company representatives offered tips to the students. Of course, it was also a great chance for the students to network with the business reps at their tables during lunch.
"Lakeland is an important constituent in this community," said attendee Jim Gallimore, senior vice president at BMO Harris Bank in Sheboygan. "These students are our future, and I enjoy the opportunity to share the value of my experience with them."
Added Debra Noyes, IT change management process owner at Johnsonville in Elkhart Lake: "I think this is a very good opportunity for the students and I am happy to be a part of it."
Accounting class visited by Lakeland alum
Highly successful Lakeland College grad Bob Keebler '82 recently returned to campus and shared some of his vast knowledge during a guest lecture in Brett Killion's intermediate accounting class.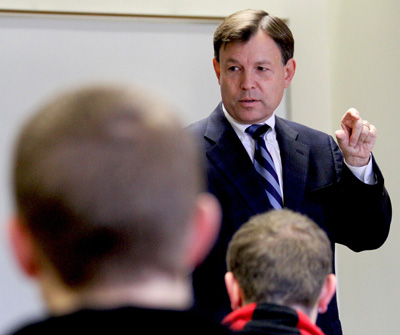 He also told the students how fortunate they are to be attending Lakeland.
"Don't ever lose faith in the great education you will receive here," he told the class. "When you're in a class with 12 people, you will learn so much. I'm not sure you fully appreciate yet being here at Lakeland. The same classes at UW-Madison, UW-Milwaukee or UW-Whitewater might have 50 students, even more."
Keebler, senior partner at Keebler & Associates, LLP, gave the students great advice about the industry and how to embark upon a rewarding, successful career. He paraphrased Sir Winston Churchill, stressing to the students that success is gained by moving from one failure to the next with enthusiasm. He also told the class, "The harder you work, the luckier you become."
"Thomas Jefferson said that luck is when perspiration meets inspiration," Keebler added.
Keebler founded Keebler & Associatiates, LLP, a tax advisory and CPA firm in Green Bay, Wis. The firm is nationally known for its advisory, tax and estate planning expertise and counsel.
Individually, Keebler has been named by CPA Magazine as one of the "Top 100 Most Influential Practitioners in the United States" and one of the "Top 40 Tax Advisors to Know During a Recession."
After graduating Cum Laude from Lakeland with a degree in accounting, Keebler earned his master's in taxation from the University of Wisconsin-Milwaukee.
Among the many interesting subjects Keebler touched on during his hour-long lecture were:
Loyalty to clientele – "You'll earn a great living in this field, but you don't want to become ruthless. Take care of your clients. It's more important to care about your clients and be responsive to their needs, than it is to make money."
Take the CPA exam – "If you're willing to put in the hard work and pass it, it will pay off. It's something you want to do."
Don't be afraid to take chances – "You are going to experience failure. So what. If you take a job that's a little bit of a reach and it doesn't go well, that's not necessarily a bad thing."
Advice to interns – "A lot of it is common sense, things grandmothers talked about in the 1950s. Be there early. Don't cause trouble. Don't be afraid to fix the copy machine. And dress professionally. Figure out how the most successful people at the company dress, and dress like them. Don't let your cell phone become your enemy. Leave it in the car if necessary. And don't surf the Web."
Sleep – "No sleep is required. At times early in my career, I was up for 48 straight hours. And that was before Red Bull. You need mental toughness, along with the faith that hard work pays off."
After the class ended, Keebler shook students' hands and offered them helpful individual advice before he headed off for an appointment in Milwaukee.
"You have to create your own luck," he said just before class ended. "If you remember anything from today, it's that hard work pays off."
Fall Honors and Department Music recitals in November
Lakeland College will display the talent of its music students this November at the Fall Honors Recital and the Department Music Recital. The Fall Honors Recital is Tuesday, Nov. 19, at 11 a.m., and the Department Music Recital is Tuesday, Nov. 26, at 11 a.m. Both will be held in the Bradley Theatre on Lakeland's main campus.
Admission is free and open to the public.
The Fall Honors Recital and Department Music Recital both feature a mix of instrumental and vocal music. The concert includes 10-12 performers, ranging from wind instruments, strings, piano and voice. Students involved have been highlighted by their teachers for good work in their applied lessons. All students performing in the honors recital were assigned a solo piece as a part of their applied lessons at 200- and 400-level classes.
The Department Music Recital features all music majors who are not in the Honors Recital.