Daniel Eck named Lakeland College's 16th president
Daniel Eck, Lakeland College's interim president for the past 10 months, has been selected as the college's 16th president.
Lakeland's Board of Trustees unanimously voted to name Eck to the position on Saturday, following a unanimous recommendation from the presidential search committee.
Eck, 46, was named interim president in March 2013 following the resignation of Michael Grandillo. Eck came to Lakeland in February 2008 as a special assistant to then Lakeland President Stephen Gould, and he was named senior vice president in September of 2008.
Prior to being named interim president, he led virtually all administrative facets of the college, including finance, strategic planning, institutional research, human resources, information technology, facilities/grounds and international programs.
During his interim presidency, the college developed and adopted five goals as part of its institutional strategic plan, and work is currently underway to meet those goals.
"I am honored that the search committee and the trustees have placed their faith in me to lead this great institution," Eck said. "Lakeland College is a special place that defies easy categorization. We are an educational institution, an employer, a community resource, but most of all we represent the opportunity to do more, and to succeed.
"Regardless, the alumni I've met over the past six years, and the students, faculty and staff, all like to call Lakeland 'home.' That is the one common denominator I've been able to discern in my time here-that feeling of belonging, that sense of place. Everyone associated with Lakeland is committed to the well-being and success of our students, and I am fortunate to be part of that family."
Robert Melzer, chairman of the Lakeland Board of Trustees, said the college is fortunate to hire a leader that provides stability along with a vision that is aligned with that of the trustees.
"Higher education is facing a number of challenges, and how colleges and universities evolve will be important for their continued growth," Melzer said. "Dan has played an important role in helping design the goals of the college's strategic plan. As we come off a very successful 150th anniversary celebration, Dan understands the important next steps that will position Lakeland to deliver quality academic programs for decades to come."
John McFadden, a Lakeland trustee and chair of the Presidential Search Committee, headed a group that included four trustees and two faculty members, which is required by the college's by-laws. "This was a careful process, but we did not conduct a full national search because we believe Dan is the perfect fit for this position," McFadden said. "Dan has demonstrated, during the 10 months of his interim presidency, the ability to lead us. The search committee and the trustees have a great deal of confidence and trust in Dan."
Dr. Rolf Wegenke, president of the Wisconsin Association of Independent Colleges and Universities (WAICU) congratulated Lakeland on its selection. "Dan Eck is the right person at the right time in the right place," Wegenke said. "Dan knows Lakeland and will advance the college's long tradition of expanding educational opportunity - to low-income students, to first-generation students, to adult learners and to students from Sheboygan to Africa to Japan."
Eck's efforts have had significant impact since his arrival. He managed completion of Lakeland's $3.5 million main campus front entrance project, introduced and led an initiative that captured hundreds of thousands of dollars in cost savings and efficiencies and led the restructuring of several administrative departments.
"I am very pleased with the work we have accomplished at the college over the past 10 months, and I am excited to be leading the continuation of that work in my service to Lakeland's students, alumni and friends," Eck said. "I am confident that we are working with a plan that, with the energy and talents of our faculty and staff, will allow us to continue to evolve and remain competitive, yet stay true to our commitments to the liberal arts and to providing a rigorous, meaningful, educational and developmental experience."
In Eck, Lakeland has a dynamic leader with an eclectic professional background. A graduate of the Indiana University School of Law, he spent several years at a major law firm in Chicago. He then worked for five years in the museum field, serving as associate general counsel at the Field Museum of Natural History in Chicago and deputy director of administration at the John Michael Kohler Arts Center in Sheboygan.
Prior to joining Lakeland, he was director of development and external relations at Savannah College of Art and Design in Georgia, and he co-founded M12, a nonprofit that designs and implements public art projects.
He has a bachelor's degree in anthropology from Beloit College and studied at American University in Cairo, Egypt.
Eck lives in Sheboygan with his two children, Gaby, 16, and Sam, 14, and his wife, Christine.
Founders' Day Lecture rescheduled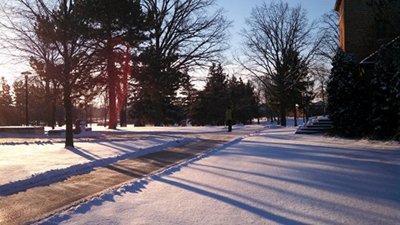 The Founders' Day Lecture "Living Stones: Middle Eastern Christian Presence and Witness in the Midst of Challenge and Change", featuring Dr. Peter E. Makari has been rescheduled for Tuesday Evening, May 6, from 6:30-7:30 PM in the Bradley Fine Arts Center Auditorium. Following the lecture, a reception honoring Dr. Makari will be held in the Laun Center, David and Valerie Black Room, from 7:30-9:00 PM. Reception cost is $10. (Reservations required.) To register online, please visit Lakeland.edu/MissionHouseCenter or contact Colleen Darling at or 920-565-1538.
Lakeland "comes through" for Peace Walk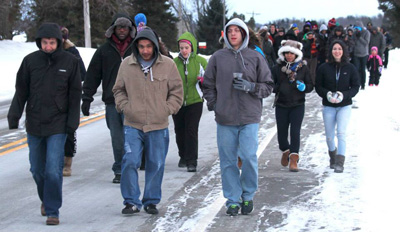 The Rev. Frederick Trost stepped up to the pulpit, looked out at the nearly 200 people gathered in the Immanuel United Church of Christ, and smiled.
"Fantasic!" he exclaimed. "Lakeland College comes through! And it means a great deal to us."
Half-an-hour earlier, that large throng of people had left campus on foot for Monday's Lakeland College Peace Walk. Members of Lakeland's family and friends from the community braved the cold and came together to commemorate Dr. Martin Luther King Jr. Day.
The plan was for this special walk to be candle-lit, but a brisk, sharp wind blew out all but a few people's hand-held flames. Undaunted, the hardy souls marched on, through the teeth of the cold breeze toward the church nearly half-a-mile away.
After the group gathered at Immanuel UCC, Rev. Trost, who marched with Dr. King in the early 1960s in Chicago, spoke passionately about the greatness of King and the important role today's young people play in making this world a better place.
Of King, Trost said: "He was one of the greatest human beings of our lifetime — of many lifetimes."
"Dr. King's dream must not fade."
As he wrapped up his passionate talk, Trost said, "I'm breathless. And I'm glad I'm breathless."
The Rev. Rob Sizemore, Lakeland's chaplain, followed Trost to the pulpit and expressed his pride in the large turnout for Monday's Peace Walk and in the way Lakeland and the UCC embrace and celebrate diversity. Sizemore challenged all Lakeland family members to be kind and to greet all people on campus with "an extravagant welcome."
Then everyone sang the civil rights movement anthem, "We shall overcome," before bundling up and marching back to campus together. There, everyone enjoyed hot chocolate, coffee, cookies and camaraderie.
"It was really wonderful to see this many people gather for such a great reason," said Whitney Diedrich, the primary organizer of the event. "We are very happy that our students cared so much that they came together and made it such a special evening. It was also special to see so many faculty and staff involved. It was really cool to see everyone mingling. Walking back from the church, I overheard people talking about how much they enjoyed it."
2014 Peace Walk
Lakeland grad shares financial knowledge with students
Setting aside enough money to sustain one's lifestyle for six to nine months should precede any attempt at investing, said financial planning expert Bonita Graff during a guest lecture appearance at Lakeland College on Monday morning.
"The first mistake some people make is putting everything they have at risk," said Graff, a founding partner at Provident Financial Consultants in Oshkosh and successful personal wealth planner for almost three decades. "After you set that money aside, the next thing you should do is participate in your employer's 401k. And third, participate in a Roth IRA."
Those were just a few of the investment nuggets offered by Graff, who graduated from Lakeland in 1984 with a bachelor's degree in business administration and accounting. She spoke on Monday to about 20 Intermediate Accounting II students.
Graff provided an overview of several different investment vehicles with the students, and she told them more about her role as an investment advisor.
"I can tell you that you will receive the best education at this school," Graff told the class. "Lakeland College is the reason I am who I am."
Graff is a certified public accountant (CPA), a certified divorce financial analyst (CDFA), an investment advisor representative and a general securities registered representative who works with individual as well as business clients in all facets of financial planning.
"As financial advisors, we're responsible for helping you through life to retirement, from getting the kids educated to making sure things will be OK if you die," she said. "We have a mantra at our firm, which is that I always work for my clients. Everything we do is based on your best interests. If we follow that, how can we go wrong?"
Graff handed out copies of a pamphlet titled "Investing Essentials" and a one-sheet 20-year "snapshot" of investing ups and downs to the students. She discussed the differences between stocks and bonds, calling the latter the "ballast in your portfolio; they're boring but important." And she called mutual funds "the optimal tool for most investors."
When she was finished with her hour-long guest lecture, Graff received an enthusiastic ovation from the class.
"It's always great when successful Lakeland alumni come back and share their expertise and experiences with our current students," said Brett Killion, Lakeland assistant professor of accounting, whose class Graff visited. "We try to bring the real world into the classroom as often as we can, and Bonnie did a fantastic job relating our textbook material to the students' lives."
Students contribute to Project Angel Hugs
They stopped by the craft table between classes, or during their lunch hour. Sometimes these Lakeland College students came in groups; sometimes they sat down and worked alone. They cut, glued, crafted and wrote heartfelt messages of hope and love.
And when the one-day Lakeland College Valentine's Day card-crafting campaign came to an end, there were 104 beautiful, unique handmade cards ready for delivery to the Plymouth, Wis. headquarters of Project Angel Hugs, a nonprofit organization dedicated to the emotional support of children with cancer. Project Angel Hugs will mail the Lakeland cards to cancer-stricken children all over the nation.
"Our students always go above and beyond," said Sally Bork, Lakeland College's interim director of student activities. "Project Angel Hugs is a local organization that's doing great things, and we're very proud of our students for being so enthusiastic about helping."