Lakeland welcomes new faculty for 2014-15 academic year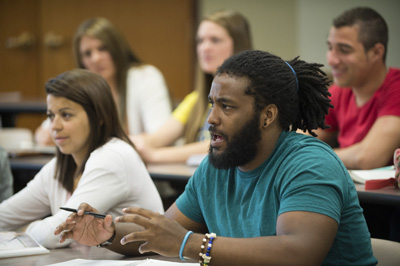 Lakeland College has added two full-time faculty for the 2014-15 academic year. William Ebben has been named associate professor of exercise science and sport studies. Juli Cáceres García has been named assistant professor of Spanish.
Ebben has been teaching and coaching for nearly 20 years, and has a strong record of motivating students to succeed. He comes to Lakeland from the University of Wisconsin-Parkside, where he had been an associate professor in the Department of Health, Exercise Science and Sport Management since 2010.
Prior to teaching at UW-Parkside, he was an assistant professor in Marquette University's Department of Physical Therapy/Program in Exercise Science for nine years. He has also taught at Waukesha County Technical College, Concordia University Wisconsin and Northern Michigan University.
He has extensive experience as a strength and conditioning coach, serving as head strength and conditioning coach at Marquette for three years and holding various strength and conditioning roles with the Green Bay Packers, UW-Madison, the United States Olympic Education Center in Marquette, Mich., and the U.S. Luge Association with the Olympic Development Team.
His teaching model includes significant emphasis on engaging students in research. Through his support, his students have become award-winning scholars, and he has co-authored numerous studies and publications with them. He has an active research agenda and is looking forward to bringing Lakeland's students into this model.
He has a doctor of philosophy in exercise science from Marquette, a master of science in exercise science from Northern Michigan, a master of science in social work from UW-Madison and a bachelor's degree in sociology from St. Norbert College.
Cáceres García comes to Lakeland from the University of Minnesota-Duluth, where he had been an assistant professor of foreign languages and literatures since 2008. Prior to that, he was a teaching associate in the Spanish and Portuguese department at Georgetown University for eight years.
During his time at Georgetown, he earned a doctorate in Spanish literature and cultural studies, a master of science in Spanish and Spanish American literature and cultural studies and a master of arts in communication-culture and technology. He has a bachelor's in English with a concentration in communications from St. Joseph's University in Philadelphia.
A native speaker of Spanish and Catalan, Cáceres García has authored and presented research at numerous conferences, lectures and workshops, and he has won several awards and grants that helped make that research possible. His own research interests include the Spanish language; modern and contemporary peninsular and Latin American film, literature and popular culture; and feminist and gender/queer studies.
Two Lakeland College alumni named to Board of Trustees
Two Lakeland College graduates have been elected to the college's Board of Trustees. Bob Loffredo, a 1970 graduate, and Jill Wagner, a 1992 graduate, will participate in their first meeting in October.
Their election in May by the current trustees brings the board's membership to 25.
"I am delighted to welcome these very successful Lakeland graduates to the board," said Robert Melzer, chairperson of the board of trustees. "They both bring a wide range of skills that will complement the talents of the current board. I have met with them, and they are both excited to help chart the future direction of the school they love and give something back to a place that helped prepare them for their successful careers."
Loffredo is vice president for U.S. industrial sales for Snap-on Incorporated in Kenosha, Wis. Snap-on is a leading global innovator, manufacturer and marketer of tools, equipment, diagnostics, repair information and systems solutions for professional users performing critical tasks.
In his current role, Loffredo directs the entire North American region, which has gross volume sales in excess of $200 million. Loffredo began his career with Snap-on holding various positions within the industrial division starting as an industrial sales rep in 1977.
Loffredo earned a bachelor's degree in education from Lakeland in 1970 and a master's degree in education administration from the University of Illinois in 1974. He taught school for seven years, was an assistant elementary principal and the assistant varsity coach of a conference champion football team for the Kewaunee, Ill., School District. He was inducted into the Lakeland Athletic Hall of Fame in 1982 in recognition of his accomplishments as a Lakeland football player.
Wagner is president of Appleton-based Integrity Insurance. She previously held the role of vice president of commercial lines for the property and casualty insurer. Wagner has worked in the insurance industry for 22 years, including positions with Rural Mutual Insurance and Acuity Insurance.
She is a 1992 summa cum laude graduate of Lakeland, and she also earned her master of business administration from Lakeland in 2005.
Wagner is a board member of Big Brothers/Big Sisters of the Fox Cities, served as the chairman of the Commercial Lines Underwriting Conference Committee for the National Association for Mutual Insurance Companies and is a Business Advisory Group Member of Lakeland College and Concordia University. She has also held numerous volunteer board positions with youth-focused organizations.
Lakeland College moving its Milwaukee Center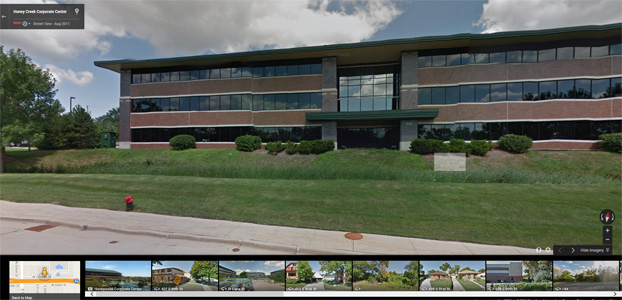 Lakeland College is moving its Milwaukee Center to Honey Creek Corporate Center IV, 9000 W. Chester St. in Milwaukee this fall.
The new location, which will house the college's Evening, Weekend and Online program classes offered in the Milwaukee area, will be at the intersection of 84th Street and Interstate 94, giving the college a prime, highly accessible spot for students living in the city and the surrounding counties.
Lakeland had previously explored leasing a new facility at West Layton and 43rd Street in Greenfield, Wis.
"After further analyses of the home addresses of our students and many of their employers, it became clear that this space at the Honey Creek Corporate Center was the best fit due to its accessibility and shorter drive times for our constituents," said Zach Voelz, Lakeland's vice president for enrollment management.
"There is a lot of excitement surrounding Lakeland's commitment to the greater Milwaukee area. The Milwaukee center is one of the college's largest, and this new facility will match the high quality programming we have offered hundreds of students in Southeast Wisconsin for 35 years."
Lakeland expects to move from its current location at 1135 S. 70th St. in West Allis to the new facility this September. It's unclear if the move will happen before fall classes start on Sept. 2.
The college will occupy the majority of the third floor of the Honey Creek Corporate Center IV. Lakeland's location, which is nearly 16,000 square feet, includes 11 classrooms, one laptop lab and one computer lab, a student lounge, eight offices, Wi-Fi throughout the facility and ample free parking. Classrooms will be available for daytime rentals to businesses, clubs and other organizations.
Lakeland has offered evening degree programs in Milwaukee since 1979. Today, the college serves more than 400 students in the Milwaukee area and 2,800 students statewide. Lakeland's total enrollment is approximately 3,600.
In 1978, Lakeland developed an evening degree-completion program for working adults, the first in the state at that time. Last year, Lakeland celebrated the 150th anniversary of the founding of its main campus, which is located in Sheboygan County.
Lakeland students in Milwaukee can earn a bachelor of arts degree in accounting, business administration, communication, computer science, criminal justice, education, marketing, psychology and specialized administration. Lakeland also offers a master of business administration, master of arts in counseling and master of education.
Calling all local bands, this event is for you
Lakeland College is partnering with The John Michael Kohler Arts Center in Sheboygan, Paradigm Coffee & Music, Monument Music, Midwest Communications and The Sheboygan Press, to search for the best band this summer in an online video contest, with our online users choosing the top finalists. Finalists will compete at the Best of Summer concert on Thursday, August 21, 2014, from 6-10 p.m. at the John Michael Kohler Arts Center.
The contest is open to all bands and duos within 60 miles of the Arts Center at 608 New York Ave, Sheboygan, WI 53081. To be eligible, at least one band member must live within that radius. All participating bands and performing individuals considered for submission may not be signed by a major recording label and bands must perform original music—no cover bands. See the official contest rules for more information.
Eligible bands and duos can submit a video of ONE of their songs to the Arts Center by way of the YouTube platform, see "Submitting a video" instructions on our website at jmkac.org. All entries must be received by June 30 and voting ends on July 31. On July 1, the Arts Center will put band videos online and give you a chance to check out the videos from area bands and vote for your favorite. Voting starts Tuesday, July 1.
Video content can be footage taken at live performances, just jamming out in the basement, or an image slide show or still photo. If the band does not appear in the video, a band photo must be submitted as well. Please email .jpg, .jiff, or .pdf to .
The top bands will perform live on the M.I.K.E. stage at the John Michael Kohler Arts Center on Thursday, August 21, 2014, and will be featured in a special section in the Sunday, August 16 edition of the Sheboygan Press. One winner as determined by the audience and a panel of judges at the Best of Summer Concert on Thursday, August 21, 2014 will receive an extensive, promotional prize package including but not limited to on-air promotion by a local radio station, a professionally written press release about your band and your success in the competition, one free hair cut for each member of the band courtesy of Salon Tula, one free four hour recording session by Monument Music, one complimentary photo shoot, a live CD recording of your performance at the Best of Summer event, and more!
Lakeland welcomes new faculty
Lakeland College has added two full-time faculty to its ranks for the 2014-15 academic year. Daniel David Black has been named instructor of music and director of choral activities. Jered McGivern has been named assistant professor of biochemistry.
Black brings to Lakeland's music department a rich background in teaching and conducting. He comes to Lakeland from the University of Arizona where he is finishing a doctor of musical arts in choral conducting. While there, he led four academic choirs.
He received his master of music in choral conducting at Houghton College in New York, where he also conducted three of the college's choirs and later served as faculty conductor of the men's choir.
He served as assistant conductor for the Vocális Chamber Choir (Buffalo, N.Y.), assistant director/manager for the Tucson Chamber Artists and assistant conductor/manager for the Tucson Symphony Orchestra Chorus.
Black has conducted a number of master classes at local, state, regional, and national levels, and in March 2013 was a graduate division finalist in the National Conference Conducting Competition hosted by the American Choral Directors Association (ACDA).
His scholarly interests include the exploration of Franz Liszt's choral music, the use of sports training mobile apps in the teaching of conducting and the application of Music Learning Theory (MLT) to collegiate choral ensembles.
Black has a bachelor's degree in choral music studies from Northwestern University in Evanston, Ill.
McGivern brings to Lakeland a broad research experience in biochemistry, developmental biology, neurodegenerative disease, cell biology, molecular biology, proteomics, histology and infectious disease.
Since 2011, he has served as an adjunct faculty member teaching organic chemistry and biochemistry lab courses in the chemistry department at Carroll University in Waukesha, Wis.
He has a diverse research background that includes opportunities at the Marshfield Clinic, Novartis, the University of Wisconsin-Madison, the Medical College of Wisconsin and additional collaborations with a variety of institutions.
McGivern has a doctorate in biomolecular chemistry from UW-Madison and a bachelor's in chemistry from Saint Olaf College in Northfield, Minn.