Lakeland students honored for academic achievement
Tess Myklebust, a senior from Wisconsin Dells, was awarded Lakeland College's Clarence H. Koehler Campus Senior Award on April 2.
She received the award at the college's Honors Banquet, an annual gathering where faculty celebrate the accomplishments of the top students in each academic program. A complete list of award winners is below.
The Koehler Award, named for Lakeland graduate and former board of trustees chair Clarence Kohler, has been presented annually since 1965 to the Lakeland student who best exemplifies Lakeland's spirit through outstanding academic achievement, engagement in campus activities and commitment to the Lakeland community.
Myklebust, who is working toward a double major in business management and marketing, has taken full advantage of her Lakeland experience by amassing a resume of experiences that have her well-positioned for future success.
She served internships with Community Bank & Trust and at Lakeland in sports marketing, and has worked all four years as clerical assistant for the college's business administration office.
She was named Outstanding Business Student in 2014 and 2012, and Outstanding Marketing Student in 2013. She was a J. Garland Schilcutt Scholarship recipient all four years, and a four-year member of the Lakeland volleyball team and four-time conference Scholar Athlete. She was a three-time participant of the Spring Break Habitat for Humanity volunteer trip, and served as secretary and treasurer for Lakeland's Habitat chapter. She was secretary for the conference Student-Athlete Advisory Committee, an officer for Lakeland's SAAC and was a member of Lakeland's Mortar Board. She also logged several volunteer hours with the Maywood Park Earth Day Cleanup, Road America, Boys & Girls Club and as a Salvation Army Red Kettles bell ringer.
2014 Outstanding Student Award Winners
Outstanding International Student for Academic Achievement and Leadership: Alice Antwi-Asimeng
Business Administration Outstanding Student in Accounting: Lisa Steppe
Outstanding Student in International Business: Hyacinthe Botty-Irie
Outstanding Student in Marketing: Braden Woods
Outstanding Student in Resort Management: Jessica Korrison
Outstanding Underclassman in Business Administration: Tyler Magtanong
Outstanding Upperclassman in Business Administration: Theresa Myklebust
Creative Arts Outstanding Art Major: Tyler Holman
Outstanding Student in Communication: Jennifer Kjin
Outstanding Overall Music Student: Thomas Pibal
Outstanding Overall Music Student: Fabian Qamar
Outstanding Theatre Student of the Year: Michelle Fromm
Outstanding Student in Writing: Sean Gilligan
Education Outstanding Student in Education: Abby Hinze
Humanities Outstanding Student in German: Tiffany Miller
Outstanding Student in Religion: Kimberly Thimmig
Outstanding Student in Spanish: Aimee Thrune
Outstanding Student in Spanish: Diana Torres
Natural Science Outstanding Student in Biology: Lindsay Biter
Outstanding Senior in Biochemistry: Samantha Henderson
Outstanding Freshman in Chemistry: Audrey Nichols
Outstanding Senior in Chemistry: Jiacheng Yang
Outstanding Student in Computer Science: Brian Winter
Outstanding Student in Exercise Science: Taylor Jahnke
Outstanding Student in Mathematics: Brian Winter
Social Science Outstanding Student in Criminal Justice: Brittni Peterson
Outstanding Student in History: Brendan Lichtenberg
Outstanding Student in Nonprofit Organization Management: Amy Borntrager
Outstanding Student in Political Science: Matthew Bilinski
Outstanding Student in Psychology: Ryan Krzyzkowski
Outstanding Student in Sociology: Kimberly Daane
Ellen J. Kregel Athletic Award: Amanda Graminske
Who's Who Award: Jennifer Kjin, Brittany Bohm, Braden Woods, Fabian Qamar, Daniel Carriveau, Trevor Tanck, Aimee Thrune, Karissa Anderson, Jacob Flesch, Michelle Fromm, Kimberly DeJong, Kristal Klemme, Elizabeth Pritzl, Emily Cook, Paul Elzinga, Katie Freitag, Daniel Zea Zapata, Amy Borntrager, Taylor Jandrin, Tyler Kulow, Monica Santelli, Alice Antwi-Asimeng, Emmaculate Dika, Kelsey Fulmer, Samantha Henderson, Taylor Jahnke, Tyler Kubicek, Alec Szalewski, Katherine Zielsdorf.
Lakeland Spanish teacher wins 2014 Underkofler Teaching Award
Lakeland College's Katie Shumway, an instructor of Spanish, is the 2014 winner of the annual Underkofler Excellence in Undergraduate Teaching Award.
Shumway, who is in her 12th year as a member of Lakeland's faculty, is the college's 23rd winner of the Underkofler, which recognizes outstanding performance in undergraduate teaching.
The Underkofler Award was presented on April 2 at Lakeland's annual Honors Banquet, which recognizes outstanding academic accomplishments of students and faculty.
Shumway's accomplishments include the development of valuable study abroad opportunities and supporting students learning the Spanish language and culture by creating an engaging and comfortable classroom setting.
"Learning a foreign language can be intimidating," said Jessica Korrison, a senior majoring in resort management, in a letter nominating Shumway for the award. "Professor Shumway knows how to take that feeling away. Taking Spanish in high school was far from a pleasant experience for me. I can never thank Professor Shumway enough for changing my view on learning a foreign language."
Shumway has led a number of study abroad experiences that allow Lakeland students to gain immersion into Spanish-speaking cultures. She has partnered with faculty in the hospitality management program to take students to Mexico and Costa Rica and has worked to expand the relationship between Lakeland and its sister school in Colombia, Universidad Reformada.
Karissa Anderson, a junior majoring in education with a Spanish minor, accompanied Shumway to Colombia to study for a month.
"Senorita Shumway helped me to grow intellectually, morally and spiritually by providing an opportunity for a study abroad experience in the life of someone from another culture," said Anderson in a letter nominating Shumway for the award. "She helped us experience their values, create connections with what we learned in Colombia and the United States, be accepting of a diversity of people and make ethical decisions."
Shumway has provided innovative opportunities for Lakeland students throughout her career. She has created an environment where upper-level Spanish students gain experience teaching within the introductory Spanish sequence and has coordinated language learning exchanges through Skype. She has also served as lead English instructor for Lakeland's English Language Institute summer program and engaged students through the interdisciplinary Core.
Shumway has both a bachelor's and master's degree in Spanish from Marquette University.
The Underkofler Award is presented through the Alliant Energy Foundation and the Wisconsin Foundation for Independent Colleges, Inc. The Underkofler Endowment Fund was created in honor of past Wisconsin Power & Light president and chairman James R. Underkofler to recognize his 48 years of service to the utility industry.
Lakeland concert choir spring tour kicks off April 10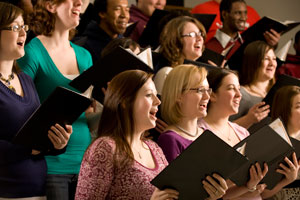 Students in Lakeland College's music department will take the road as the concert choir participates in its annual spring tour.
The week culminates with a homecoming concert on Sunday, April 13, at 3 p.m. in the Bradley Theatre on Lakeland's main campus. That performance is free and open to the public.
This year's repertoire includes a wide variety of music from many historical periods, genres and styles. Pieces include "Domine, Ad Adjuvandum Me Festina" by G.B. Martini, "Five Hebrew Love Songs" by Whitacre, "Lass Dich Nur Nichts Nicht Dauren" by Johannes Brahms, "Salmo 150" by Ernani Aguiar and "Cantique de Jean Racine" by Gabriel Faure. The program also includes a gospel song, hymns, folk songs, movie music and a pop song.
The Lakeland Singers will join the choir on the program. This small, auditioned group will sing "To Love You," written by Andra Moran and Josh Elson and arranged by Lakeland College student Jacob Nault.
The annual tour takes Lakeland students to various churches around the Midwest. This year's tour includes the following performances:
April 10 – Glenview United Methodist Church, 727 Harlem Ave., Glenview, Ill., 7 p.m.
April 11 – St. Paul's United Church of Christ, 1260 Leonard Point Road, Oshkosh, Wis., 7 p.m.
April 12 – St. Peter's UCC, 166 W. Dekora St., Saukville, Wis., 7 p.m.
International night a celebration of different cultures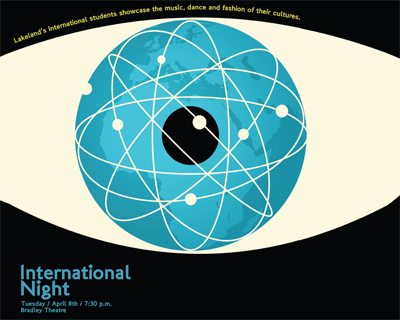 Lakeland College will celebrate the 30-plus countries that call the college's main campus home during its annual International Night, Tuesday, April 8.
The event, which is free and open to the public, will be held in the Bradley Theatre beginning at 7:30 p.m. The event is hosted by the Lakeland College Global Student Association.
Alice AntwiAsimeng, president of the Global Student Association, said the evening includes songs, dances, demonstrations, presentations, displays of traditional clothing from various countries and more. Students from China, Japan, South Korea, a Latin American group featuring students from Peru, Puerto Rico, and Columbia, an African student group featuring students from Ghana, Nigeria, Kenya, Cameroon and the Ivory Coast will be featured.
There will also be an international fashion show where different countries will showcase their traditional attire.
Noon Day, an organization that sells jewelry from all over the world, will also be part of the celebration. After the event, there will be a short video about Noon Day and their global initiative. A small stand outside the theatre will have sales of jewelry from Pakistan, Africa, India and other countries. Find out more about Noon Day at http://www.noondaycollection.com/.
Former Harley-Davidson VP to lead Kohler Distinguished Business Lecture
Harley-Davidson's retired vice president of business development will discuss the Milwaukee-based company's historic rise and enduring success during Lakeland College's 13th annual Charlotte and Walter Kohler Distinguished Business Lecture on April 10.
Clyde Fessler, a Sheboygan native who played an integral part in Harley-Davidson's dramatic turnaround over the past 24 years, will speak beginning at 7 p.m. in the Bradley Theatre. The presentation is free and open to the public. Harley enthusiasts are encouraged to wear biker apparel.
Fessler joined Harley-Davidson in 1977, and as director of marketing services he led the establishment of Harley Owners Group (HOG), which now has more than 500,000 members and is the largest enthusiasts club in the world.
As general sales manager in the early 1980s, he established new policies and programs, many of which are still in effect today. As director of licensing, Fessler created a new business that has received national recognition enhancing the brand to the general public as well as adding substantial financial value to Harley-Davidson.
As vice president of general merchandise, he repositioned the rider accessory department and led dramatic growth in the MotorClothes team from $20 million in annual sales to more than $100 million in five years.
Fessler is a graduate of the University of Notre Dame. He served on the board of trustees for the American Motorcycle Association and the Motorcycle Safety Foundation. He also served as an active liaison between the Muscular Dystrophy Association and Harley-Davidson, a relationship that has generated more than $31 million in donations since 1981.
He retired from Harley-Davidson in early 2002 and is now active as a consultant and motivational speaker.
Fessler's appearance at Lakeland is made possible by a gift from The Charlotte and Walter Kohler Charitable Trust. Lakeland annually brings a nationally known business or economic figure to its main campus to speak with Lakeland students and the general public.
Past lecturers have included former Speaker of the U.S. House of Representatives and Republican presidential candidate Newt Gingrich, Forbes Media President and CEO Steve Forbes, Emmy Award-winning consumer reporter, investigative journalist and author John Stossel and a Federal Reserve Bank president.
The Charlotte and Walter Kohler Charitable Trust is named for former Wisconsin Gov. Walter Kohler Jr. and his wife, Charlotte. The Trust was established by Charlotte Kohler to preserve the society and culture that made their good fortune and success possible.