Kooyenga discusses personal journey at opening convocation
Throughout life's journey, the choices people make determine the content for their life book. Dale Kooyenga, a 2000 Lakeland College graduate currently serving in the Wisconsin State Assembly, asked Lakeland students to examine the contents of their life book during Lakeland's opening convocation, the formal kickoff to the 2013-14 academic year.
Kooyenga, who graduated from Lakeland with a bachelor's degree in accounting, has contributed plenty of positives to his life book since graduating. In addition to his current role as an elected official, he worked as an accountant at KPMG, one of the Big Four accounting firms, and served in the U.S. Army in Iraq/Afghanistan.
Kooyenga reflected on his time in college while addressing a packed Bradley Theatre. He said the skills he learned have led him down a path of career success. He encouraged students to be ready to adjust to life's curves. "There are life experiences that will change your main plan in life, so you need to learn to be flexible and open to change," he said.
Life also requires tough decisions, and Kooyenga suggested students know how to take the right approach and understand what motivates their decisions. That will allow you to write a compelling life book that will be source of pride. "My main goal in life is, someday when my grandkids sit down and read my book, I want them to be able to put that book down and say, 'Wow that was a very good book,'" Kooyenga said. "'There were some ups and downs, and he made a lot of mistakes, but he fought for what he thought was right, and he fought with a passion.'"
Kooyenga concluded with three pieces of advice: Be there for your loved ones, remember that everyone has something to teach you and to treasure your personal integrity and relationships over material things.
Much of this advice, Kooyenga said, came from his father, who worked as a garbage man. "The biggest thing to the people that love you is for you to just show up and be present," Kooyenga said. "All that truly matters is your integrity, and the relationships you have."
Students also heard from Lakeland Interim President Dan Eck, who delivered the charge for the academic year. He urged students to take care of themselves, take care of each other and take care of the campus.
Lakeland welcomes new, returning students
Lakeland College's main campus is buzzing as classes for the 2013-14 academic started on August 26. New students move to campus on August 22, and the college's 10 residence halls are once filled with activity.
The campus welcomed approximately 310 new students and the semester started with approximately 885 total students in the traditional campus program.
In addition to the new students, Lakeland welcomes several new faculty members this year as the college grows some of its most popular majors. Five faculty will begin teaching this fall in new positions, and four new faculty are filling positions left open due to faculty retirements or departures.
The academic year will formally begin with the opening convocation on Thursday, August 29. Wisconsin State Assemblyman Dale Kooyenga, a 2000 Lakeland graduate, will deliver the featured address at the annual event, which begins at 11 a.m. in the Bradley Theater.
New students were introduced Friday to a Lakeland tradition - the college's fifth annual "Building Bridges, Building Community" event, which gives new students an opportunity to meet and work with one another in a large-scale service effort that benefits several local organizations.
First-year students, joined by the college's student life staff and several faculty, spent a portion of the day at eight sites in the Sheboygan area performing volunteer tasks. The students got involved in painting, building, fixing and other work to help the community. This year's service sites were:
Camp Anokijig
Camp Evelyn
Habitat Site 1 and 2
Above & Beyond Children's Museum
Salvation Army
Sunnyside Townhomes
Kohler-Andrae State Park
After a few hours of work, the groups met at Firemen's Park in Elkhart Lake for a cookout and celebration. "This was great, great for Lakeland College, the students and the community," said Josh Hill, a new Lakeland student from Schoolcraft, Mich. "It shows how much our school cares, and how Lakeland educates us in different ways. Most of us choose Lakeland because we know it's such a tight-knight community, and this is just one of many examples of that."
Former Muskie Ringeisen finds football success in Europe
The conclusion of a four-year football career at Lakeland College was not the end of football for former Muskie Martin Ringeisen, who has found a unique place to ply his trade in the sport.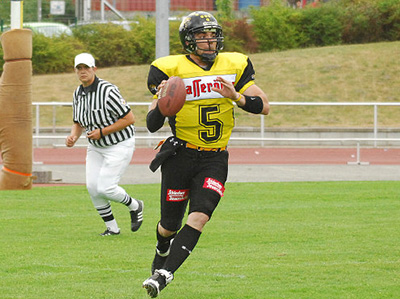 Ringeisen, a 2007 graduate of Lakeland with a degree in computer science, is part of a growing list of Muskies who have played professional football overseas in Europe. He has also had a good share of success playing in several different countries, and the three-year veteran of playing in Europe plans to head back overseas to play again this year.
Ringeisen, a native of St. Cloud, Wis., and a graduate of New Holstein High School, played football from 2003-06 at Lakeland. He was a tight end and caught 12 passes for 146 yards and a touchdown in his four-year career, playing on successful teams that finished with a 28-13 record over those four years. Despite his relatively modest statistics, Ringeisen decided after college that he didn't want to be done with football, and decided to look abroad for opportunities.
Ringeisen first found out about European football from former Muskie quarterback Brent Luebke, who played in Austria upon his graduation from Lakeland in 2005. Former Muskies Ryan Van De Loo and Ryan Maiuri also played overseas, and Ringeisen credits Van De Loo with helping him get connected with teams in Europe.
Ringeisen began his professional career in 2009 in Austria when he played for the Linz Steelsharks. When he began playing in Europe, Ringeisen made a position change to quarterback, and though his team was not a success on the field, finishing with a 0-9 record, he said he was able to learn a lot, including what teams in Europe are looking for in an American player both on and off the field.
In 2010, Ringeisen signed with the Wernigerode Mountain Tigers in Germany. In his second season as a quarterback, Ringeisen led the team in Germany to a 10-0 record, the first perfect season in team history.
"Having that be my first perfect season in any sport ever was something truly amazing," Ringeisen said. "It is something that nobody can take away from me."
Ringeisen bounced around in 2011, with a spell of bad luck resulting in him playing for two different teams for reasons out of his control. After the 2010 season, he had a number of teams looking at him due to his experience and his team's perfect season the year before, and he joined the Esbjerg Hurricanes in Denmark.
"That was my first season where I was able to be a part of building the playbook for the offense and help with the preparations for the game plan each week," Ringeisen said. "After a few games we were 3-0, but there was talk about the team losing one of its biggest sponsors. Sure enough, two weeks later I had a meeting with the president saying the team no longer had enough money to cover my full contract."
Rather than giving up on his dream, Ringeisen immediately began looking for another team. He signed with the Coventry Jets out of England on a Wednesday, and capped a crazy week by playing his last game with the Hurricanes on that Saturday. He finished his final game with one passing touchdown and three rushing scores, including a 70-yard TD to clinch the win in the fourth quarter via a 50-point mercy rule, a bittersweet finish to his season with the Denmark team, which was 5-0 at the time of his departure and capped a 15-game winning streak for teams Ringeisen played for.
While playing in England, Ringeisen played on a team that struggled on the field, but he was able to teach the European players in the fundamentals of the game. Then in his fifth game with the England team, he tore his MCL, ending his season.
Despite his injury, Ringeisen decided to push on and said he has spent "countless hours in the pool, gym and weight room" rehabilitating his knee. And after all that work, he has signed on to play in Europe once again, this time for a team for Lausanne University in Switzerland. He is the team's starting quarterback and also its offensive coordinator, and before he went to Switzerland he spent several weeks working out with Lakeland's wide receivers in preparation for his season overseas.
Remembering his time at Lakeland, Ringeisen credits a number of former professors as well as his coaches with being influences on him as he has built a career in football.
"The way Lakeland most affected me to be ready to be able to enjoy such an amazing opportunity can be summed up in two points," Ringeisen said, "the first probably being my influences from some of my professors. Pam Engebretson, Karl Elder, David Lynch…in their classes I was able to learn how to use certain words in the correct order to help build creditability. (I gained) the ability to stand up in front of crowd and just improve something from the heart with only a few minutes to prepare. And how to end a very productive teaching session by asking: 'Does anyone have any questions, comments or concerns?'
"The second point would be summed up in four letters-R.Y.F.P. Reach. Your. Full. Potential." (This was a point emphasized by former Lakeland College football coach Jim Zebrowski) Whether it was in the classroom, on the football field, or just in life, Lakeland taught me to always keep striving to be great. This same attitude kept me striving to reach my goal of playing football overseas."
Business major changes will benefit Lakeland students
Lakeland College has freshened up its business administration major with changes that will better position graduates to enter the workforce.
The college consulted with recent alumni in the workforce, employers and advisory boards for these programs in making these changes. Analysis of career development data and national market trends were also part of the process.
Students majoring in business administration will select one (or more) of eight emphasis areas to complement their studies. The emphasis areas are between 12-18 credits and provide greater focus in select areas.
The major is available through Lakeland's traditional program at its main campus and the college's evening, weekend and online program offered at seven locations throughout Wisconsin.
The emphasis areas are business economics, finance and insurance, healthcare management, nonprofit management, sport management, management, hospitality management and international business.
Finance and insurance is a new area for Lakeland and includes three new courses which cover concepts that are part of national competencies required to work in the industry.
The non-profit organization management and sport management emphasis areas will provide access to classes within those existing programs at Lakeland for business students interested in those areas.
"Lakeland College is agile enough to innovate on behalf of students to create a unique environment as students search for a profession and security in jobs," said Mike Ansay, chairman and chief executive officer at Ansay & Associates LLC, one of the region's largest and fasting-growing insurance agencies.
"This is especially important in today's economy. Creating unique opportunities for students that position them for success after graduation is really what Lakeland is all about. The college's academic program is reinventing education in a way that has the college working on behalf of the student and their parents."
According to the 2013 National Association of Colleges & Employers Job Outlook Survey, finance is the No. 1 major nationally in terms of job openings, and the insurance industry is a major employer in Wisconsin.
"Any one of these emphasis areas, coupled with our core business administration curriculum, will prepare students for jobs in those fields," said Scott Niederjohn, Kohler Associate Professor of Economics and chair of Lakeland's business division. "These changes create new choices for our students that match needs in the marketplace. The insurance industry is a major employer in Wisconsin."
Other changes include:
Converting a capstone leadership course to a business policy and strategy course, based on feedback from employers who said these are skills they seek in applicants.
Reducing the number of credits required for several majors in the business division to allow students more choices in elective courses within and outside the division.
Changing the resort management major to hospitality management, which reflects hiring and other marketplace trends in the industry. This major is only available through the main campus program.
A requirement that students in the international business major or the emphasis area complete a study abroad experience. This major is only available through the main campus program.
More than 700 graduate at Lakeland's 151st commencement
Lakeland College awarded degrees to more than 700 students Sunday as the college celebrated its 151st commencement.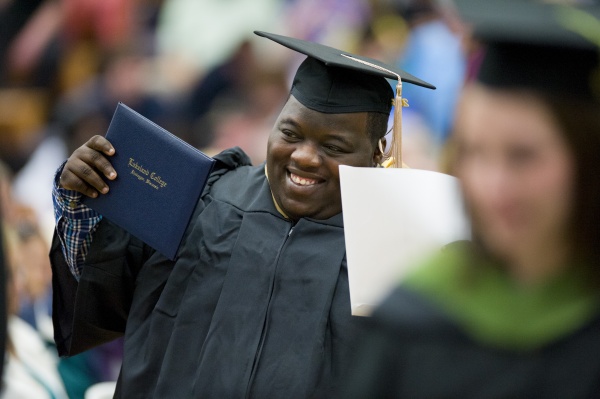 A total of 715 graduates received diplomas, including 492 undergraduates and 223 graduate students. Just over 360 graduates participated in the ceremony, held in the college's Wehr Center.
The undergraduate group included 175 students who attended classes at Lakeland's main campus program and 317 students who took classes through Lakeland's evening, weekend and online program, which includes seven centers around Wisconsin.
World class sailor, Emmy Award-winning television commentator and author Gary Jobson delivered the commencement address. He shared a series of short, humorous stories from his 57-year sailing career (that began at age 6) and his 28-year job with ESPN.
He encouraged graduates to write down their goals and take time to plan their lives, find ways to inspire and help other people, use their training when facing life's curve balls and do things that no one has done before.
"Always say nice things about people," Jobson said. "It will come back to help you. You never know what's going to happen in life. When you help others, in the end, the person you could be helping out the most is you."
He noted a recent New York Times article that reported college graduates chances of getting hired have increased 9 percent over other groups. "I have good news for you - the world is ready for you, and you are prepared," Jobson said.
A survivor of non-Hodgkin's lymphoma and America's Cup champion, Jobson was awarded an honorary doctor of humane letters degree for his career and his efforts that have raised more than $43 million for cancer research.
Also receiving honorary degrees on Sunday were former Lakeland College Trustee Bill Younger (honorary doctor of humane letters) and David Moyer, conference minister for the Wisconsin Conference of the United Church of Christ, who received an honorary doctor of divinity.
Younger's leadership at Lakeland has spanned four decades, and also includes service as the director of the Center for Business and Economics. Younger has served as a friend, advisor and mentor to Lakeland presidents and senior staff, and has been a tireless advocate of the college and its mission.
Moyer, who is retiring this July after working more than 40 years in the ministry, delivered the sermon at Lakeland's baccalaureate service, which was held earlier on Sunday in the Bradley Theatre.
The weekend got started with the Graduation Celebration Banquet on Saturday night, where the college handed out two major student awards.
Sarah Wagner, of Sheboygan, who graduated with a bachelor's in international business and marketing, was named winner of the Clarence H. Koehler Campus Senior Award. Diane Le Roy, of Green Bay, who earned a bachelor's in marketing, was named winner of the Robert W. Lope Award.
The Koehler Award goes to the full-time student at the main campus who qualifies academically and who best exemplifies Lakeland's spirit through engagement in campus activities and outstanding commitment to the Lakeland community.
Wagner started taking classes at Lakeland in 2009 after being hired to manage the college's coffee shop. She received a bachelor's degree with a double major in international business and marketing.
She has received a presidential scholarship for four years, was an active member of Mortar Board National Senior Honor Society and the National Spanish Honor Society and this year was named the winner of the Outstanding Student Award in International Business.
"She is always trying to identify ways to grow and improve herself, whether it be taking a foreign language, considering the best major or minor, pursuing an internship or managing the Daily Grind," said her academic advisor, Scott Niederjohn, associate professor of economics and business. "She did all of these things with great skill and class."
The Lope Award goes to the Kellett School graduate who has shown unusual persistence, dedication and commitment in the course of earning their bachelor's degree.
Le Roy started taking class at Lakeland in 1994, and Sunday earned a bachelor's in marketing. She set a goal of graduating with no student debt, and she spent eight of the 19 years it took her to finish in the classroom. Along with way, she started her own business, which thrived despite the recession.
"Diane's objective was not to complete her degree quickly, but to complete her degree responsibly," said Zach Voelz, Lakeland vice president for the Kellett School. "Diane's skill, dedication and determination have carried her a long way. She sits before us now as a strong, assertive entrepreneur with a very bright future."