Pulitzer finalist headlines Community Book Read
A Pulitzer Prize-nominated fictional novel is the centerpiece of Lakeland College's third annual Community Book Read.
The college has planned a number of events this spring around author Karen Russell's "Swamplandia!", which was a finalist for the Pulitzer Prize in Fiction.
Russell will be at Lakeland on Tuesday, April 12, to discuss her novel. The free event, set for 7:30 p.m. in the college's Bradley Theatre, will including a book signing following the discussion. "Swamplandia!" was among The New York Times' 10 Best Books of 2011.
Other events, all of which are free and open to the public, include: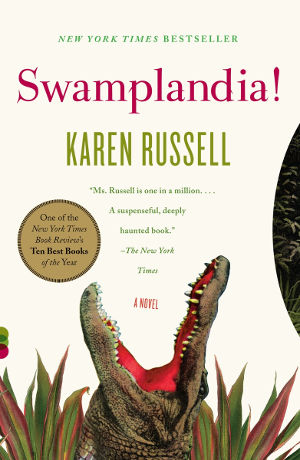 March 9 - Joint Book Club Meeting, 7-8:30 p.m.
Join several book club members from across the county for a joint book club discussion, facilitated by a member of Lakeland's faculty. The event will be held at the Plymouth Arts Center, 520 Mill St., Plymouth.
April 5 - Writing Workshop: Blackout Poetry, 6-8 p.m.
Put your creative writing skills to the test with this writing workshop led by a Lakeland faculty member. You will create your own "Swamplandia!" inspired poem, using material from the novel. This event will be held at Generations: an Intergenerational Center, 1500 Douglas Dr., Plymouth.
April 7 – "Swamplandia!" Panel Discussion, 6-8 p.m.
Family is a significant theme in the novel, and three Lakeland faculty from different backgrounds will discuss the importance of family to the story. This discussion will be held in the Rocca Room at Mead Public Library, 710 N 8th St., Sheboygan.
Learn more about the Lakeland Community Book Read at Lakeland.edu/bookread.
Annual Kohler Business Lecture focus is on Warren Buffett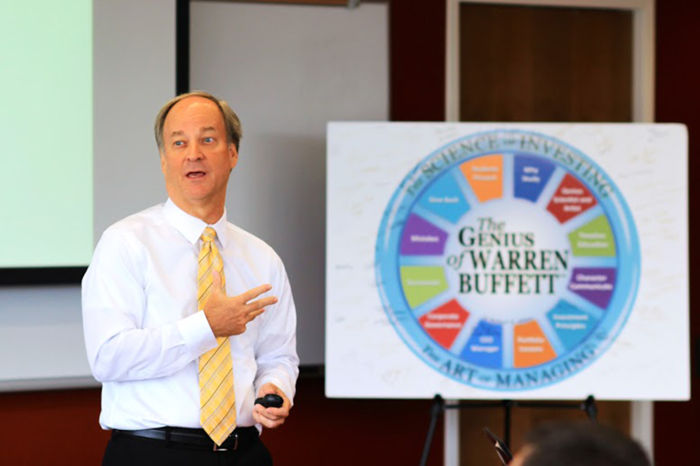 Warren Buffett, an iconic figure in business and investing, will be the topic of discussion at Lakeland College's 15th annual Charlotte and Walter Kohler Business Lecture.
Robert P. Miles, an internationally acclaimed keynote presenter, author and distinguished authority on Warren Buffett and his company, Berkshire Hathaway, will lead a talk entitled "The Genius of Warren Buffett: The Science of Investing and the Art of Leading" at 11 a.m. on Thursday, March 17, in the Bradley Theatre. The event is free and open to all.
Miles' appearance is made possible by a gift from The Charlotte and Walter Kohler Charitable Trust.
His presentation will outline how Buffett, using gifts of memory, math and interpersonal skills, became one of the world's most renowned investors and most respected chief executives, and why investors should study Buffett.
"Genius is a gift bestowed on a rare few of intellectual types," Miles said. "Throughout history, scientists and artists have advanced human achievement, but there are few, if any, advancements made by someone who was both a scientific and artistic genius."
Pursued by journalists and media moguls on just about every move that Buffett makes, Miles is not only a long-term shareholder of Berkshire Hathaway, he has gotten to know Buffett personally.
Miles is the author of three books, has created assorted audio and video programs and has appeared on many radio and television programs on five continents, including NPR, CNN, CNN International, CNBC, FOX Business, Channel News Asia, Sky Business News, Shanghai Today, CNBC Asia, CNBC Africa and Bloomberg TV. His Buffett CEO book was featured as a special on National Public Television's Nightly Business Report.
Essence of Heritage hits Bradley Theatre stage on Saturday night
Essence of Heritage, Lakeland College's annual homage to Black History Month, will feature song, dance, poetry, academic awards and more starting at 6 p.m. on Saturday at the Bradley Theatre.
Admission is free to this convocation credit-bearing event, which is co-sponsored by the Black Student Union and Beta Sigma Omega fraternity. Lakeland senior Romain Johnson will emcee.
Keynote speaker James C. Hayes, a 2003 Lakeland College graduate, is the founder and CEO of Run the Race Performing Arts Ministries. Hayes is a motivational speaker who travels the world and trains people in the areas of attaining goals, leadership, fellowship and personal growth.
After earning his bachelor's degree from Lakeland, Hayes added a Master of Education (with an emphasis in leadership of educational organizations) from American InterContinental University.
Prior to Hayes' address, Lakeland students will perform the following:
Marvin Warfield, song
Josh Guy, accompanied by saxophone player Malcolm Blakley, song
Serena Jones, song
Cedric Logan, spoken word poetry
Benjamin Wilks, spoken word poetry
Tyra Peters, spoken word poetry
Jody Harrison, spoken word poetry
Warfield and Vincent Stepney-Willis, spoken word poetry
Unity, African dance
After those performances, there will be an academic awards ceremony for high-achieving minority students.
The event will be capped off with a high-energy step show, courtesy of the Betas.
Lakeland promotes two faculty members
Two longtime Lakeland College faculty members have been promoted from associate professor to full professor.
Greg Smith, who joined Lakeland's faculty in 2003, is now professor of biology. Scott Niederjohn, who joined Lakeland's faculty in 2004, is now Charlotte and Walter Kohler Charitable Trust Professor of Business Administration.
Lakeland President Dan Eck announced their promotions this week. The decision is based on their accomplishments in the classroom and their service to and on behalf of the institution.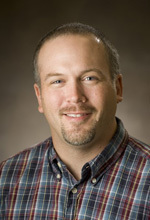 Smith has played a significant leadership role in the growth of Lakeland's natural science majors, which continue to be some of the college's most popular programs.
He is co-founder of the popular Lakeland Undergraduate Research Experience (LURE), which allows students to work alongside their faculty as peers in conducting primary research. Smith's research with students in the LURE program focuses on understanding the mechanisms of protein aggregation as they relate to prion diseases (Chronic Wasting Disease in deer and elk, Mad Cow Disease in bovines, etc.)
Smith partnered with fellow biology faculty member Paul Pickhardt to create Lakeland's tropical biology course in Belize, a hands-on opportunity to conduct research in the rainforest. Among other courses Smith designed or co-designed at Lakeland are bioinformatics and scientific analysis and writing I and II.
Smith serves as advisor for the pre-nursing program, a partnership between Lakeland and Columbia College of Nursing, and he is the college's Commencement Grand Marshal.
Smith received a Ph.D. from the University of Oregon in 2001 and completed his post-doctoral work at the University of Wisconsin-Madison in 2003. His bachelor's degree is from Carleton College.
Niederjohn is in his second stretch as chair of the Business Division, which contains the college's largest programs. He also serves as director of the master of business administration program.
A nationally-recognized expert on financial literacy, Niederjohn led the creation of the Lakeland Center for Economic Education, which works with EconomicsWisconsin to create financial literacy and economics curriculum and other tools for K-12 teachers. The center has trained hundreds of teachers since its inception.
Niederjohn serves on the Governor's Council on Financial Literacy and won the Governor's Financial Literacy Award in 2011, 2012 and 2014. In December 2014, he was featured in Money magazine for his work on financial literacy.
His research has been featured in numerous academic journals, and his research and thoughts on public policy and other state issues regularly have him quoted by statewide media outlets.
In the fall of 2013, Niederjohn taught at the University of Luxembourg as a Fulbright Scholar.
Niederjohn received a Ph.D. in economics from the University of Wisconsin-Milwaukee and an MBA with an applied economics concentration and a bachelor's degree from Marquette University.
Four senior artists to share Lakeland spotlight
Lakeland College will spotlight the work of four students as part of the Lakeland Senior Art Student Portfolio Exhibitions, which opens on Friday, Feb. 26.
Tanner Hackl, Rebecca Stemwell, Marvin Warfield and Justine Watson will discuss their work during an opening reception beginning at 4:30 p.m. in the Bradley Gallery, located in the Bradley Fine Arts Building on Lakeland's campus.
The exhibit, which will feature works created by these students during their time at Lakeland, will run through April 1. The Bradley Gallery is open from 8 a.m.-4 p.m., Monday through Friday, when the college is in session. Attendance at the reception and admittance to the Bradley Gallery are both free and open to the public.The senior art show is a requirement for all Lakeland art majors. Students gain the experience of having their own exhibit, and are responsible for planning the show, putting the public relations together, hanging their work and any other details.
Hackl is working toward a bachelor's degree in art with a graphic design emphasis. He transferred to Lakeland after receiving an associates degree in graphic design from Northeast Wisconsin Technical College. He has owned his own design business since 2012, and he works as a student designer in Lakeland's marketing department. He's also a member of the Lakeland basketball team.
"One of the most valuable aspects I am taking away from my experience at Lakeland has to be the connections and opportunities that I have come across," Hackl said. "I have met a plethora of fantastic connections throughout my experience here. I am not sure where my path as a designer will go after I graduate, but I do know that I love what I do and if I can continue to design on a daily basis I will be happy."
Stemwell is also working toward a bachelor's degree in art with a graphic design emphasis. She currently works for the Boys & Girls Club in Sheboygan Falls and Lakeland's Student Success and Engagement Team, and previously worked at the Luxembourg American Cultural Museum and the Marcus Cinemas in Sheboygan and Mequon.
She is very involved on campus, serving as president of Lakeland's ArtSociety, as an officer for the Pi Kappa Gamma sorority and as a member of the college's dance team.
Stemwell said she's discovered a passion for art through the children she works with as art program leader at the Sheboygan Falls Boys & Girls Club.
"The kids who come through my door have so much passion and creativity in their crafts," she said. "When they start to create, I see future painters, designers and, most importantly I see who they are as an individual."
Warfield is also working toward a bachelor's degree in art with a graphic design emphasis. He has worked as a graphic designer for the college's athletic department, as well as doing some poster and logo design work. He is a member of the football team and Latino Dance, and he's been an officer for the Beta Sigma Omega fraternity and the Black Student Union.
"The emotion within my work ranges from sadness to happiness," Warfield said. "There are always different vibes going on in my work depending on the messages I am trying to express. Many artists throughout the world have different ways of expressing their emotions. I express my emotions through color, text, shapes, and composition. Although those are the most vital elements when it comes to art in general, I like to emphasize those the most within my art."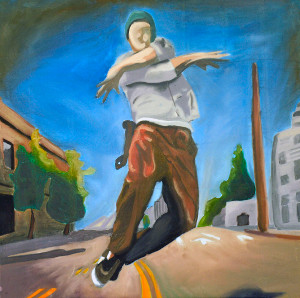 Watson is working toward a bachelor's degree in art with a studio art emphasis and a second major in history. She works as an art program leader at the Sheboygan Boys & Girls Club and has held various roles in the college's art department, won an honorable mention award in Lakeland's 2015 annual student art exhibit and has produced CD cover art for musician Cal Northrun.
She is involved in a number of Lakeland extracurriculars, including serving as president and secretary for Latino Dance and the Japanese Student Association at Lakeland, alumni coordinator for the Phi Delta Omega sorority, vice president of UNITIES and as an officer for the history club and Global Student Association.
Watson counts among her chief influences Georges Seurat, Roy Lichtenstein and John Hicklenton, a comic book penciler known for his edgy, intricate style.
"Overall, my purpose with my art is to show a different perspective to the viewer, much like switching a camera lens, by distorting the image through colours, lines or dots," Watson said. "The mediums that I work with primarily are oil paint, printmaking, along with pen and ink. With each I have a unique approach shaped by my background and personal preferences."