Lakeland hosting science and engineering festival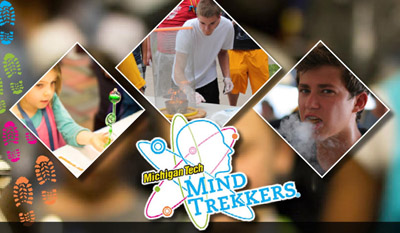 Lakeland College will host Michigan Technological University's Mind Trekkers' second Sheboygan Area Science and Engineering Festival on Friday and Saturday, May 9-10.
More than 50 Mind Trekkers will be teaming up with more than 40 Lakeland College student volunteers to conduct more than 80 exciting, hands-on activities in science, technology, engineering and mathematics (STEM).
Friday's event is for middle school students in the area. Morning and afternoon sessions are scheduled, with more than 1,600 middle schoolers expected. Saturday's festival will be open to the public from 9 a.m. – 4 p.m. at Lakeland College. The event is free, and activities are appropriate for K-12 students and adults of all ages.
"Lakeland is excited to welcome Mind Trekkers and their enthusiasts to our campus for two days of fun activities that we hope will interest young people in exploring STEM career paths," said Lakeland President Dan Eck. "Lakeland College's science program offers our students cutting-edge research opportunities and partnerships with local firms that have students working on real-world projects. We are looking forward to seeing our talented students share their knowledge and skills as part of this unique experience for school children."
Sponsoring companies will also host displays staffed by STEM professionals form their own organizations, allowing students and parents to explore a day in the life of a chemical engineer, an information technology specialist and many more "hot" careers in the expanding global economy.
Sponsors of the festival include Kohler Co., Rockline Industries, Mercury Marine, the Wisconsin Public Service Foundation, Plexus Corp., The Vollrath Co., Miller Electric Manufacturing Co., Sigma-Aldrich Corp. and Alliant Energy Foundation, with others still coming on board.
"We are thrilled to be partnering with Lakeland College and so many corporations and nonprofits to bring this science and engineering festival to the people of the Sheboygan area," said Steve Patchin, director of the Center for Pre-college Outreach at Michigan Tech. "The excitement that events like this generate do so much to inspire young people to think about careers in the STEM fields and to motivate their families and teachers to support them in those interests."
Friday's event is for middle school students in the area. Morning and afternoon sessions are scheduled, with more than 1,600 middle schoolers expected. Saturday's festival will be open to the public from 9 a.m. To 4 p.m. at Lakeland College.
The event is free, and activities are appropriate for K-12 students and adults of all ages.
For more information, contact David Gallianetti at Lakeland College at , or Steve Patchin at Michigan Tech at . Learn more about Mind Trekkers at mindtrekkers.mtu.edu/.
Lakeland celebrates Earth Day with a walk, picking up litter
More than a dozen Lakeland College students and two faculty members joined Associate Professor of Biology Paul Pickhardt Tuesday for an hour-long walk in Grether Woods behind campus to commemorate Earth Day.
The idea for Lakeland's inaugural Earth Day Walk belongs to a trio of students, led by Nicole Cox, who developed the concept when assigned to promote an event for a communications class. Students were armed with plastic bags to pick up litter while also learning about the Grether ecosystem.
"I wanted it to be an event that's related to something I'm passionate about," said Cox, a sophomore. "Once we started planning it, it wasn't about the assignment anymore."
As students strolled and picked up trash, Pickhardt gave walking ecology lessons. He talked about the budding trout lily, which will soon produce beautiful yellow flowers, while the sound of wood frogs provided the soundtrack. Pickhardt also warned of the impending poison ivy that will carpet much of the Grether floor.
Pickhardt pointed out and talked about numerous species of trees and plants. He discussed the Emerald Ash Borer's devastation of Wisconsin's Ash trees, praised the taste of maple syrup from the sugar maple tree and raved about the flavor of hickory nuts from the Shagbark tree. Pointing to tiny holes in the sugar maple tree, Pickhardt explained that a yellow-bellied sap sucker will peck those holes so syrup will surface and attract insects. When the bugs come to feed on the syrup, the birds pick them off.
He also showed the group what a pileated woodpecker can do to a dying tree, putting his entire hand inside a large hole the bird had created four feet off the ground.
This time of year, the Grether Woods hold about a half-dozen temporary pools of water that for a few months are home to frogs, salamanders and all sorts of other life. Chest deep at some points, these ponds will dry up by mid-summer, but their role in Lakeland's ecosystem is significant.
Pickhardt's pride in and love for the 50-plus-acre Grether Woods – located just a short walk from the natural sciences classrooms – is palpable. He takes many classes into those woods for real-world, hands-on research and course work.
"Lakeland is lucky to have this property," said Pickhardt. "I really enjoy it back here."
Harbach leads first Lakeland Community Book Read
Lakeland College hosted its inaugural Community Book Read on April 15 with Wisconsin native Chad Harbach, author of the best-selling novel "The Art of Fielding." Harbach met with students for a Q&A earlier in the day. The evening event featured Harbach reading excerpts from the novel and answering questions about the work and his life as an author and magazine editor. "The Art of Fielding," Harbach's debut novel, was named one of the New York Times' Ten Best Books of 2011.
Photo Galleries
Community Book Read 2015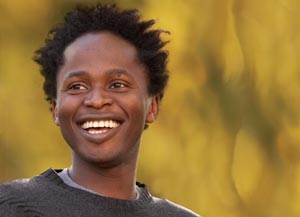 Join us in March 2015 as the Lakeland College Community Book Read proudly presents Ishmael Beah, author of "A Long Way Gone: Memoirs of a Boy Soldier" and "Radiance of Tomorrow: A Novel." Details of this event will be announced later this year.
Brown named Student Employee of the Year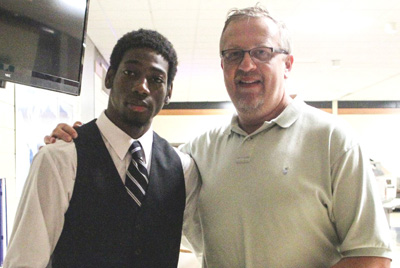 When sophomore Brandon Brown found out he was named Lakeland's "Student Employee of the Year," he was certainly appreciative — though a bit perplexed.
"Where I'm from, when you're hired to work, you work — no excuses," said the New Orleans native. "So when I'm given an award for doing the job I was hired to do, I didn't understand the reason for the award. I hope that doesn't sound arrogant, but I'm just doing my job."
Brown does his job — dining service head supervisor — with dedication, passion, integrity and creativity. He stands out so regularly that Joe Johnson, Lakeland's executive chef and assistant director of dining services, felt compelled to nominate him for the award.
"Brandon's quality of work has always been top notch," wrote Johnson on the nomination form. "He takes great pride in keeping the standard at a high level … He has an eye for detail and it shows."
Johnson added: "He has proven himself to be a star performer."
Each year, the Student Employment Department names the Student Employee of the Year based on reliability, quality of work, initiative, professionalism and uniqueness of contribution to the position.
In addition to his strong work ethic and positive attitude, Brown has brought some southern flavor to Lakeland's dessert selection. Johnson wrote that Brown's "pecan pie is out of this world."
"I haven't been able to bring crawfish here yet, but I've been able to bring some pies and pastry ideas," Brown said with a smile.
As for his award, Brown said he appreciates the honor, but added that working in dining services is reward enough.
"The people I work with are not just friends to me; they are mentors and teammates," he said. "The way I look at it, I get to hang out with great people for a few hours, and they pay me for it."
The other student employees nominated for this award were:
Caitlin Bailey — Campus card office
Daniel Carriveau — Campus Center desk
Elizabeth Raddatz — Muskie Mart
Janel Weir — Housekeeping
Jenny Kjin — Residence Life
Kimberly Daane — Psychology
Mackenzie Merriman — Women's softball
Thomas Pibal — Accompanist piano fellowship
Recognizing Lakeland student athletes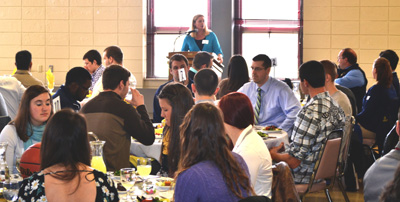 On Tuesday, Lakeland College celebrated National Student-Athlete Day for the third consecutive year by awarding 78 Muskies with lunch and a certificate of achievement.
Lakeland's honorees carry at least a 3.25 grade point average, participate in at least one of the school's 18 men's or women's sports and engage in community service at their school and in the community.
National Student-Athlete Day, sponsored by the National Consortium of Academics and supported by the NCAA, is celebrated annually and has seen 3.7 million student-athletes honored across the nation since 1997.
Following are Lakeland's student-athlete honorees:
Baseball: Brady Callahan, Ashton Holzman, Derek Loomans, Samuel Martin, Jared Rear, Travis Stever, Justin Willman
Cheer/Dance: Aubrey Day, Madison Hull, Peri Luedke, Becca Skalestski, Reinlyn Tucker
Football: Jacob Battle, Alex Busch, Jacob Lefluer, Brandon Pribbernow, Sam Spaeth, Trevor Tanck
Men's basketball: Mark Gryszkiewicz, Brandon Hagenow, Stanley Mckenzie, Mitchell School, Zachary Van Engen, Justin Ward
Men's golf: Beau Gundersen, Tyler Kubicek, Casey Wusterbarth
Men's soccer: Yasu Gima, Leo Guariglia, LoganMassey, Killian McKenzie, Tyler Schaut
Men's tennis: Carlos Rodriguez
Men's volleyball: Casey Bolda, Tyler Boyce, Dayton Erickson, Christian Frahm, Dan Mtijevic, Anthony Puccini, Alec Redlich, Jordan Smith, Matt Stolz
Softball: Emmie Dessart, Tatiana Gonzalez, Bailey Grayvold, Ashley Hough, Megan Lawson, Kaylee Ninnemann, Sami Jo Williams, Jocelyn Yeager
Women's basketball: Kayla Clark, Rachael Millner, Bailey Grayvold, Alexandra Greenheck, Taylor Jandrin, Callie Olson, Aimee Thrune
Women's golf: Finni Simko, Samantha Williams
Women's soccer: Brianne Frank, Kelly Jens, Brittni Peterson, Alexa Piskule, Stephanie Rock
Women's tennis: Sarah Allman, Erica Hoffmann
Women's track: Heather Kirby
Women's volleyball: Shaina Carlson, Caleigh Galvan, Le'shay Jones, Ashley Lehman, Taylor Levitt, Emily Thomas, Jenna Ward
Wrestling: Aaron Almedina, Mitchell Fucile, Rainger Rossway, Jacob Schmidt