Paul Pickhardt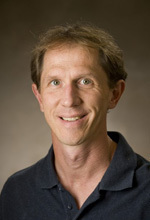 Chair, Natural Sciences Division & Associate Professor of Biology
Main Campus
Chase 111B
vCard
Miscellaneous Information
Paul Pickhardt, a member of Lakeland's faculty since 2006 and current Natural Sciences Division Chair, was named Lakeland's winner of the Underkofler Excellence in Undergraduate Teaching Award in 2011. He has a genuine love for biology, and he has great success getting his students to share in his enthusiasm. Paul demands hard work, but he's one of Lakeland's most approachable and supportive instructors. An aquatic ecologist, Paul has published and presented extensively on this work. He partnered with fellow biology faculty member Greg Smith to create Lakeland's tropical biology course in Belize, and Paul's dedication to environmental issues resulted in the college's participation in Focus the Nation to raise awareness about climate change.
Courses taught at Lakeland College:
Biology 101: Environmental Science
Biology 112: Life Sciences II
Biology 242: Botany
Biology 275: Comparative Forestry
Biology 342 Invertebrate Zoology and Parasitology
Biology 350: General Ecology
Biology 400: Tropical Biology in Belize (May term of even years)
Biology 420: Evolution
Biology 475 & 476: Scientific Analysis and Writing I & II
GEN 443: CORE III Environment and Consumption
Research Interests
Freshwater aquatic ecology, trophic transfer of trace elements, biogeochemistry of mercury
My interests as an aquatic ecologist center around the interactions of trace elements and contaminants on the biota at the base of aquatic food webs. I have utilized several approaches and methodologies in pursuit of these interests including field work to compare contaminant dynamics across-systems, in-depth site-specific studies, laboratory and field experimentation, trace metal clean techniques, and the development of enriched stable isotope methodologies. I have worked primarily in temperate, freshwater lakes and rivers, but more recently my research includes tidal ecosystems. Here at Lakeland I have begun to incorporate local streams into my research questions.
My early research experiences investigated the effects of acid deposition on plankton communities in a whole lake manipulation in Northern Wisconsin supervised by Dr. Tom Frost at the University of Wisconsin's Trout Lake Station. My interests in the acid deposition studies led to research opportunities involving primary productivity, fish surveys, and zooplankton ecology as a part of the Northern Temperate Lakes Long Term Ecological Research program run by the University of Wisconsin Madison. My participation in an intensive sampling effort of lakes across northern MN, WI, and MI (with Dr. Katherine Webster now at the University of Maine) solidified my interests in cross system comparisons in assessing the effects of contaminants and trace elements on aquatic biota.


Whereas the above research primarily investigated the effects of non-toxic inputs (e.g., sulfate, nitrate, etc.) to aquatic systems, my work on trace metals in lakes deals with the uptake and trophic transfer of potentially toxic trace elements. At Dartmouth College (with Dr. Carol Folt and Dr. Celia Chen) I helped implement a trace metal clean sampling regime across a diverse gradient of New England lakes to assess the degree of trace metal contamination in aquatic biota. Smaller scale research studied the trophic transfer of inorganic and methylmercury utilizing novel enriched stable isotope methodologies. In collaboration with Dr. Bjorn Klaue and Dr. Joel Blum (University of Michigan), we successfully tracked mercury through aquatic food webs at laboratory and mesocosm scales at environmentally realistic mercury concentrations. Important results from my mercury studies indicate that short term variability in phytoplankton abundance affects the trophic transfer of methylmercury to crustacean zooplankton.


For my post doctoral research I joined Dr. Nicholas Fisher's laboratory at the School of Atmospheric and Marine Sciences (SoMAS) at Stony Brook University in New York. At SoMAS my research concerned the cycling and trophic transfer of trace elements in the San Francisco Bay and Delta ecosystem. In particular, our research examined the biogeochemical cycling and bioaccumulation of inorganic and methylmercury in the phytoplankton and herbivores of the freshwater, tidal Delta ecosystem. In collaboration with Dr. Robin Stewart and Dr. Mark Marvin DiPasquale (USGS scientists at Menlo Park) and Dr. Rob Mason (University of Connecticut) and Dr. Andrew Heyes (University of Maryland) I studied mercury dynamics in primary producers, crustacean herbivores, and planktivorous fish using radioisotopes of mercury. The research in New York allowed me to utilize a bioenergetic-based model developed in the Fisher lab to quantify the sources of bioaccumulation for mercury and to make predictions on mercury accumulation in the field. Additionally, we started experiments on the effects of dissolved organic carbon on the bioaccumulation of mercury and on possible interactions between mercury and selenium in aquatic biota.


Here at Lakeland College I have continued my research on trace metal dynamics in aquatic systems through the Lakeland Undergraduate Research Experience (LURE) program. In these research efforts I involve motivated, enthusiastic undergraduates who tackle relevant questions in local aquatic habitats and/or the laboratory during the summer. Students who have recently completed LURE research under my supervision have gone on to funded, graduate programs to pursue their doctorate degrees at the Michigan Technological University, Rutgers University, and the University of North Carolina at Chapel Hill.


For more information, publications stemming from the above research follow.


Publications


Chen, C. Y., C. L. Folt, M. Xu, and P. C. Pickhardt. Eutrophication and metal contamination in Baiyangdian Lake, China. 2008. Water Air Soil Pollut 190: 115-127.


Karimi, R., C. Y. Chen, P. C. Pickhardt, N. S. Fisher, and C. L. Folt. 2007. Stoichiometric controls of mercury dilution by growth. Proceedings of the National Academy of Sciences of the United States of America 104: 7477-7482.


Pickhardt, P. C., and N. S. Fisher. 2007. Accumulation of inorganic and methylmercury by freshwater phytoplankton in two contrasting water bodies. Environmental Science & Technology 41: 125-131.


Pickhardt, P. C., M. Stepanova, and N. S. Fisher. 2006. Contrasting uptake routes and tissue distributions of inorganic and methylmercury in mosquitofish, Gambusia affinis, and redear sunfish, Lepomis microlophus. Environmental Toxicology & Chemistry 25: 2132–2142.


Pickhardt, P. C., C. L. Folt, C. Y. Chen, B. Klaue, and J. D. Blum. 2005. Impacts of zooplankton composition and algal enrichment on the accumulation of organic and inorganic mercury in an experimental freshwater food web. Science of the Total Environment 339:89-101.


Pickhardt, P. C., C. L. Folt, C. Y. Chen, B. Klaue, and J. D. Blum. 2002. Algal blooms reduce the uptake of toxic methylmercury in freshwater food webs. Proceedings of the National Academy of Sciences of the United States of America 99:4419-4423.


Chen, C. Y., R. S. Stemberger, B. Klaue, J. D. Blum, P. C. Pickhardt, and C. L. Folt. 2000. Accumulation of heavy metals in food web components across a gradient of lakes. Limnology and Oceanography 45:1525-1536.


Online Reports


Marvin-DiPasquale, M., Stewart, A.R., Fisher, N.S., Pickhardt, P., Mason, R.P., Heyes, A. and L. Windham-Meyer. 2005a. Evaluation Of Mercury Transformations and Trophic Transfer in the San Francisco Bay/Delta: Identifying Critical Processes for the Ecosystem Restoration Program: Annual Report of Progress for Project # ERP-02-P40. Submitted to the California Bay Delta Authority (CBDA). Sacramento, CA. November 7th, 2005. Available at: http://www.delta.dfg.ca.gov/erp/docs/wq_mercuryissues/Evaluation_of_Merucry_Transformations.pdf


Edited Book Chapters


Folt, C. L., C. Y. Chen, and P. C. Pickhardt. 2002. Using plankton food web variables as indicators for the accumulation of toxic metals in fish. in S. H. Wilson and W. A. Suk, editors. Biomarkers of environmentally associated disease: Technologies, concepts, and perspectives. CRC Press/Lewis Publishers, Boca Raton.