Reason to give on #GivingTuesday: Vashia Gordon
Vashia Gordon was hesitant. The Lakeland College freshman knew she should seek help from the tutors at Lakeland's Hayssen Academic Resource Center, but her pride gnawed at her.
"I kept wondering, 'What if they think I'm dumb?'" recalls Vashia, now 22. "I didn't want anyone to look down on me, especially because I was an athlete. I didn't want to reinforce that stereotype."
Vashia had been, in her words, "not that good academically" at Green Bay East High School, where most of her focus was on basketball and track and field as she coasted to a "C" average. When she arrived at Lakeland, she knew it was time to buckle down.
Buckle down she did, and now Vashia, a confident, accomplished senior, is carrying a 3.3 grade point average while honing in on a career as a middle school math teacher.
"The tutoring is so beneficial, especially for a student like me who initially struggled," says Vashia. "The best tutors for me were the math tutors because that was my worst subject. I knew it would be a challenge for me, but I met it. Working with the tutors was probably the best thing I ever did because it gave me a lot of confidence. Once I got over that fear, so many doors opened for me."
Now Vashia is opening doors for others. The same young woman who was once reticent to visit tutors is one herself. And the subject that once intimidated her most – math – is what she tutors. Yes, after she took off academically, Vashia was asked to come full circle and work at the ARC.
"It was scary when I was asked to tutor," she says. "I was really happy to do it, but I was afraid I wouldn't be able to help students the way I was helped. What if I failed?"
Again, Vashia overcame her initial hesitance, and while tutoring, she was hit hard by the realization that teaching is her calling in life. So she switched from "undecided" and now majors in education.
"I love it," she says of tutoring. "It's amazing to me when I'm able to just give students that little spark they need to be successful."
Vashia is a shining example of the American college success story. Her love of sports hasn't waned, as evidenced by her three conference championships in track and field and her decision to play basketball again this winter (after not playing the past two seasons so she could focus on academics).
"I had help from so many people," she says. "People who supported me academically rather than just athletically."
Vashia thinks there's tremendous value in having students tutor other students.
"It's not just the age similarity," she says. "We remember our struggles, and we can suggest different ways of learning. Sometimes they'll say, 'Oh, I never thought it about it like that.' The one-on-one aspect is so valuable."
Though she loved tutoring from the start, one thing bothered Vashia. Sometimes, after a positive tutoring experience with a student, the student wouldn't return.
"At first I was upset," she recalled. "I finally got the guts and asked a student, 'Did I do something wrong?' They said, 'No, no! You helped me. I got it! That's why I didn't have to come back.'"
Reason to give to Lakeland College on #GivingTuesday
When you give to Lakeland College through #GivingTuesday, your generosity pays off in real and tangible ways. Each donation is highly student-centric, and helps fund everything from need- and merit-based scholarships to technology upgrades all over our campus.
Simply put, at Lakeland, our students come first. Students like Carlos Rodriguez, a Chicago native and business management major who qualified for an annual scholarship that made it feasible for him to attend college.
"There are a lot of kids with potential who, unfortunately, live in bad neighborhoods," says Carlos. "They deserve a chance. You just have to find them."
Yes, donations fund scholarships that go directly to students. But your donation has indirect benefits as well by helping fund student service trips such as Habitat for Humanity, career and personal counseling services for students, 24-hour on-campus security, the on-campus "Safe Ride" program and a fitness center that's open to students and the public 10 hours a day.
Have you heard about our exciting 3D printer in our computer science lab? Or the 3D scanner we just purchased to go along with it? Our computer science students have "printed" everything from a historical building replica to a plastic, functional part for a musical instrument.
Speaking of musical instruments, we're regularly updating ours for the passionate music students to hone their craft with. And our theater program provides quality entertainment for local audiences with two major productions each year.
Our aviation program, the only one offered at a four-year college or university in Wisconsin, puts students in control of modern airplanes under the guidance of highly trained instructors.
Your contribution certainly isn't limited to the traditional, on-campus students. Donations benefit the evening, weekend and online students as well. Our exciting new BlendEd platform offers busy adult students more flexibility than ever before. If they can't make it to class for any reasons, they can interact with the professor and students via live streaming video.
Our mission at Lakeland College is centered on one theme: Taking care of our students. With your help, we can continue to educate them, serve them, nurture them and prepare them for the rest of their lives.
Reason to give on #GivingTuesday: Hayssen Academic Resource Center
Paul White loves his job. As director of Lakeland's Hayssen Academic Resource Center, he beams with pride whenever a once-bewildered freshman overcomes shaky beginnings and blossoms into a confident, successful graduate.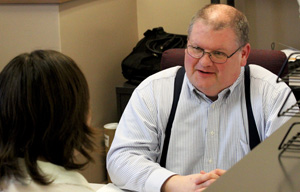 Some of the many services Lakeland's Hayssen Academic Resource Center provides:
Free, unlimited tutoring to all of Lakeland's students by a staff of more than 40 paid "peer tutors" at three locations on campus
Workshops that help students prepare for final exams, organize their time and develop a strategies for success
An early warning list, which faculty members are urged to help populate with the names of struggling students, so that academic advisors, coaches and tutors are aware of who needs help
Help for the 80 currently enrolled students with disabilities. "We provide reasonable and appropriate accommodations for those students," says White.
A walk-in system, based on pre-scheduled tutoring times for specific subjects
"I have the best job on campus, bar none," White says. "It's a real treat for me to attend graduation each year and watch students, filled with justifiable pride, take part in commencement. They're very grateful and often say 'Thank you.' That's worth more than any paycheck."
The Hayssen Academic Resource Center, known on campus as the "Arc," is a well-staffed tutoring lab that's free of charge and available for unlimited use to all of Lakeland's students. So far this semester, White says there have been more than 550 interactions between students and the 44 tutors – who offer help for every subject taught at Lakeland.
Particularly satisfying to White is that of those 44 "peer tutors," 13 once came to the center for help themselves as young students.
"Some of our tutors came to us as freshmen who didn't know which end was up," White says. "They said, 'Help me,' and we did. Now they're helping others."
One of the many tools used by White's office is the "Early Warning List," which instructors populate with names of students who are in danger of failing classes. White then shares this information with coaches and academic advisors.
"We work collaboratively to stop small issues from becoming big mountains and deep holes," White says.
Sometimes, unfortunately, the mountain becomes too steep. White says that "for between 12 and 15 percent of the students, their needs exceed our ability to help. Then our goal becomes finding a path of alternate success for those students."
But the great news is, Lakeland's "Arc" usually becomes a doorway to success for those who use it. White reports that the average grade point average of students who regularly visit is "just under 3.0."
Lakeland's tutors work an average of about six hours a week for 14 weeks, and it costs Lakeland College about $700 per tutor, per semester.
"It's certainly not cheap," White says. "But it's important. And we know it works."