Follow the Malawians in the
Lakeland College M.Ed. Program
The graduate students are on a short break right now. Classes ended last week and will begin again right after Labor Day. When I informally polled the group about what they are doing during their time off, I learned that they have been relaxing, making trips into Sheboygan to look for winter clothes (yes, it will be winter again one day), watching soccer on television, listening to music, and also reading the education literature on literacy to look for "gaps in the knowledge" that might lead to fruitful thesis topics. Even when on break, these graduate students are never far from their studies, are they? In fact, in an eighteen-month graduate program, there really are few breaks. One of the teachers, a self-described "strong and determined woman," is a 2008 graduate of Lakeland. She spoke with me about out how happy she is to be back.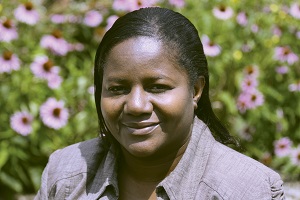 Meet Ndamyo Mwanyongo '08
Ndamyo Mwanyongo graduated with her bachelor's degree from Lakeland in 2008, but her connection to the school goes back earlier than that. Her husband, Andy Blessings Mwanyongo '02 was in the first cohort of five students who came to Lakeland from Malawi in 1999 to earn bachelor's degrees. She fondly remembers visiting the campus when he was a student here, to hear him sing in the choir. "Lakeland is like family to me," she said.
Several years later, Andy encouraged Ndamyo to apply to Lakeland herself. She still feels deep appreciation for the support her husband gave her. He took care of their home and family during her three-year absence. Their two sons were 16 and 11 when she first left. She said the youngest one, especially, missed his mom.
Now she is back for a second degree and couldn't be happier to be here. Ndamyo said her youngest son, now 19, assured her, "It's only one year this time. We'll manage."
Ndamyo told me she is pleased to know that her example of being selected to leave Malawi twice to study has inspired many of the younger teachers back home. "It's an opportunity that I don't take for granted. I feel like I can make a difference. I think the student teachers respect me and look up to me."
I have no doubt that Ndamyo is right about this.
Ndaymo teaches at the Teacher Training College in Kasunga, a town 60 miles north of the capital city of Lilongwe. She would like to see reading taught in a broad manner. "I do not want to see it narrowed," she said. "I teach very widely, using all the expressive arts." Ndamyo, like her husband Andy, is very interested in music. "We play music as a family a lot." She has used music, drama, and drawing as a tool in teaching not only young learners, but student-teachers, too.
"In Malawi, we must start with better training for teachers. We need to incorporate other subject areas. And, we need a means for engaging parents. In Malawi, parents are not so involved with children's education. We need to help them see their role."
Ndamyo knows first-hand the value of parents' involvement in a child's education. She was the fifth of nine children. Her dad was a secondary school teacher and her mom was a primary school teacher. There were books at home and she watched her parents read and her siblings study. She had models for reading at an early age and in-home tutors to help her when she needed help. In sixth grade, she went off to a boarding school that encouraged library use and then, in secondary school, her teacher was a Peace Corps volunteer who strengthened Ndamyo's developing English with phonetic reading skills.
On a different note, I asked Ndamyo about the interesting middle names that people have in Malawi. Remember, last week, we learned that Elias gave himself the middle name, Ambitious. The parents of her husband, Andy, gave him the middle name Blessings. Ndamyo has a middle name, Kettie, which is the name of her mother's sister. I asked her the meaning of Ndamyo. Her name means "troubles, challenges." She said her mom had some troubles when she was pregnant with Ndamyo, hence the given name.
The way I see it, Ndamyo may have been born in challenge, but being strong and determined, as well as open-minded, she has been the recipient of many blessings. She is here now to put all that to good use for the children of Malawi.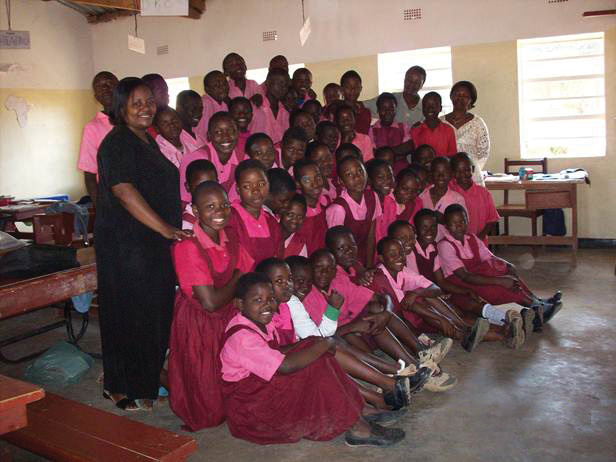 Ndamyo (left) with students at the Viyere Primary School in Mzuzu, Malawi,
where she did her student teaching after graduating from Lakeland in 2008.
This post is written by Lisa Vihos, the Director of Sponsored Programs and Research at Lakeland College. The program is made possible by the generous support of the American people through the United States Agency for International Development (USAID). The contents of this blog are the responsibility of Lakeland College and do not necessarily reflect the views of USAID or the United States Government.
Last week the Malawi graduate students were struggling in class with the question, "what do we need to do in Malawi to improve the acquisition of reading skills for our youngest learners?" In a vigorous class discussion, they talked about how teaching has changed in the many years since they were student teachers themselves. For one thing, when they were learning to be teachers, tests involved essay questions that required written answers. Now, too much testing is left to multiple choice questioning, which as one person said, "is not really a test of true knowledge." In an effort to move more people more quickly into the profession of teaching, according to the M.Ed. students, standards in Malawi have been lowered. But, as recent reading assessments reveal, less-skilled teachers don't do children much good. And so, we come back to the question: what can be done?
Meet Elias Ambitious Jonas Lyson
Elias was born in Zomba in the southern part of Malawi, and he lives now in the capital, Lilongwe, where he is in his fifth year of employ at the Teaching Training College (TTC) there. His wife teaches primary school and they have four children: three girls ages eighteen, fourteen, and twelve and a boy, nine.
In his first weeks in the graduate program at Lakeland, what Elias has found most surprising is the emphasis on time management. He shared, "Teachers here are serious with time. That is the first thing I want to emulate when I go home. If class starts at eight, it starts at eight." He was also delighted to see classrooms at Valders elementary school that were rich with print materials everywhere he looked. "The environment is very conducive to learning," he said. "Classroom set-up, desk set-up...all these things are so important." He also found it amazing that even kindergarten-age children are able to use technology as part of a normal school day.
Like his colleagues in the Lakeland Master's program, when Elias saw the advertisement to come to Wisconsin, it was the focus on "early grade reading instruction" that particularly caught his eye. His first thought at the time was, "If I can go for this opportunity at Lakeland, I can assist the learners in Malawi."
Elias wanted to make clear to me that the strategies being discussed in class are often known to teachers in Malawi, but sometimes it is a matter of resources or the teacher's individual creative energy that impacts the ability to follow through on them. The best strategies do nothing if they are not implemented. With 100 students in an average classroom, there are many challenges a teacher faces.
When I spoke to Elias and Margaret Mulaga (his colleague at the TTC in Lilongwe) together one afternoon recently, they echoed something that Elias had first shared with me on his own: Classrooms need to be made secure and lockable so that teachers can put up educational materials—making a "print-rich" learning environment—and leave the materials there, knowing the resources will be safe until the next class. As it is right now, teachers have to carry their materials to class, put them up and take them down each time they teach. This is inconvenient and exhausting in a situation that is already stressful with so many children to teach at one time.
Elias also taught me the acronym, TALULAR, which stands for "Teaching and Learning Using Locally Available Resources." So, if the teacher doesn't even have a classroom, what can the teacher do to put up print resources? Can they be hung on a rope? Can they be tacked to a tree? Yes and yes. But, all these things require ingenuity, creativity and physical energy. Elias hopes to instill these qualities in his student teachers when he goes home.
You will notice that Elias has two middle names. One is Jonas, the name of his grandfather. The other is Ambitious. This is a name that Elias gave himself after high school, because he felt it represented his desire to be a better teacher. It strikes me that by making the commitment to gain his M.Ed. degree from Lakeland College, Elias is on the path to fulfilling his destiny.
This post is written by Lisa Vihos, the Director of Sponsored Programs and Research at Lakeland College. The program is made possible by the generous support of the American people through the United States Agency for International Development (USAID). The contents of this blog are the responsibility of Lakeland College and do not necessarily reflect the views of USAID or the United States Government.