Follow the Malawians in the
Lakeland College M.Ed. Program
Part of the fun of being in Wisconsin is trying new things. During the recent break from classes, the graduate students had the opportunity to visit the home of Rev. Brian De Jong in Sheboygan Falls. Pastor De Jong serves at Grace Orthodox Presbyterian Church in Sheboygan. He hosted a backyard party for the students, and the festivities included a special twist. The Malawians got the opportunity to ride a horse. Phillip Nachonie, like most of the others, had never done this before. His reaction: "It was an experience, I tell you." I sat with Phillip outside the Campus Center on a beautiful summer day and heard about his first horseback ride, as well as his determination to work with his colleagues to help young learners back home in Malawi.
Meet Phillip Nachonie '06
Phillip Nachonie's first experience at Lakeland began over ten years ago, when he arrived as an undergraduate student. During his three years here, Phillip attended Grace Presbyterian and as Pastor De Jong describes him, "Phillip was a faithful attendee and got quite involved in activities of the church." When Phillip graduated with his bachelor's degree in general education in 2006, he returned home and went to work immediately at the Teacher Training College (TTC) in Lilongwe. Then in 2010, he was hired to work at a new TTC that opened in Machinga, about 160 miles southwest of the capital. He lives there with his wife and their four children: three girls, ages 17, 15 and 7, and one boy, age 11.
Recently, Phillip was invited to be a researcher for a project that was undertaken by USAID to collect data on the reading progress of young learners in Malawi. The assessment study found that learners in Grade 2 were failing to read, for the most part, at the most basic level. To Phillip and his colleagues, this finding was both distressing and alarming. When he saw that there was an opportunity to come back to Lakeland to obtain his master's degree with a focus on early grade reading instruction, he felt it imperative that he apply. He hopes to do everything in his power to help young Malawians become better educated. "I am fully aware," he said, "that reading forms the basis of all other learning."
For Phillip, like the other graduate students in the Malawi program, the short break between classes has combined a mixture of relaxation, shopping, and fun, with formulating a topic for his master's thesis. He told me how he had narrowed his thoughts down to two possible projects, and will now pursue the second of the two.
The first topic he was pondering had to do with how new teachers are monitored and assessed and what could be done to ensure that they are truly reaching their students. The challenge for Phillip in pursing this topic would be logistical: "This project would involve a lot of movement around the country to collect the data." He soon realized that it would be more than he could cover.
The second project has to do with time allocation and management. "There is not enough time allocated strictly to reading in the early grades," Phillip observed. He would like to study the impact of devoting more time on reading instruction in an early grade classroom. Phillip envisions that there would be great value in "shedding off" some topics from the curriculum in the early years, and giving more focus to reading. "I will be happy if we are successful in this. I think we will be."
Phillip has been very pleased with the coursework at Lakeland, and describes the experience here as "eye-opening." He said that the idea about the amount of time spent on reading came to him from the discussions that took place a couple weeks back in the course, Second Language Acquisition. "In this place, I am getting many new ideas. I'm sure that what I have learned and what I will learn this semester will help to shape my project."
He also spoke very highly of his nine colleagues. Echoing a theme we have heard before on this blog, Phillip said of them, "They are open to discussion. It is not a one-man show. We cannot succeed on an individual basis."
Phillip on horseback, with Grace De Jong assisting.
This post is written by Lisa Vihos, the Director of Sponsored Programs and Research at Lakeland College. The program is made possible by the generous support of the American people through the United States Agency for International Development (USAID). The contents of this blog are the responsibility of Lakeland College and do not necessarily reflect the views of USAID or the United States Government.
The graduate students are on a short break right now. Classes ended last week and will begin again right after Labor Day. When I informally polled the group about what they are doing during their time off, I learned that they have been relaxing, making trips into Sheboygan to look for winter clothes (yes, it will be winter again one day), watching soccer on television, listening to music, and also reading the education literature on literacy to look for "gaps in the knowledge" that might lead to fruitful thesis topics. Even when on break, these graduate students are never far from their studies, are they? In fact, in an eighteen-month graduate program, there really are few breaks. One of the teachers, a self-described "strong and determined woman," is a 2008 graduate of Lakeland. She spoke with me about out how happy she is to be back.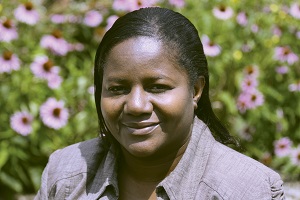 Meet Ndamyo Mwanyongo '08
Ndamyo Mwanyongo graduated with her bachelor's degree from Lakeland in 2008, but her connection to the school goes back earlier than that. Her husband, Andy Blessings Mwanyongo '02 was in the first cohort of five students who came to Lakeland from Malawi in 1999 to earn bachelor's degrees. She fondly remembers visiting the campus when he was a student here, to hear him sing in the choir. "Lakeland is like family to me," she said.
Several years later, Andy encouraged Ndamyo to apply to Lakeland herself. She still feels deep appreciation for the support her husband gave her. He took care of their home and family during her three-year absence. Their two sons were 16 and 11 when she first left. She said the youngest one, especially, missed his mom.
Now she is back for a second degree and couldn't be happier to be here. Ndamyo said her youngest son, now 19, assured her, "It's only one year this time. We'll manage."
Ndamyo told me she is pleased to know that her example of being selected to leave Malawi twice to study has inspired many of the younger teachers back home. "It's an opportunity that I don't take for granted. I feel like I can make a difference. I think the student teachers respect me and look up to me."
I have no doubt that Ndamyo is right about this.
Ndaymo teaches at the Teacher Training College in Kasunga, a town 60 miles north of the capital city of Lilongwe. She would like to see reading taught in a broad manner. "I do not want to see it narrowed," she said. "I teach very widely, using all the expressive arts." Ndamyo, like her husband Andy, is very interested in music. "We play music as a family a lot." She has used music, drama, and drawing as a tool in teaching not only young learners, but student-teachers, too.
"In Malawi, we must start with better training for teachers. We need to incorporate other subject areas. And, we need a means for engaging parents. In Malawi, parents are not so involved with children's education. We need to help them see their role."
Ndamyo knows first-hand the value of parents' involvement in a child's education. She was the fifth of nine children. Her dad was a secondary school teacher and her mom was a primary school teacher. There were books at home and she watched her parents read and her siblings study. She had models for reading at an early age and in-home tutors to help her when she needed help. In sixth grade, she went off to a boarding school that encouraged library use and then, in secondary school, her teacher was a Peace Corps volunteer who strengthened Ndamyo's developing English with phonetic reading skills.
On a different note, I asked Ndamyo about the interesting middle names that people have in Malawi. Remember, last week, we learned that Elias gave himself the middle name, Ambitious. The parents of her husband, Andy, gave him the middle name Blessings. Ndamyo has a middle name, Kettie, which is the name of her mother's sister. I asked her the meaning of Ndamyo. Her name means "troubles, challenges." She said her mom had some troubles when she was pregnant with Ndamyo, hence the given name.
The way I see it, Ndamyo may have been born in challenge, but being strong and determined, as well as open-minded, she has been the recipient of many blessings. She is here now to put all that to good use for the children of Malawi.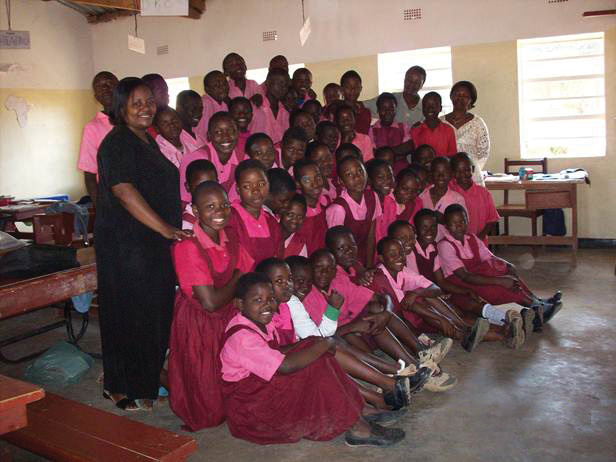 Ndamyo (left) with students at the Viyere Primary School in Mzuzu, Malawi,
where she did her student teaching after graduating from Lakeland in 2008.
This post is written by Lisa Vihos, the Director of Sponsored Programs and Research at Lakeland College. The program is made possible by the generous support of the American people through the United States Agency for International Development (USAID). The contents of this blog are the responsibility of Lakeland College and do not necessarily reflect the views of USAID or the United States Government.
It was just a little over one month ago that ten teachers left their homes, jobs, and families in the African country of Malawi to make the long trek to Lakeland College. Their purpose? To begin an eighteen-month course of study leading to a Masters of Education degree with a special emphasis on early grade reading instruction.
The Malawians will return home a little over a year from now to develop and complete their thesis or action research projects, explain and defend their work before a panel of educators, and then continue their jobs in the Teacher Training Colleges where they are already employed. They will bring with them a wealth of new knowledge and awareness gained during their time in America and at Lakeland. They will be prepared to "teach the teachers," raising the bar on the methods and best practices of early grade reading instruction for the children of Malawi.
When I met with them over lunch in Bossard last Friday, they were finishing their second week of classes. They told me about their two foundation courses, "Reading in the Content Area," taught by retired Sheboygan Area School District reading teacher, Nancy Buhr, and "Curriculum Dynamics" taught by Bill Klein, principal at Cleveland Elementary School. Since arriving, the Malawians have been to The Museum of Science and Industry and Millenium Park in Chicago, Bookworm Gardens in Sheboygan, and the Old Wade House in Greenbush. The consensus among them in regards to these visits was one word: "amazing."
The Malawians are here under the auspices of an $880,000 federal grant provided by the United States Agency for International Development (USAID). The grant covers their travel, tuition and other instructional fees, health insurance, monthly stipend and a laptop computer for each person. When these ten students return to Malawi in June 2015, ten new students will arrive to begin their M.Ed. degree program. The college is responsible for the costs of room, board, some incidentals, and administrative support.
In a 2011 "Education Strategy Document" published by USAID, we read, "The global state of education is poor. More than 70 million school-age children do not have access to schooling. Of those who do attend, hundreds of millions more are not being taught the basic skills that they require to be competitive economic actors in a global world."
The faculty and administration of Lakeland College recognize that improving the quality of education world-wide begins with building a culture of reading among children and their families. Because of the college's long-standing relationship with Malawi, we were determined to work directly with the Ministry of Education in Malawi to train reading teachers. Teachers in Malawi teach bilingually, in the native language of Chichewa as well as in English. We are committed to helping them learn how to design and implement curricula and teaching strategies that will cultivate skilled, self-motivated young readers in their home context. We envision these children growing into adults who will lead dynamic and meaningful lives; they will be contributors to a more peaceful, just, and equitable society.
Three of the ten Malawian students are already graduates of Lakeland College, having received their B.A. degrees here, and you will learn more about them, as well as the novice Wisconsinites, in good time. When I asked the group what might be an appropriate name for the blog, it was Lakeland alumna Ndamyo Mwanyongo '08 who suggested Takulandirani, the Chichewa word for "welcome."
The Malawians have already worked as teachers at home for several years, but for the next year, they will be students at Lakeland, and the college welcomes them with open arms. This blog is dedicated to telling you the story of their educational journey. Please welcome them by following us as we go.
This post is written by Lisa Vihos, the Director of Sponsored Programs and Research at Lakeland College. The program is made possible by the generous support of the American people through the United States Agency for International Development (USAID). The contents of this blog are the responsibility of Lakeland College and do not necessarily reflect the views of USAID or the United States Government.