Follow the Malawians in the
Lakeland College M.Ed. Program
The graduate students of Cohort 1 are getting ready to return to Malawi and will leave the U.S. on June 10. Because so much of their experience at Lakeland relating to professional development has been shared on this blog I thought it might be interesting to ask them some different kinds of questions to bring this academic year to a close. This is what I asked: "What differences or commonalities have you observed between cultures in America and Malawi? What have you learned about yourself in this past year, living so far from home? How have you changed?" Here is what the graduate students shared with me.
As Margaret Mulaga pointed out, there are many differences in dress, food, and traditions when comparing the U.S. and Malawi, but there is one "important commonality," she said, "that is the friendliness of the people." In Malawi, she reminded me, people are very welcoming. In fact, Malawi is referred to as the "warm heart of Africa" for this very reason. But people in Wisconsin also showed a warm heart. The hospitality and kindness shown by everyone here helped Margaret get past her initial challenges, she said, past everything from not liking cheese (she has since grown accustomed to it) to feeling homesick.
Overton Simbeye said that he too had a problem with cheese in the beginning. But now, he will miss it. And hamburgers. He also remarked on the wonderful visits he has had with this host family this year and the variety of experiences that he might never had had otherwise. In fact, every student mentioned his or her host family and the warmth and generosity of spirit that has been shared in so many homes, backyards, parks, and on trips to Milwaukee, Oshkosh, Chicago, and elsewhere.
Elymas Tembwe said that during his year in the U.S. he has become aware of the value of having a sense of humor, and of being direct and open. He said, "People here [in the U.S.] are very free to interact . People are not closed. They come to you open." He appreciated this American tendency to be more direct in speech, in planning, and in action. He felt it was something he had found in himself that could be put to good use in Malawi, where people generally tend to approach things more indirectly.
Benjamin David said that the most important thing he has observed here time and again—in his professors, his fellow students, his church members, and his host family—is that people in the U.S. have what he called "a hard working spirit." People here strive for things, develop personal goals, and then work to meet them. He said, "At home [in Malawi], the majority of people rely on goals made by others," and it sounded as though Benjamin is determined to bring what he has learned at Lakeland to change that back home.
Elias Lyson echoed this same notion when he said he admired that people here commit to whatever it is they are passionate about. "They do it to their best," he said, "and they join together to solve problems as a team." He hopes this sense of passion he has witnessed is something he can take home with him. He said, "Passion. That is the spirit we want to see in Malawi."
Ndamyo Mwanyongo, who received her undergraduate degree from Lakeland in 2008, shared that she feels she has "grown up" this year, becoming more confident in herself. As she walked across the stage at the May 3 Commencement ceremony, she was reminded of a motto that she learned at Phwezi Girls Secondary School: "Accept the challenge, God will guide." It is something she has said to herself many times in her life, and now, it has new meaning for her.
Like all his friends, Michael Simawo said he has learned and grown a lot over the past year. He was grateful to have experienced in person the extremity of all four seasons , not just through movies or photographs. He also observed that "people here prioritize what belongs to the group, putting the group first." It is interesting to note that while some of us might describe American culture as "me first," Michael actually witnessed many signs of the exact opposite.
Bertha Singini had some especially difficult challenges here this spring. In March, she lost her beloved father in a bus accident in Malawi. Soon after that, she found out she had a mass in her throat, pushing on her wind pipe, which needed to be surgically removed. The mass was removed just ten days before graduation, and fortunately it was not cancerous. Bertha proudly walked with her cohort in the ceremony. She said to me, "It is a fact that I got better medical care here than I would have at home." Bertha got through all this with her strong faith in God and the kindness of her friends. She is happy to be going home, but knows she will miss everyone here. She is grateful for email and Facebook.
I will end this post with the observations of Phillip Nachonie, who graduated from Lakeland in 2006. Phillip shared how impressed he has been by the amazing passion that Wisconsin teachers have for education and for their students. He observed at various elementary schools that teachers really work over and above their duty to ensure that their students learn, and he hopes to bring this kind of commitment home to Malawi with him.
Phillip was looking for a word to describe how it will feel to leave Lakeland a second time and I offered, "bittersweet?" He jumped in his chair, "Yes! Exactly, bittersweet." He expressed a wish that he could somehow have his family and friends back home be in the presence of his host family, his church family, and his many new friends here. And although it seems unlikely that this would ever happen, Phillip reminded himself that things can happen that we never could have dreamed. "When I said goodbye to my friends in Wisconsin back in 2006, I never thought I would be back here, but here I am. You see, anything is possible."
The graduate students wish to thank all of their professors and the staff of Lakeland College for an amazing year. They also would like to thank their host families and their church communities, all in Sheboygan: Holy Name Catholic Church, Sheboygan Seventh Day Adventist Church, and Grace Orthodox Presbyterian Church. Thanks also goes to First Congregational United Church of Christ.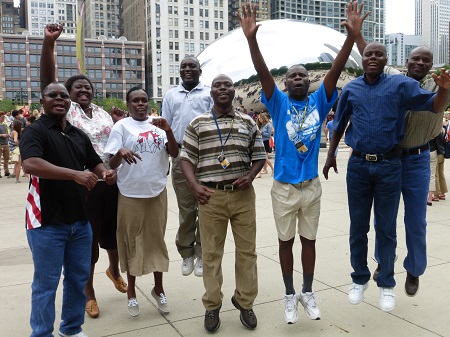 This post is written by Lisa Vihos, the Director of Sponsored Programs and Research at Lakeland College. The program is made possible by the generous support of the American people through the United States Agency for International Development (USAID). The contents of this blog are the responsibility of Lakeland College and do not necessarily reflect the views of the USAID or the United States Government.
The graduate students are coming into the final stretch of their time at Lakeland. They anticipate one last May Term class and several workshops designed to sharpen various skills in topics such as persuasive writing, grant writing for early grade reading programs, and reading assessment. On May 3, they will participate in the 153rd Lakeland Commencement ceremony, even though their degrees will not be conferred until they defend their thesis projects in Malawi this coming December. The next several weeks will be filled with an array of experiences designed to help them prepare for the work that awaits them at home.
At the last bi-weekly group meeting, Phillip Nachonie shared that the graduate students had witnessed something powerful during a recent visit to Parkview and Horizon elementary schools in Plymouth. There, the Malawians observed young children being taught reading and writing. As Phillip described, it was impressive to see how the teachers allowed the students free reign to express themselves in a non-judgmental environment, even if their written texts exhibited errors of spelling and grammar. "This was eye-opening," said Phillip, "to let young learners express themselves fully and make corrections later." This is completely different from how reading and writing are taught in Malawi, where a first focus is always put on correcting the student's errors.
This experience led the graduate students to request copies of Wisconsin's Common Core Standards for Writing. They had a chance to review and discuss this document in the ED 792 tutorial, "Reading: Instructional Strategies" with their instructors Lori Ann Roelse and Geralyn Leannah. Many questions ensued about the early stages of learning to write. One key takeaway for the students seemed to be that more time is needed in the curriculum for writing. Reading and writing really do go together in any discussion about literacy.
While this distinction may seem elementary, the desire to make changes at the curricular level can be daunting. Lori Ann encouraged the students to "think big, start small." She reminded them that they are doing all the right work to identify challenges and solutions. Ndamyo Mwanyongo shared a piece of Malawian wisdom: "Kalowa kayanza," which roughly translates to: "Whatever goes into the ear will stay there." Meaning, if people hear something, it will stick with them.
As their time at Lakeland draws to a close, the graduate students are deeply engaged in planning. They are discussing the new teaching methods in early grade reading instruction that they will advocate for in Malawi. They look forward to briefing their principals, sharing with colleagues, and conducting their research. The graduate students are determined to stay in close communication with each other and support each other once they return. They plan to create a new reading association in Malawi, an online network they will use to share information with each other and with their other colleagues at the Teacher Training Colleges. Along with some periodic meetings that are supported by the grant project, the graduate students know they will have to find opportunities to meet after they graduate, even if that means paying for travel themselves. As Benjamin David so aptly put it, "We can hardly make lasting change if we work in isolation."
This post is written by Lisa Vihos, the Director of Sponsored Programs and Research at Lakeland College. The program is made possible by the generous support of the American people through the United States Agency for International Development (USAID). The contents of this blog are the responsibility of Lakeland College and do not necessarily reflect the views of USAID or the United States Government.
More...