Bonjour, Guten Tag, Hello, Moien, Lakeland Friends,

While on sabbatical this fall from Lakeland, I am living with my wife and four children in Luxembourg City. The U.S. Fulbright Scholar program has provided me with the opportunity to teach and work at the University of Luxembourg this semester. This is the first of periodic updates on my activities here in Europe as they relate Lakeland.

First, many readers might be asking, "Why Luxembourg?" Actually, I suspect many are also asking, "Where is Luxembourg?" as I've had kind well-wishers from campus offer me good luck in London, Belgium, Lichtenstein, and Germany. Perhaps this isn't surprising given the size of this tiny country—smaller than Rhode Island and wedged between France, Germany and Belgium. To provide an example of how small this country really is, we travel just 20 minutes to Belgium to visit the local IKEA store and about 25 minutes into France to find a sporting goods store. I've finally learned to put my phone on "airplane mode" when I go shopping so my Luxembourg-based service provider doesn't charge me international roaming fees as I do errands.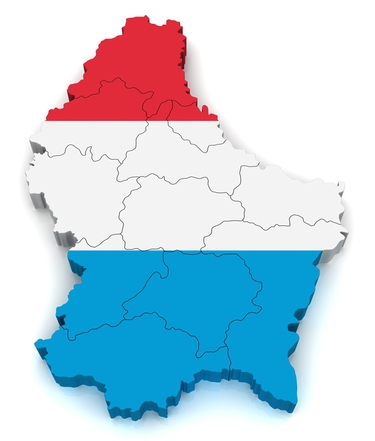 The choice to spend a semester here wasn't made haphazardly; in fact, this opportunity came about after a number of years of careful planning and relationship building both in Europe and Wisconsin. My interest in the country of Luxembourg originated with a meeting back in the spring of 2010—organized by Lakeland Interim President Dan Eck— at the Luxembourg-American Cultural Society, located in Belgium, Wis. This society is involved with activities designed to preserve Luxembourg heritage and culture in America and nurture the ongoing relationships of family, friendship, commerce, and tourism between Luxembourg and America. Since that meeting, Lakeland has worked closely with this society on projects related to student internships, philanthropy, research, event planning and business development activities between the United States and Luxembourg.

This relationship with the LACS eventually led to an invitation by the University of Luxembourg to visit their campus and investigate opportunities for our two institutions to work together. I visited Luxembourg in February of 2012 in an effort to begin to establish student and faculty exchange programs between our college and the University of Luxembourg. During this visit, I made a number of important contacts with officials in the Luxembourg government and with faculty and staff at the university. Connections made during this visit eventually led to the invitation to visit the University of Luxembourg as a Fulbright U.S. Scholar. Both institutions believe that a semester-long faculty visit will be an ideal way to solidify the relationships we have begun to build in terms of student and faculty exchange. I'm happy to report that our first two Lakeland students will be studying in Luxembourg during the spring term of 2014, but more on this in future updates.




Due to various rules related to the Fulbright Scholarship Program and Luxembourg's immigration process, our family was not allowed to enter continental Europe until early September. Given this restriction, we decided to spend the last couple of weeks in August visiting the United Kingdom. While most of our time in England and Scotland was family vacation, I did have the opportunity to arrange a meeting with the general manager of the Kohler Company-owned Old Course Hotel in St. Andrews, Scotland. The tour of this beautiful facility, right next to the famous "Road Hole" on the Old Course, made me feel like I was back in Sheboygan County with the Kohler plumbing fixtures and water spa identical to the one in Kohler, Wis. This visit led to a promising invitation to work with their personnel to develop opportunities for Lakeland students to serve as interns at the hotel, and I've already heard from colleagues at home telling me they have advisees interested for next summer.




We were fortunate to have a week to get settled in Luxembourg before my duties at the university began. The immigration process is quite time consuming (especially for six!) and it took a while to understand how to use the bus system, shop for the basic necessities of life, and generally acclimate ourselves to life in a new country. Luxembourg is a very interesting place—at any time you can hear a multitude of languages being spoken in the various public places around the city. The Luxembourg education system emphasizes language instruction and produces high school graduates that are generally fluent in their native language of Luxembourgish, as well as German, French and English. The official language of the government is French and therefore signs and official documents are displayed in that language. My investment this past year in attempting to learn French has come in very handy as I navigate the public transportation system and fill out the various government forms.

One of the wonderful benefits of the Fulbright program is the connection with the U.S. State Department and Embassy system. We receive invitations to all of the local U.S. Embassy's official events, one of which occurred during the first week we arrived. My wife, Stephanie, and I attended a reception and premiere of the movie "The Butler" with a distinguished group of guests, including the American and British ambassadors to this country. Interestingly, I learned that evening that America's first African American ambassador was stationed right here in Luxembourg in 1965.

I'm now about three weeks into my course titled, the United States Economy, Culture and Business Practices. My class is one of four options students in the economics and business majors can choose among to satisfy one of their requirements. This seminar-style course explores a number of topics, including: U.S. economic history, the American economy today, the financial crisis of 2007-2009, American business and entrepreneurship as well as general issues of cultural and business differences between the United States and Europe. To enrich the final topic, the class will be visiting the U.S. Embassy in November and hearing from a guest speaker from the American Chamber of Commerce here in Luxembourg, as well. We are reading two books—Michael Lewis' "Boomerang" which discusses how the U.S.-centered housing crisis spread quickly to Europe's economies, and Walter Issacson's well-known biography "Jobs," recently made into a film, which will help us think about entrepreneurship in America.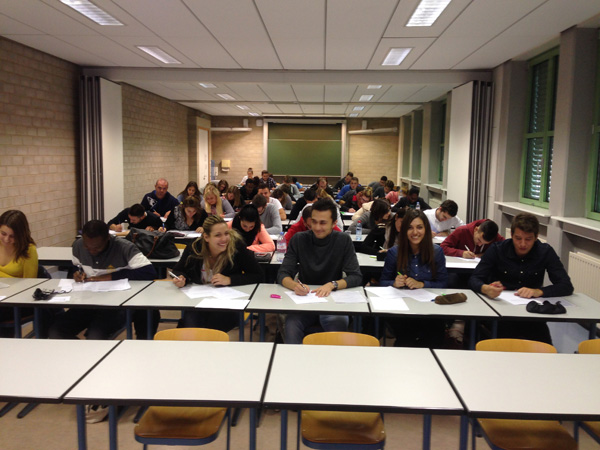 My class is, of course, taught in English. The university is tri-lingual and all of the students enrolled in my section also take classes that are taught in French and German. In addition to being a multi-lingual school, all of the University of Luxembourg's undergraduate students are also required to complete a "mobility" assignment. Essentially, this assignment requires them to study abroad for one semester. Because the country is so small, many of the students choose to simply live at home with their parents and drive to one of the universities in the neighboring countries to fulfill this requirement. This problem explains their interest in Lakeland as they would like more of their students to study in North America, Asia or at least outside of the bordering European countries.

I currently have more than 70 students enrolled in the class, which is causing my wife some stress as I've invited them all over to our small rented home for a traditional Thanksgiving dinner (and to watch the Packers beat the Lions) next month as part of the "culture" component of the class. The students at the university are allowed to spend the first month of the term sampling various classes and are not required to actually register for their final schedule until next week. This system has taken me some time to adapt to as I have no idea which students will actually be enrolled in my class until we are almost one third of the way through the term. Another significant difference between American higher education and the typical European university also became apparent in my first class meeting. The students here are used to classes that are completely lecture-based with their entire grade dependent upon one high stakes exam at the end. They seemed very confused when I explained that part of their grade was dependent upon discussion of the books we're reading and that they would also be making group presentations on different topics related to America. Even the quiet students that are a little nervous about the discussion and presentation components of the class are excited not to have to take a long final exam in January and instead be evaluated throughout the term on a diverse set of assessment activities.

I'll close by mentioning that I've also been busy attending faculty meetings, discussing strategies for building our exchange program with University of Luxembourg faculty and staff, and learning more about best practices for internationalizing Lakeland's business programs. This week, I will be making presentations to the students here about opportunities to study abroad at Lakeland. I'll share more about all of these activities in next month's installment.

Until then, Addi, Au Revior, Good Bye, Tschau,

Scott

PS—The first question many of those that know me well asked when they heard I was moving to Europe wasn't where we will live or where my kids will go to school, but how I will watch the Packers. Well, it's about 7:30 pm here in Luxembourg on Sunday, October 6, and I'm enjoying watching the Packers beat the Lions. We plugged a device called Slingbox into our cable box in Wisconsin and we can watch all of the Time Warner Wisconsin cable channels—including our DVR—here in Luxembourg on our computers, iPads or iPhones. Another example of how flat the world has become.