Lakeland's accounting program among nation's best
Lakeland College's accounting program has been rated one of the nation's 25 best online bachelor's degree-earning programs by Accounting.com.
Each of the 25 schools is recognized by one of three prominent accrediting agencies for business and accounting programs. Accounting.com used its own methodology to weigh factors such as a school's reputation, graduation rate, quality of curriculum and student preference to identify a selection of more than 20 fully online programs.
Primary factors for ranking included academic rigor, selectivity, student satisfaction and long-term success.
Lakeland was rated No. 18 on the list. The complete list can be found here.
Lakeland Assistant Professor of Accounting Brett Killion said the national ranking reflects the time and effort the college has put into designing a modern, top-notch online curriculum.
"Our BlendEd technology makes online courses feel more like in-person classroom experiences for students," Killion said. "Our goal at Lakeland is for our accounting graduates to be hired quickly upon graduation, and we see that happening time and time again with students earning jobs at leading companies like ACUITY, Schenck SC and Orion Energy."
Lakeland's BlendEd classes allow students to choose the learning platform that best fits their schedule. Students can take courses in the traditional classroom, through a live classroom video broadcast using a personal computer or mobile device, watch a recorded video of the class later or work online with no face-to-face attendance required.
Lakeland's program was lauded by Accounting.com for producing graduates who are able to identify, analyze and solve financial problems and succeed in fields such as tax planning, business consulting and bookkeeping. Lakeland was also recognized for serving a large population of non-traditional students and the ranking noted that 95.4 percent of Lakeland's graduates are working within six months of graduation.
According to the U.S. Bureau of Labor Statistics, the median annual salary for accountants and auditors is $63,550, with employment rates expected to grow 13 percent through 2022.
To learn more about Lakeland's Accounting program, click here.
College hires new biology faculty member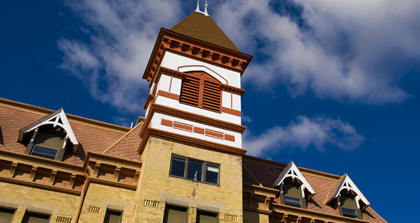 Andrew Karls will join Lakeland's faculty this fall as assistant professor of biology.
He received a Ph.D. from Marquette University's biological sciences program in 2014 and has been working as a postdoctoral associate in the laboratory of Dr. Robert W. Peoples. He uses genetic manipulations followed by physiological assays to understand the molecular targets of alcohol.
During his graduate tenure, he worked as a graduate teaching assistant for four years and has taught a mix of introductory and upper-level laboratory courses. In addition to classroom work, for three summers he served as a mentor in a National Science Foundation-sponsored summer research program, overseeing the research experience of a diverse group of college students who had never worked in a laboratory setting.
He received a bachelor's degree in human biology from the University of Wisconsin-Green Bay. He also took classes at St. Olaf College in Northfield, Minn., and UW-Oshkosh.
Fire damages Lakeland residence hall
An accidental fire midday Sunday (June 21) caused significant damage to a Lakeland College residence hall.
A fire started in the east building of Hill House from a resident student cooking. Lakeland security was notified of the fire shortly before 12:37 p.m. and immediately contacted the Sheboygan County Sheriff's Department. The student was treated for non-life threatening injuries.
Both the east and west units of Hill will be closed to residents and the long-term status of Hill is pending further investigation of the structures. Approximately 22 people – some students and non-student area interns – who were living in Hill will be provided different accommodations on campus.
Members of Lakeland's student life and Student Success and Engagement teams were on campus working to get the affected students whatever they needed. A more organized effort that will allow others to help those affected will be announced soon.
Hill is one of 10 residence halls on Lakeland's campus. It was built in 1994 and is named for former Lakeland President Richard Hill.
Any media outlets with questions should contact David Gallianetti at 920-980-5313.
Lakeland hires hospitality management instructor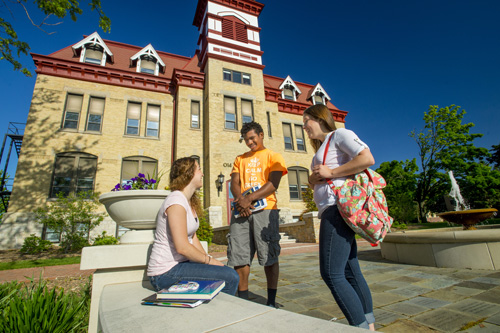 Britanni Meinnert, a Lakeland graduate and veteran teacher and employee in the hospitality industry, will join the college's faculty full time this fall as instructor of hospitality management.
In addition to teaching courses at Lakeland, she will manage the partnership between the college and Blue Harbor Resort & Spa, The Osthoff Resort and Destination Kohler. She will also develop new opportunities for student internships.
Meinnert's background makes her an ideal fit for this role. Since 2012 she has been an instructor in Lakeshore Technical College's supervisory management and hotel/hospitality programs. She created and coordinated student internships, was an academic advisor, supervised the Hospitality Club and designed courses.
She also assisted Blue Harbor Resort with training new employees and provided leadership development for two of their managers. She used her strong industry connections to place students in either full-time or internship positions.
She has also taught in Lakeland's hospitality management program as an adjunct instructor since the spring of 2008.
From the spring of 1998 until the end of 2011 she worked at The American Club in Kohler, spending most of her tenure as manager of the front desk and Carriage House operations. She has significant experience in a wide range of industry skills including employee management and development and customer service for this AAA 5-diamond property.
Meinnert graduated in 2000 from Lakeland with a bachelor's degree in resort management and received a master of business administration degree from Lakeland in 2010.
Lakeland offers post-master's counseling certification
Lakeland College now offers post-master's certificates in counseling for any individual who holds a master's degree in counseling from a regionally accredited college or university.
This professional development program is designed for individuals who wish to add to and diversify their counseling skills for different audiences, whether in school counseling, community counseling or higher education counseling.
Individuals who complete the post-graduate certificate in school counseling are eligible to apply for licensure through the Wisconsin Department of Public Instruction while individuals complete the post-graduate certificate in community counseling are eligible to apply for licensure through the Department of Safety and Professional Services.
These certificate programs generally require individuals to complete an additional 12 credit hours (four classes) which includes coursework, practicums and internships. Further coursework may be required in some instances. This non-degree program is offered through Lakeland's seven centers.
"Certification programs are time effective and cost effective, and allow individuals to build upon skills they already have," said Deborah Bilzing, director of Lakeland's counseling program. "Certification can open up career opportunities in other specialized areas of professional counseling."
For more information, please contact Deborah Bilzing at (920) 565-1021 x 2119 or .
Learn more about Post-Masters Certificate Opportunities and policies.