Brown named Student Employee of the Year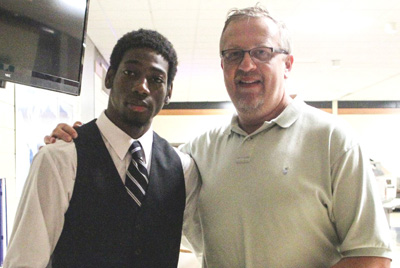 When sophomore Brandon Brown found out he was named Lakeland's "Student Employee of the Year," he was certainly appreciative — though a bit perplexed.
"Where I'm from, when you're hired to work, you work — no excuses," said the New Orleans native. "So when I'm given an award for doing the job I was hired to do, I didn't understand the reason for the award. I hope that doesn't sound arrogant, but I'm just doing my job."
Brown does his job — dining service head supervisor — with dedication, passion, integrity and creativity. He stands out so regularly that Joe Johnson, Lakeland's executive chef and assistant director of dining services, felt compelled to nominate him for the award.
"Brandon's quality of work has always been top notch," wrote Johnson on the nomination form. "He takes great pride in keeping the standard at a high level … He has an eye for detail and it shows."
Johnson added: "He has proven himself to be a star performer."
Each year, the Student Employment Department names the Student Employee of the Year based on reliability, quality of work, initiative, professionalism and uniqueness of contribution to the position.
In addition to his strong work ethic and positive attitude, Brown has brought some southern flavor to Lakeland's dessert selection. Johnson wrote that Brown's "pecan pie is out of this world."
"I haven't been able to bring crawfish here yet, but I've been able to bring some pies and pastry ideas," Brown said with a smile.
As for his award, Brown said he appreciates the honor, but added that working in dining services is reward enough.
"The people I work with are not just friends to me; they are mentors and teammates," he said. "The way I look at it, I get to hang out with great people for a few hours, and they pay me for it."
The other student employees nominated for this award were:
Caitlin Bailey — Campus card office
Daniel Carriveau — Campus Center desk
Elizabeth Raddatz — Muskie Mart
Janel Weir — Housekeeping
Jenny Kjin — Residence Life
Kimberly Daane — Psychology
Mackenzie Merriman — Women's softball
Thomas Pibal — Accompanist piano fellowship
Recognizing Lakeland student athletes
On Tuesday, Lakeland College celebrated National Student-Athlete Day for the third consecutive year by awarding 78 Muskies with lunch and a certificate of achievement.
Lakeland's honorees carry at least a 3.25 grade point average, participate in at least one of the school's 18 men's or women's sports and engage in community service at their school and in the community.
National Student-Athlete Day, sponsored by the National Consortium of Academics and supported by the NCAA, is celebrated annually and has seen 3.7 million student-athletes honored across the nation since 1997.
Following are Lakeland's student-athlete honorees:
Baseball: Brady Callahan, Ashton Holzman, Derek Loomans, Samuel Martin, Jared Rear, Travis Stever, Justin Willman
Cheer/Dance: Aubrey Day, Madison Hull, Peri Luedke, Becca Skalestski, Reinlyn Tucker
Football: Jacob Battle, Alex Busch, Jacob Lefluer, Brandon Pribbernow, Sam Spaeth, Trevor Tanck
Men's basketball: Mark Gryszkiewicz, Brandon Hagenow, Stanley Mckenzie, Mitchell School, Zachary Van Engen, Justin Ward
Men's golf: Beau Gundersen, Tyler Kubicek, Casey Wusterbarth
Men's soccer: Yasu Gima, Leo Guariglia, LoganMassey, Killian McKenzie, Tyler Schaut
Men's tennis: Carlos Rodriguez
Men's volleyball: Casey Bolda, Tyler Boyce, Dayton Erickson, Christian Frahm, Dan Mtijevic, Anthony Puccini, Alec Redlich, Jordan Smith, Matt Stolz
Softball: Emmie Dessart, Tatiana Gonzalez, Bailey Grayvold, Ashley Hough, Megan Lawson, Kaylee Ninnemann, Sami Jo Williams, Jocelyn Yeager
Women's basketball: Kayla Clark, Rachael Millner, Bailey Grayvold, Alexandra Greenheck, Taylor Jandrin, Callie Olson, Aimee Thrune
Women's golf: Finni Simko, Samantha Williams
Women's soccer: Brianne Frank, Kelly Jens, Brittni Peterson, Alexa Piskule, Stephanie Rock
Women's tennis: Sarah Allman, Erica Hoffmann
Women's track: Heather Kirby
Women's volleyball: Shaina Carlson, Caleigh Galvan, Le'shay Jones, Ashley Lehman, Taylor Levitt, Emily Thomas, Jenna Ward
Wrestling: Aaron Almedina, Mitchell Fucile, Rainger Rossway, Jacob Schmidt
Lakeland students honored for academic achievement
Tess Myklebust, a senior from Wisconsin Dells, was awarded Lakeland College's Clarence H. Koehler Campus Senior Award on April 2.
She received the award at the college's Honors Banquet, an annual gathering where faculty celebrate the accomplishments of the top students in each academic program. A complete list of award winners is below.
The Koehler Award, named for Lakeland graduate and former board of trustees chair Clarence Kohler, has been presented annually since 1965 to the Lakeland student who best exemplifies Lakeland's spirit through outstanding academic achievement, engagement in campus activities and commitment to the Lakeland community.
Myklebust, who is working toward a double major in business management and marketing, has taken full advantage of her Lakeland experience by amassing a resume of experiences that have her well-positioned for future success.
She served internships with Community Bank & Trust and at Lakeland in sports marketing, and has worked all four years as clerical assistant for the college's business administration office.
She was named Outstanding Business Student in 2014 and 2012, and Outstanding Marketing Student in 2013. She was a J. Garland Schilcutt Scholarship recipient all four years, and a four-year member of the Lakeland volleyball team and four-time conference Scholar Athlete. She was a three-time participant of the Spring Break Habitat for Humanity volunteer trip, and served as secretary and treasurer for Lakeland's Habitat chapter. She was secretary for the conference Student-Athlete Advisory Committee, an officer for Lakeland's SAAC and was a member of Lakeland's Mortar Board. She also logged several volunteer hours with the Maywood Park Earth Day Cleanup, Road America, Boys & Girls Club and as a Salvation Army Red Kettles bell ringer.
2014 Outstanding Student Award Winners
Outstanding International Student for Academic Achievement and Leadership: Alice Antwi-Asimeng
Business Administration Outstanding Student in Accounting: Lisa Steppe
Outstanding Student in International Business: Hyacinthe Botty-Irie
Outstanding Student in Marketing: Braden Woods
Outstanding Student in Resort Management: Jessica Korrison
Outstanding Underclassman in Business Administration: Tyler Magtanong
Outstanding Upperclassman in Business Administration: Theresa Myklebust
Creative Arts Outstanding Art Major: Tyler Holman
Outstanding Student in Communication: Jennifer Kjin
Outstanding Overall Music Student: Thomas Pibal
Outstanding Overall Music Student: Fabian Qamar
Outstanding Theatre Student of the Year: Michelle Fromm
Outstanding Student in Writing: Sean Gilligan
Education Outstanding Student in Education: Abby Hinze
Humanities Outstanding Student in German: Tiffany Miller
Outstanding Student in Religion: Kimberly Thimmig
Outstanding Student in Spanish: Aimee Thrune
Outstanding Student in Spanish: Diana Torres
Natural Science Outstanding Student in Biology: Lindsay Biter
Outstanding Senior in Biochemistry: Samantha Henderson
Outstanding Freshman in Chemistry: Audrey Nichols
Outstanding Senior in Chemistry: Jiacheng Yang
Outstanding Student in Computer Science: Brian Winter
Outstanding Student in Exercise Science: Taylor Jahnke
Outstanding Student in Mathematics: Brian Winter
Social Science Outstanding Student in Criminal Justice: Brittni Peterson
Outstanding Student in History: Brendan Lichtenberg
Outstanding Student in Nonprofit Organization Management: Amy Borntrager
Outstanding Student in Political Science: Matthew Bilinski
Outstanding Student in Psychology: Ryan Krzyzkowski
Outstanding Student in Sociology: Kimberly Daane
Ellen J. Kregel Athletic Award: Amanda Graminske
Who's Who Award: Jennifer Kjin, Brittany Bohm, Braden Woods, Fabian Qamar, Daniel Carriveau, Trevor Tanck, Aimee Thrune, Karissa Anderson, Jacob Flesch, Michelle Fromm, Kimberly DeJong, Kristal Klemme, Elizabeth Pritzl, Emily Cook, Paul Elzinga, Katie Freitag, Daniel Zea Zapata, Amy Borntrager, Taylor Jandrin, Tyler Kulow, Monica Santelli, Alice Antwi-Asimeng, Emmaculate Dika, Kelsey Fulmer, Samantha Henderson, Taylor Jahnke, Tyler Kubicek, Alec Szalewski, Katherine Zielsdorf.
Fessler talks Harley-Davidson at Kohler Distinguished Business Lecture
As he took the stage at Lakeland College's Bradley Theatre Thursday night to tell the story of how he helped rev up the Harley-Davidson brand, Clyde Fessler revved up the crowd with just the right marketing flair.
Immediately after a brief video introduced the Harley-Davidson culture, Fessler roared onto the stage riding a Softail Heritage Classic FLSTC motorcycle.
Fessler's presentation, part of Lakeland's 13th annual Charlotte and Walter Kohler Distinguished Business Lecture, recounted the Milwaukee-based company's establishment as one of America's iconic brands.
The lecture was part of a festive night for Harley enthusiasts, a night that included a pre-lecture reception that had Lakeland's Wehr Center decked out with Harley motorcycles, clothing and advertising courtesy of Route 43 Harley-Davidson in Sheboygan. Owner Richard Kummer and several members of his staff attended, and the event drew many local Harley riders who parked their bikes outside the Wehr.
Fessler, a Sheboygan native who retired as a Harley executive in 2002, played an integral part in Harley-Davidson's rebound from near bankruptcy. Some highlights of his presentation:
Fessler said Harley's marketing turnaround started with three main questions: Who are we? Who are our customers? What do they expect from us? Those questions can help any company or person formulate their brand, he said.
Spend time getting to know your customers, because they are your best salespeople. Fessler said he used to stop shaving at Thanksgiving so he would physically fit in with Harley customers at the annual gathering in Dayton Beach, Fla., each December. "Problems are in the office; solutions are in the field," he said.
Fessler said Harley-Davidson's brand successfully expanded when the company stopped selling just a product (the motorcycle) and started selling a lifestyle. The company developed a line of Harley clothes and started marketing them to females and children. The company assisted dealers all over the world in redesigning their dealerships. "Our riders want to visit our stores because each one presents a unique experience," Fessler said.
The company had to overcome negative images about motorcycles fueled by movies in the 1950s and 1960s that painted riders as violent gang members looking to pillage when they went on rides. Harley-Davidson owners have raised millions of dollars for a variety of charities, most notably the Muscular Dystrophy Association.
Fessler joined Harley-Davidson in 1977, and he recalled spending two days at the Sheboygan Harley dealership owned by Bill Kummer researching to prepare for his job interview. He served as director of marketing services, general sales manager, director of licensing, vice president of general merchandise and vice president of business development
The University of Notre Dame graduate also served on the board of trustees for the American Motorcycle Association and the Motorcycle Safety Foundation.
Fessler's appearance at Lakeland was made possible by a gift from The Charlotte and Walter Kohler Charitable Trust. Lakeland annually brings a nationally known business or economic figure to its main campus to speak with Lakeland students and the general public.
Past lecturers have included former Speaker of the U.S. House of Representatives and Republican presidential candidate Newt Gingrich, Forbes Media President and CEO Steve Forbes and Emmy Award-winning journalist and author John Stossel.
The Charlotte and Walter Kohler Charitable Trust is named for former Wisconsin Gov. Walter Kohler Jr. and his wife, Charlotte.
Lakeland Spanish teacher wins 2014 Underkofler Teaching Award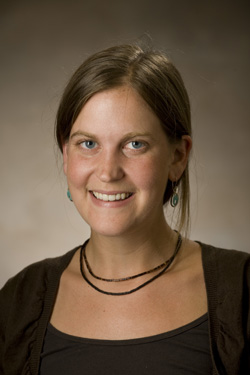 Lakeland College's Katie Shumway, an instructor of Spanish, is the 2014 winner of the annual Underkofler Excellence in Undergraduate Teaching Award.
Shumway, who is in her 12th year as a member of Lakeland's faculty, is the college's 23rd winner of the Underkofler, which recognizes outstanding performance in undergraduate teaching.
The Underkofler Award was presented on April 2 at Lakeland's annual Honors Banquet, which recognizes outstanding academic accomplishments of students and faculty.
Shumway's accomplishments include the development of valuable study abroad opportunities and supporting students learning the Spanish language and culture by creating an engaging and comfortable classroom setting.
"Learning a foreign language can be intimidating," said Jessica Korrison, a senior majoring in resort management, in a letter nominating Shumway for the award. "Professor Shumway knows how to take that feeling away. Taking Spanish in high school was far from a pleasant experience for me. I can never thank Professor Shumway enough for changing my view on learning a foreign language."
Shumway has led a number of study abroad experiences that allow Lakeland students to gain immersion into Spanish-speaking cultures. She has partnered with faculty in the hospitality management program to take students to Mexico and Costa Rica and has worked to expand the relationship between Lakeland and its sister school in Colombia, Universidad Reformada.
Karissa Anderson, a junior majoring in education with a Spanish minor, accompanied Shumway to Colombia to study for a month.
"Senorita Shumway helped me to grow intellectually, morally and spiritually by providing an opportunity for a study abroad experience in the life of someone from another culture," said Anderson in a letter nominating Shumway for the award. "She helped us experience their values, create connections with what we learned in Colombia and the United States, be accepting of a diversity of people and make ethical decisions."
Shumway has provided innovative opportunities for Lakeland students throughout her career. She has created an environment where upper-level Spanish students gain experience teaching within the introductory Spanish sequence and has coordinated language learning exchanges through Skype. She has also served as lead English instructor for Lakeland's English Language Institute summer program and engaged students through the interdisciplinary Core.
Shumway has both a bachelor's and master's degree in Spanish from Marquette University.
The Underkofler Award is presented through the Alliant Energy Foundation and the Wisconsin Foundation for Independent Colleges, Inc. The Underkofler Endowment Fund was created in honor of past Wisconsin Power & Light president and chairman James R. Underkofler to recognize his 48 years of service to the utility industry.