Grand opening of new Green Bay Center set for Jan. 14
Lakeland College will formally celebrate the move to its new Green Bay Center at 2601 Development Drive in Bellevue with a grand opening on Wednesday, Jan. 14, from 4-6 p.m.
Tours of the new location will be available, and a short program will begin at 5:15 p.m. Appetizers will be served. As part of the festivities, 101 WIXX FM will be onsite with giveaways and promotions, including the chance to win an iPad.
Construction of the new, $2.8 million center, which was developed by Somerstone of Brookfield, began last June.
The new location houses Lakeland's Evening, Weekend and Online program classes offered in the Green Bay area. Lakeland's Green Bay Center was formerly located at 2985 S. Ridge Road in Green Bay.
"Lakeland has been offering educational options for adult students in Green Bay for 30 years, so we're certainly not a newcomer to higher education in this area," said Zach Voelz, Lakeland's vice president for enrollment management. "This new center provides advances in technology that match the evolution of Lakeland's BlendEd flexible course formats and sets us up to serve our students and continue to evolve in what has become a rapidly changing higher education marketplace."
Lakeland's center, which is nearly 16,000 square feet, includes nine technology-rich classrooms, two laptop labs and one standard computer lab, a student lounge, nine offices, Wi-Fi throughout the facility and ample free parking. Classrooms are available for daytime rentals to businesses, clubs and other organizations.
The classrooms are designed to deliver the college's signature course format, BlendEd, which allows students to seamlessly transition from week to week between the traditional classroom and online, based on their schedules. The newest feature of BlendEd offers the ability to broadcast live lectures to students outside the classroom, connecting face-to-face and online students in one, interactive classroom.
A gift from the Byron L. Walter Family Trust supported one of the classrooms.
Lakeland has offered evening degree programs in Green Bay since 1984. Today, the college serves more than 500 returning adult students in the Green Bay area and 2,800 students statewide. Lakeland's total enrollment is approximately 3,600.
In 1978, Lakeland developed an evening degree-completion program for working adults, the first in the state at that time. In 2012, Lakeland celebrated the 150th anniversary of the founding of its main campus, which is located in Sheboygan County.
Students at Lakeland's Green Bay center can earn a bachelor's degree in accounting, business administration, communication, computer science, criminal justice, marketing, psychology and specialized administration. The business administration degree includes emphases in business economics, finance, healthcare management, hospitality management, insurance, international business, management, nonprofit management and sport management.
Lakeland also offers a master of business administration (with emphases in accounting, finance, healthcare management and project management) and a master of arts in counseling (with emphases in community, higher education and school counseling).
Learn more online at http://lakeland.edu/Evening-Weekend-and-Online.
Lakeland College among select group to pilot national Alternative Credit Project
Program aims to increase attainment levels for nontraditional learners
Lakeland to be part of American Council of Education alternative credit consortiumThe American Council on Education (ACE) announced today that Lakeland College is one of 25 colleges and universities nationally asked to be the first members of an innovative alternative credit consortium that will create a more flexible pathway toward a college degree for millions of nontraditional learners.
As part of serving in this pilot project, Lakeland has agreed to continue its long-standing practice of working with ACE by expanding its list of courses which will be granted transfer credit. In this consortium, Lakeland will play a key role in reviewing the quality of alternative sources of low-cost or no-cost introductory courses that may satisfy general education requirements and will then play a lead role in assisting students completing those courses to continue through to a bachelor's degree.
This initiative is made possible by the generous support of a $1.89 million grant from the Bill & Melinda Gates Foundation. Its initial focus will be on the more than 31 million adults who have completed some postsecondary coursework but lack a degree or credential. Many of these students represent first-generation, low-income students, so findings from this investment likely will apply to younger students from this population, as well.
Founded in 1862, Lakeland launched an evening degree-completion program for working adults in 1978, the first in the Wisconsin at that time. Today, Lakeland serves 2,800 non-traditional students statewide at seven centers — Sheboygan, Milwaukee, Green Bay, Madison, Fox Cities, Central Wisconsin and Chippewa Falls — and online. Lakeland's total enrollment is approximately 3,600.
"Lakeland has been serving nontraditional student for nearly 40 years, so this project was a natural fit for us," said Lakeland President Dan Eck. "We're excited to see the results of this effort and learn how we can offer better access and serve this population in new ways.
"Earning a four-year college degree provides many advantages. Undergraduate and graduate degrees have paved the way for thousands of Lakeland graduates to achieve their career goals and become leaders in their communities."
The participating institutions represent a diverse group of four-year and two-year, public and private, non-profit and for-profit colleges and universities that have a strong commitment to access and attainment and serving nontraditional learners. A complete list is at the end of this story.
Participating institutions have agreed to provide anonymous data to ACE regarding the amount of credit their institution accepts, as well as progress and success rates of students transferring in courses through this project. Additional college, university and system partners will be recruited in fall 2015 to join the consortium.
"The institutions serving in this pilot project will play a valuable role in helping enhance the work we have been doing for many years in developing quality mechanisms for determining the credit worthiness of education, training and life experiences outside of a formal higher education classroom setting," said ACE President Molly Corbett Broad.
"We very much appreciate this generous investment and the commitment it represents to the effort to provide a more flexible and cost-efficient way to increase the number of Americans able to gain a college degree or credential."
As an additional part of the effort, ACE will expand its current work in the area of college credit recommendations by developing a quality framework and guidelines for issuing recommendations for digital micro-credentials, competency-based programs and non-degree certificate programs.
"This project will yield multiple and long-lasting benefits to the participating institutions, the wider higher education community and potentially millions of nontraditional learners," said Deborah Seymour, ACE assistant vice president for education attainment and innovation. "It will help lead to the greater acceptance of alternative forms of credit in a way that ensures quality and encourages more people to complete their postsecondary education."
Joining Lakeland in this pilot program are:
American Public University; Capella University; Central Michigan University; Charter Oak State College; Colorado Community College System; Colorado Technical University; East Carolina University; Fayetteville State University; Fort Hays State University; Goodwin College; John F. Kennedy University; Kaplan University; Metropolitan State University of Denver; National Louis University; Northern Arizona University; Northwestern State University; Notre Dame College; SUNY Empire State College; Texas Woman's University; Thomas Edison State College; University of Baltimore; University of Maryland University College; University of Memphis; University of North Carolina.
About ACE
Founded in 1918, ACE is the major coordinating body for all the nation's higher education institutions, representing more than 1,600 college and university presidents, and more than 200 related associations, nationwide. It provides leadership on key higher education issues and influences public policy through advocacy. For more information, please visit www.acenet.edu or follow ACE on Twitter @ACEducation.
Former Lakeland professor passes away
Allen Wangemann, a 1955 Mission House graduate, revered biology professor for more than 40 years at Lakeland and a champion of preserving the college's history, passed away on Saturday, Dec. 6. He was 86.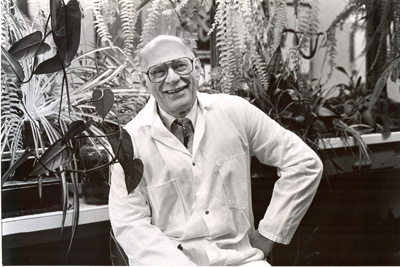 Wangemann was a student at Mission House, earning a bachelor's degree in biology. He joined Lakeland's faculty in 1956, and retired in 1997 after 41 years, one of the longest faculty tenures in the college's history. He was named faculty emeritus. He taught many of the college's science courses, and coordinated Lakeland's medical technology program, which offered students internships at Midwestern hospitals. He also conducted his own research, including teaming up with the Smithsonian Institute in Washington D.C. to research parasitic diseases in mummy tissue.
He was honored for service to the college in 1980 by Lakeland College Alumni Association, and in 1981 was awarded an honorary doctor of science degree by the college.
In retirement he served many years as curator of Lakeland's museum and often spoke to local organizations about the history of Mission House and Lakeland.
He was known for having a strong rapport with students, and he influenced many students to pursue careers in science and medical fields, including Lakeland's own Professor of Biology Kathy Rath Marr. He was named Student Government Association Teacher of the Year in 1987-88 and in 1993 won the Underkofler Award for Excellence in Undergraduate Teaching.
A world traveler, he participated in archaeological expeditions in North America, Egypt and the South Pacific.
A complete obituary is here.
Lakeland College, Sheboygan County resorts partner to address labor shortage
Lakeland College, Blue Harbor Resort & Spa, The Osthoff Resort and Destination Kohler today announced a partnership designed to create a new talent pool for area resorts and help Lakeland hospitality management students learn while they earn money for college.
(From Left) Lakeland President Dan Eck; Lola Roeh, general manager at The Osthoff Resort; David Sanderson, vice president and general manager of Blue Harbor Resort and Spa.As part of the agreement, Blue Harbor, The Osthoff and Destination Kohler will make a number of entry-level positions and/or internships available to Lakeland hospitality management students.
The jobs are not guaranteed, and students will have to interview for any posted positions. Employers have the final say in hiring, and how long the students stay employed depends upon job performance and job availability by the program partners.
For the resorts, the partnership addresses challenges of attracting and retaining qualified and dependable employees, especially during holidays and the summer. Lakeland will allow students to live on campus during breaks and summers as part of the program.
"If you ask area executives across all industry sectors what their biggest challenge for the future is, they are likely to respond that the availability of a viable workforce is that challenge," said David Sanderson, vice president and general manager of Blue Harbor Resort & Spa.
"Tourism is no different. With this partnership, we have an opportunity to overcome that challenge, while providing a real-world practical laboratory for students to augment their academic requirements. The potential benefit for students to lower their need for student loans and thus reduce their debt load after graduation is important also."
Sanderson noted that Blue Harbor has hired several Lakeland graduates into management jobs during his four-year tenure, and he expects that number to grow.
"I believe this gives Lakeland College's hospitality program a real competitive edge in attracting high school graduates who are interested in a career within our industry," Sanderson said. "If students apply themselves, they will exit Lakeland with a bachelor's degree along with years of industry experience. As a hiring employer, I would view that as a distinct advantage."
Lola Roeh, general manager at The Osthoff Resort, agreed that the partnership addresses the labor challenge facing local employers.
"Through this partnership, Lakeland will have the ability to provide professional experiences for students studying hospitality management, and The Osthoff will have access to a new labor distribution channel that's very industry focused," Roeh said. "We have always had access to Lakeland's student body, but now Lakeland will be promoting The Osthoff and the other partners as an opportunity for gaining experience in the field."
Roeh said this partnership provides local employers an opportunity to train and grow prospective full-time employees.
"If we have people working here in a job or internship and they enjoy our culture and working in this environment and we respect their contribution, we've promoted these individuals to management positions," Roeh said. "For the Lakeland student, this is an opportunity to sample their choice of study as a future job. They have control over their own destiny, because if they enjoy their work this is a possible entrée to key positions being open to them after graduation."
Michael Belot, General Manager-Destination Kohler, said, "Destination Kohler is pleased to collaborate with neighboring Lakeland College to showcase our world-class American Club Hotel and other resort facilities as a classroom of sorts in both accommodations and guest services to a group of engaged, hospitality-focused students eager to explore career opportunities. We are pleased to have these students learn directly from our talented associates, who excel each day at providing five-star services for our guests."
For Lakeland students, the partnership creates a way to earn up to $8,000 a year to put toward the cost of college at a time when students and parents are increasingly concerned about the rising cost of a college education and the increasing debt load.
"Students and parents want to be sure that their investment will end in a job with good pay and benefits that would not be available without earning a college degree," said Lakeland President Dan Eck. "This partnership could significantly reduce a hard-working student's debt load, and, in some cases, even completely eliminate student loan debt—a remarkable achievement that will set those students on a road to financial well-being immediately after graduation."
Lakeland and its three hospitality partners will establish mutually beneficial work and class schedules. In some cases, Lakeland may explore holding certain classes on site at the employer's facilities.
"This partnership puts Lakeland in a position to recruit and retain top students for our program, which translates into a reliable workforce for our region," said Chuck Stockman, Lakeland professor of hospitality management and chair of the college's business division.
Stockman worked in the hotel and restaurant industry for almost two decades before joining Lakeland's faculty in 1994.
"Our students will have opportunities to graduate having already worked entry-level positions in some of the region's top resorts, giving them better chances of obtaining higher level jobs after graduation," Stockman said. "Our partners will have a chance to grow and mold these students with an eye toward full-time employment after graduation."
1969 Lakeland graduate gives generous gift to benefit natural sciences
Dr. Cliff Feldmann remembers vividly the care and support he received as a Lakeland College student from many of his teachers, most notably, longtime chemistry professor and division chair David Rath.
Now, more than 45 years after graduating with a bachelor's degree, Feldmann is giving the college a significant gift that will allow the continued transformation of the programs in Lakeland's natural sciences division.
Feldmann, president of Sheboygan Falls-based Feldmann Engineering & Mfg. Co. Inc. and a resident of Florida, recently made a gift of $840,000 to Lakeland's natural sciences division.
The money will set in motion significant expansion of the Lakeland Undergraduate Research Experience (LURE), fund cutting-edge equipment that will provide new student research opportunities and create significant new scholarships designed to attract top-tier, high-achieving students from throughout the Midwest.
Prior to earning a chemistry degree at Lakeland in 1969, Feldmann had to withdraw from classes for several months due to family challenges. Feldmann credits Rath for stepping in to make sure he stayed on track to graduate.
"Dr. Rath provided me with an opportunity to continue my education," said Feldmann, who later earned a Ph.D. from the University of Wisconsin-Madison and worked a number of years for Hewlett-Packard. "He provided me extra time and a facility on campus at which I could study. That made it easier for me to transition through a difficult time.
"I had a very positive experience there while doing my undergraduate work and now I'm at a point in my career where I want to give back in the hopes of making a difference for this generation of faculty and students. I want to fund programs where students can access their professors with an opportunity to develop close, mentoring relationships."
Lakeland President Dan Eck said the college is excited to work with Feldmann to see how his generous gift will transform the natural sciences programs.
"Lakeland is grateful to have loyal alumni who are willing to share their hard work and good fortune in support of the college's mission," Eck said. "We have a very talented faculty, and we are all looking forward to seeing the positive impact on our academic programs and the increased opportunities for students that will come with this incredible gift."
Feldmann's gift will benefit a program that has been experiencing significant growth in the last several years.
Paul Pickhardt, chair of the natural sciences division and associate professor of biology, said some of the funds will strengthen LURE, the college's 10-week summer program that allows undergraduate students to work alongside faculty members to design and conduct research which is later presented at regional or national conferences.
"Our faculty are enthusiastic to provide hands-on learning opportunities to our students, and the planned equipment acquisitions from this initial gift will allow us to do that," Pickhardt said. "Currently our students are somewhat limited on the types of research questions they can explore in the laboratory, and these purchases will greatly expand their opportunities within coursework and independent research projects. Research equipment investments that can lay the foundations for strong programs yet also strengthen interdisciplinary ties across traditional disciplines will be emphasized."
Additionally, Pickhardt said Feldmann's gift will put Lakeland's programs in a stronger position to enhance current relationships create new ones with community and industry partners. The gift will also help the growth of the college's exercise science program.
Feldmann said he's been impressed with Lakeland's commitment to the sciences and the focus on the same kind of faculty-student interaction that benefitted him more than four decades earlier.
"Lakeland is a great setting for getting a good, private, liberal arts education in a small environment. This is getting more difficult today, particularly for students with limited means, to achieve their educational goals," Feldmann said. "That is a particular area I would like to support.
"The important thing is the student relationship with faculty focused on teaching in a smaller environment where they can work more intimately. That's the experience I had many years ago."
Feldmann Engineering & Mfg. Co. Inc. started in 1947 in a cheese factory building near Plymouth by Feldmann's parents, Marvin and Myrtle Feldmann. It has evolved over the decades, and today the company has become the world leader in the manufacture and sale of its Jiffy Ice Drills. Other popular products include lawn aerators, portable fencing, shrub and tree planting augers and specialty products.